AncientPower

Suspect Hero | Level Four
March 2nd 2022, 7:06 pm
Message reputation : 100% (4 votes)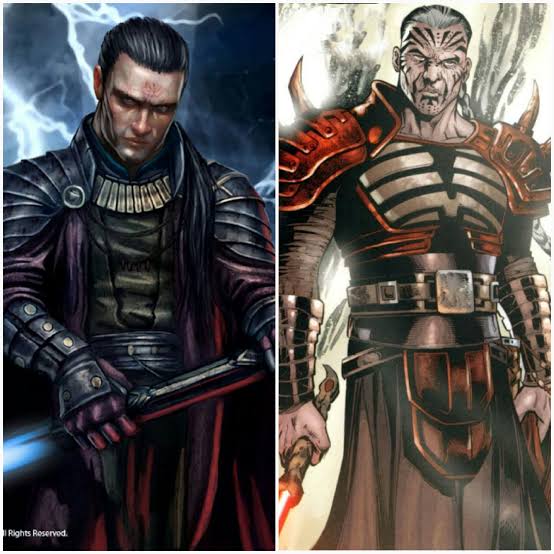 -Exar Kun as he appears during
Star Wars: Tales of the Jedi - The Sith War #6
-Krayt as he appears during
Star Wars: Legacy - War #6
Setting: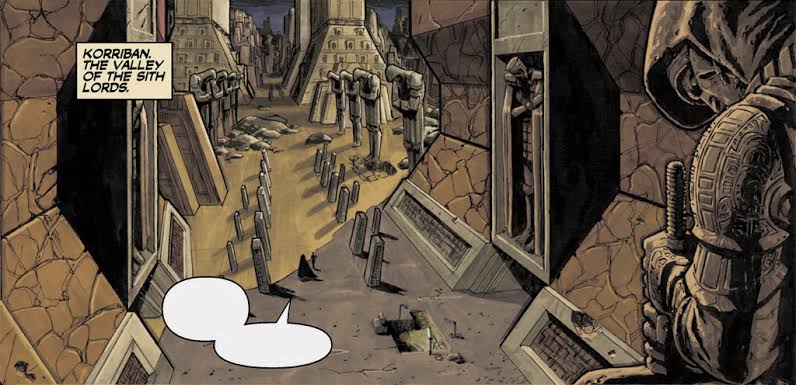 Rules:
- Canon Considerations debating policy applies
- Each debater has a month(4 weeks) to reply as of each concurrent post.
- As the challenger, I will open.
- No character limit.
lorenzo.r.2nd

Level Three
good luck fellas. rem mostly- ur gonna need it. tough character to represent and tough person to debate. lets see how this shit goes
hellothere5432
March 3rd 2022, 3:26 am
Message reputation : 100% (1 vote)
This will be enjoyable. Tag for every post pls
AncientPower

Suspect Hero | Level Four
March 4th 2022, 4:11 am
Message reputation : 100% (2 votes)
The mighty Lord Krayt seems appealing to many at first, but given his evident propensity to underperform in every single way we know, it's problematic at best to assert he could rise to the level of Exar Kun's decades-long established standing in numerous eras across the Star Wars mythos.
The main reason people seem to think Krayt is so good is because of his resurrection, the biggest growth quote we have is the one from Krayt himself: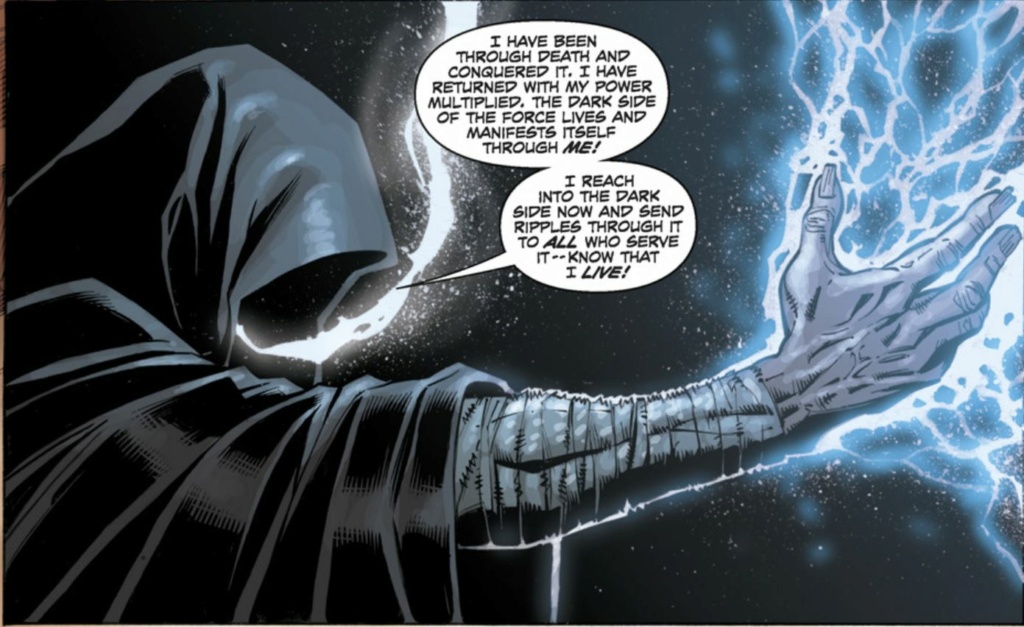 No other source corroborates that his power has increased
this
drastically, but this is largely irrelevant. Darth Krayt has always been seeking to restore his lost power:
Fall 2007 Comics, starwars.com wrote:In a reckless bid to right one of his many past wrongs, Cade Skywalker has become a prisoner of the Sith. It's a banner day for Emperor Darth Krayt, who hopes that Skywalker's abilities will complete Krayt's longtime quest to restore his own power.
So even if Krayt's power multiplying can be taken literally, this can largely be explained by two things:
1.His power has deteriorated with his body as he slowly succumbed to his physical destruction sustained from the Vong parasites.
He states this at the start of the series:
By #27, his body is so far gone that individual events are weakening him:
Star Wars: Legacy #27 wrote:"Cade's escape has left the Emperor weakened"

He says
this
in
Legacy: Vector
: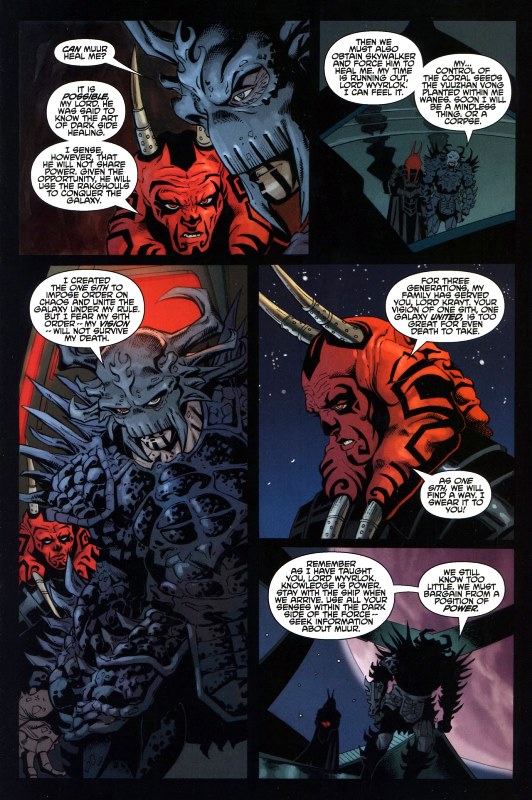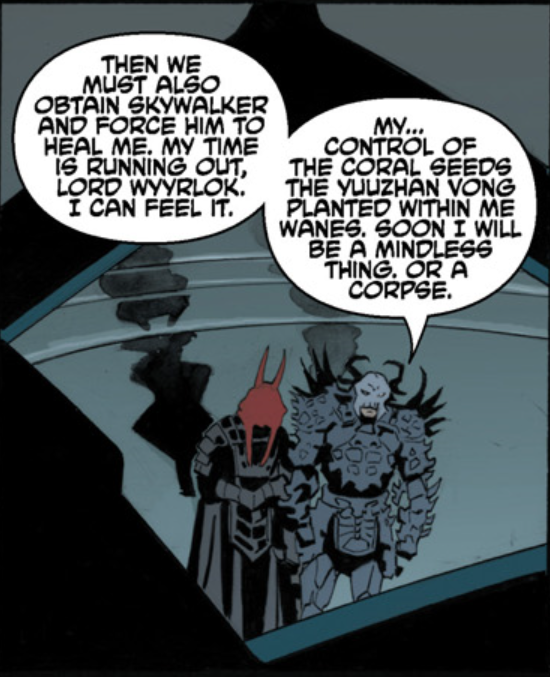 And Muur calls his body a 'failing husk':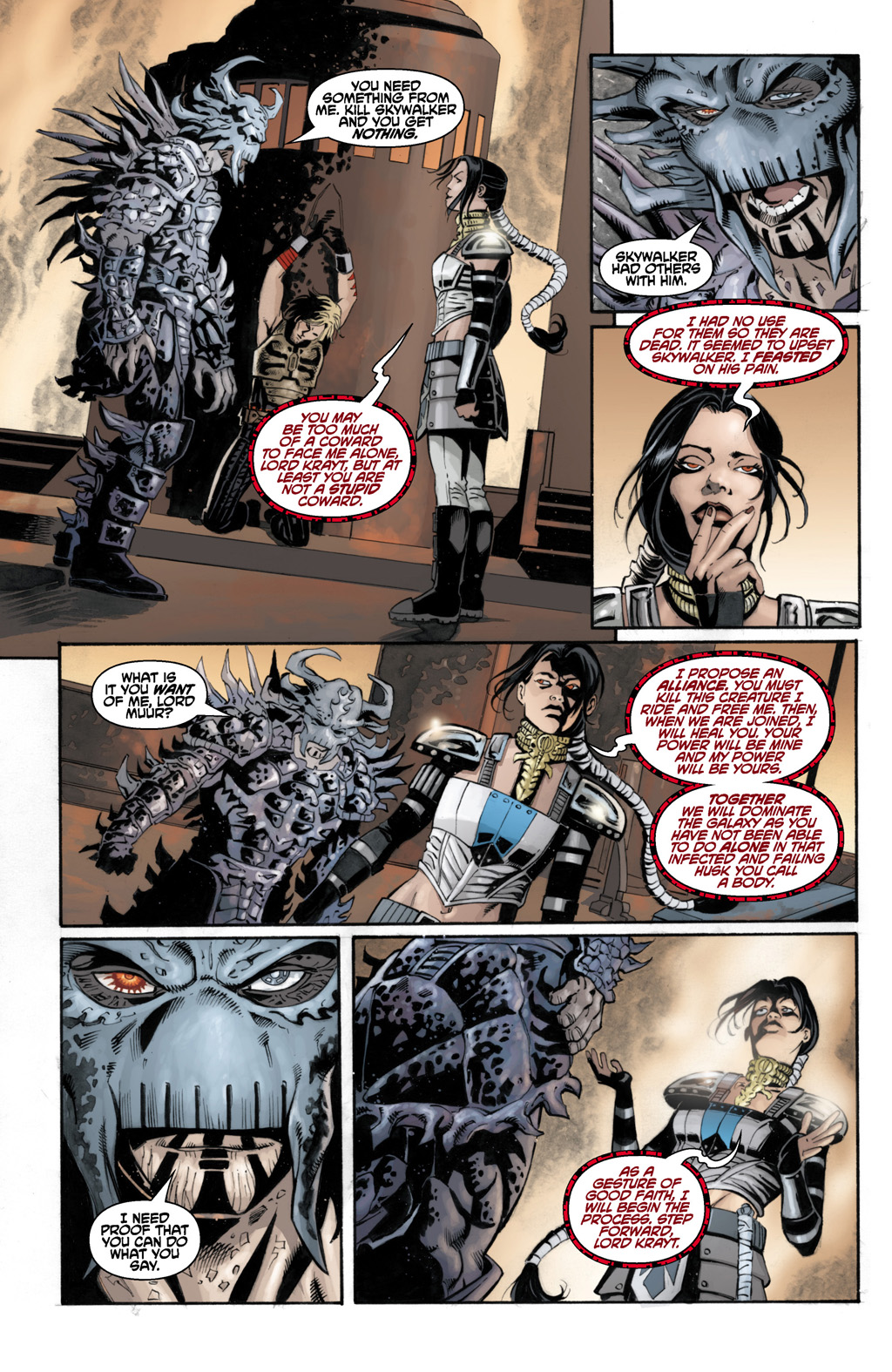 2.Krayt is resurrected which usually results in massive power returns. The slight problem with this is that he confirms he didn't in fact die in the way we all tend to think. He drove his consciousness 'deep within myself' so he could heal his body fully using the technique that Karness Muur showed him, Dark Healing: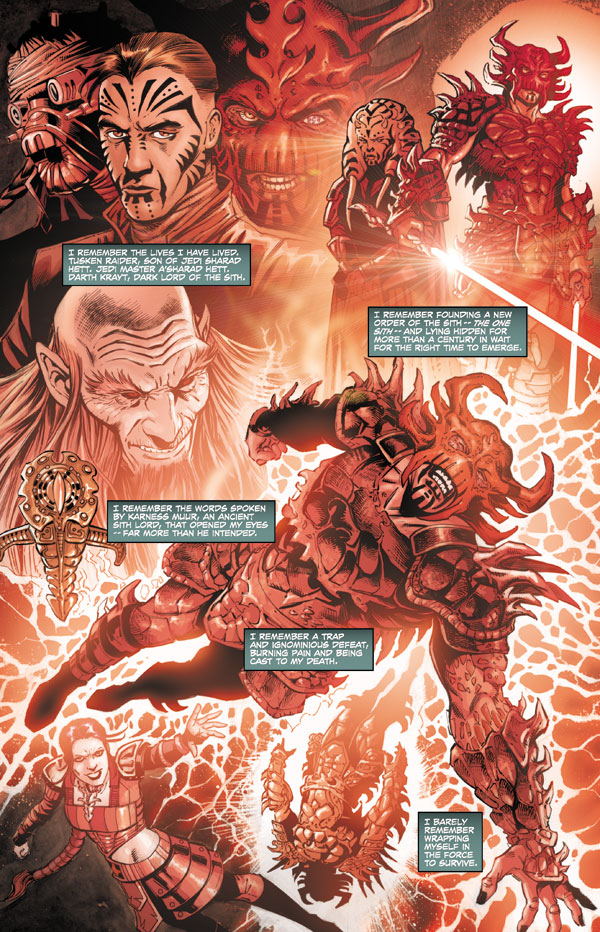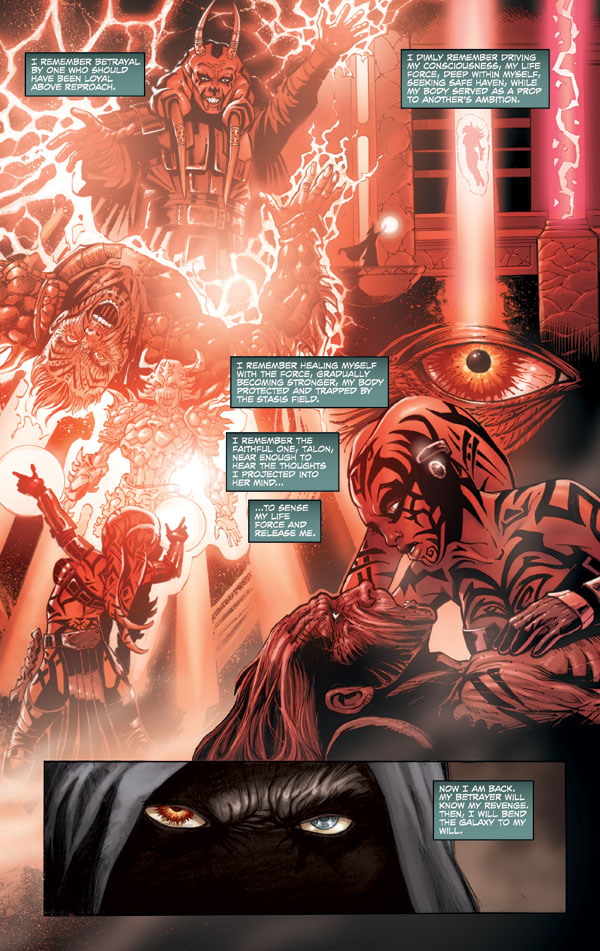 So in reality all that really happened was Krayt fulfilling his own dream with his own power, restoring his body to full health and thus his power, by essentially hiding his consciousness in his body. If you say Krayt is wrong, then you're also undermining his credibility when he claims his power has multiplied. So both are right or neither are right.
This is where we get some issues, first of all we know Karness Muur's spirit outshone the powers of Darth Krayt prior to him restoring his power:
But per the author, John Ostrander:
I'd describe this myself, but let's leave it to the words of the person who originally discovered this quote:
DarthAnt66 wrote:Points of note:

- Muur being "perhaps stronger" than Krayt doesn't necessarily mean he is, but it is indicative they're at least close enough for him to be a legitimate contender.
- Muur is "perhaps stronger" than "any other [Sith] we've seen thus far," meaning the "perhaps stronger" is referring to Krayt at the start of the series.
Link:
https://www.suspectinsightforums.com/t2866-ostrander-karness-muur-vong-krayt?
The Krayt prior to his powers being
so
severely diminished is the Krayt that a 'truly live again' Muur might be superior to, which is the only truly stated reason for Krayt being so powerful again, something the Editor of
Legacy
specifies himself is because he's 'new and invigorated' not because of newfound power, the newfound power is just his original power being restored: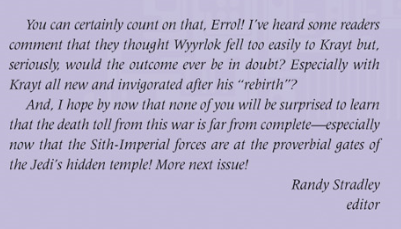 Krayt reborn's big power boon is because of the fact he has healed his body and restored his power, this is the entire plot point from the start of
Legacy
, Krayt is seeking a way to heal his body and restore his power. That has
always
been his goal and the entire plot of his hunt for Cade Skywalker. To assert that his power exceeds what he used to have, you'd need evidence suggesting this is the case, but every single one of the quotes describing Krayt's increase in power can all be adjusted to reference the restoration of his body and power. None of them actually refer to his rebirth itself making him more powerful, it's the restoration of his body to full health which restores his power, that actually causes his growth in power.
In other words a Muur who has himself been restored by overwhelming and escaping Morne; something thus far prevented by the stasis she places herself in, as explained by Vector:
And is confirmed in
Legacy: Vector
by both Muur and Morne: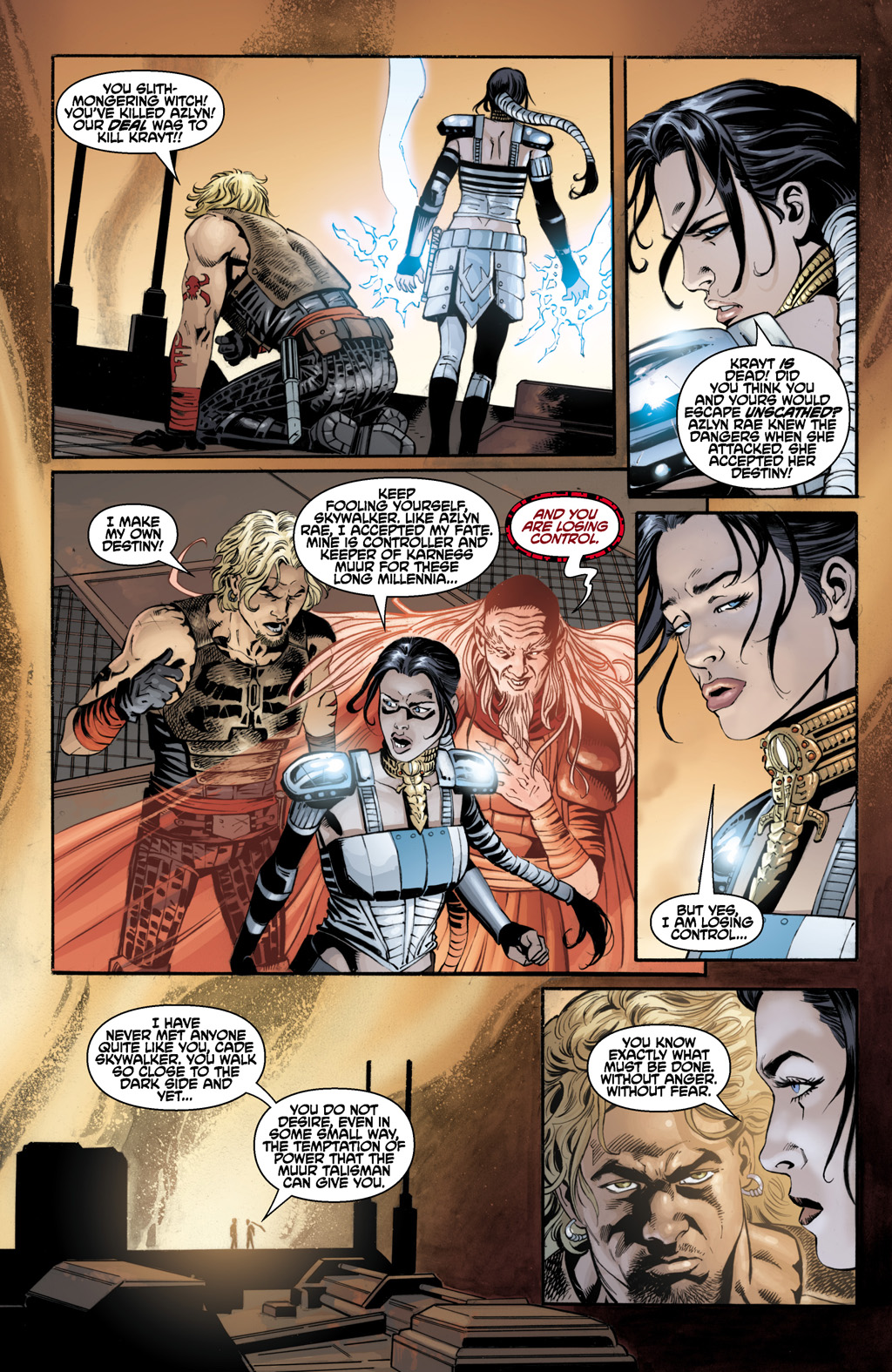 Would be able to surpass a restored Krayt, and our evidence for this is even more blatant given that Karness Muur estimates that he can heal and restore Krayt to power, and
still
control him as a new host, which he has no doubts about his ability to do: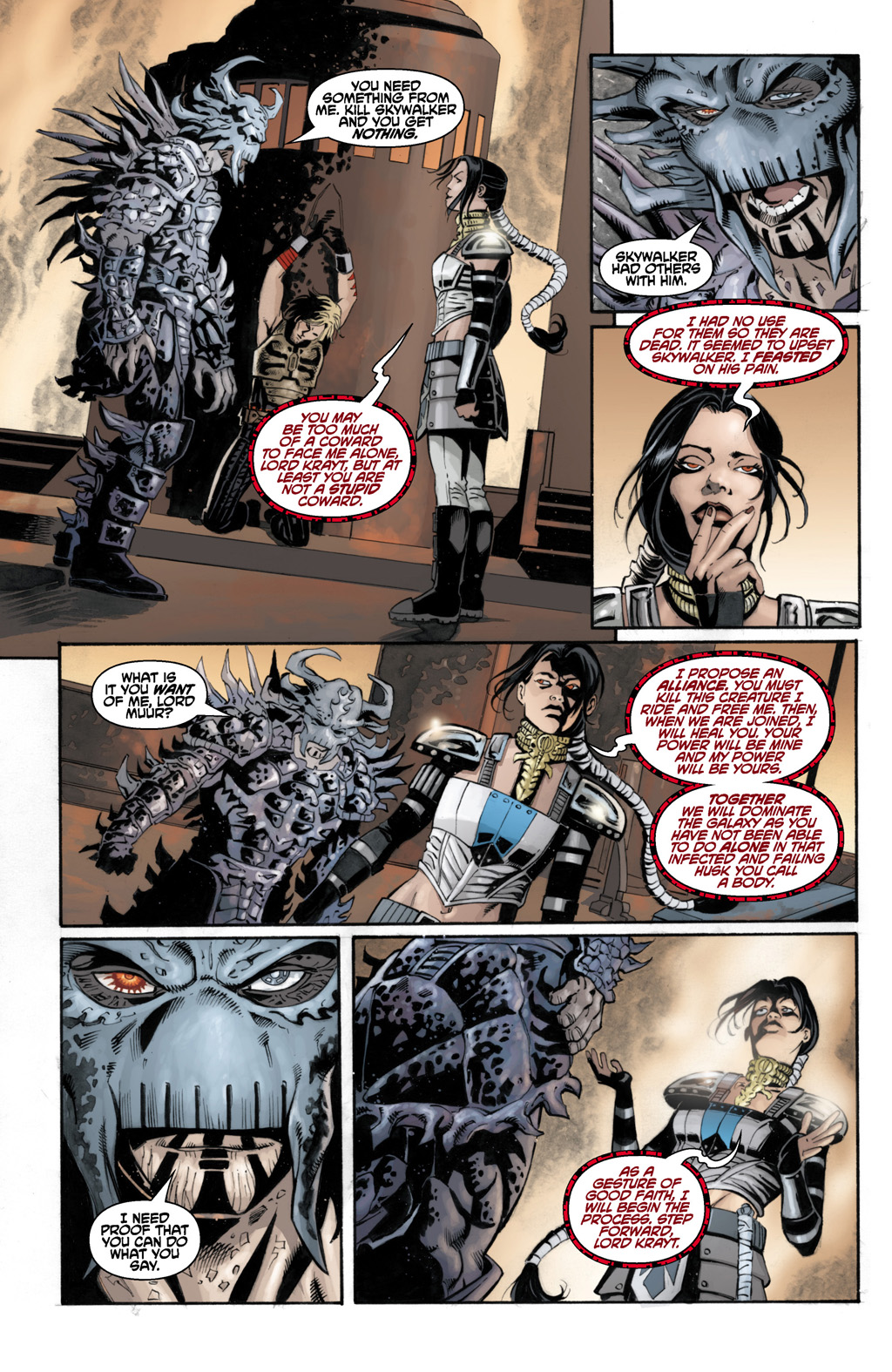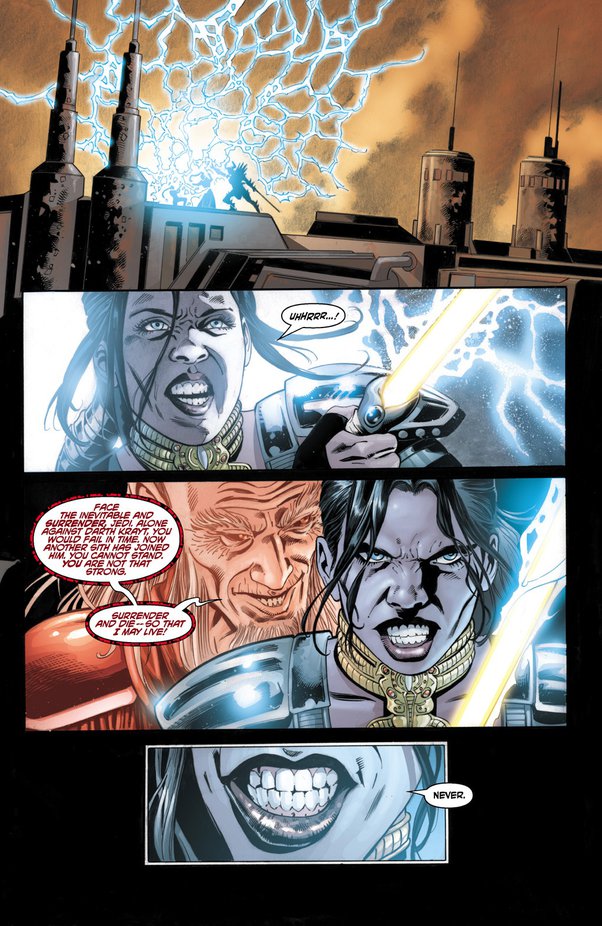 So we have an extremely solid basis for Karness Muur being at least on par with the strongest incarnations of Krayt there are, but he's far from the only Exile that Krayt has experience with. His Sith master was Xoxaan, Muur's contemporary:
Krayt knelt at her feet for twenty years: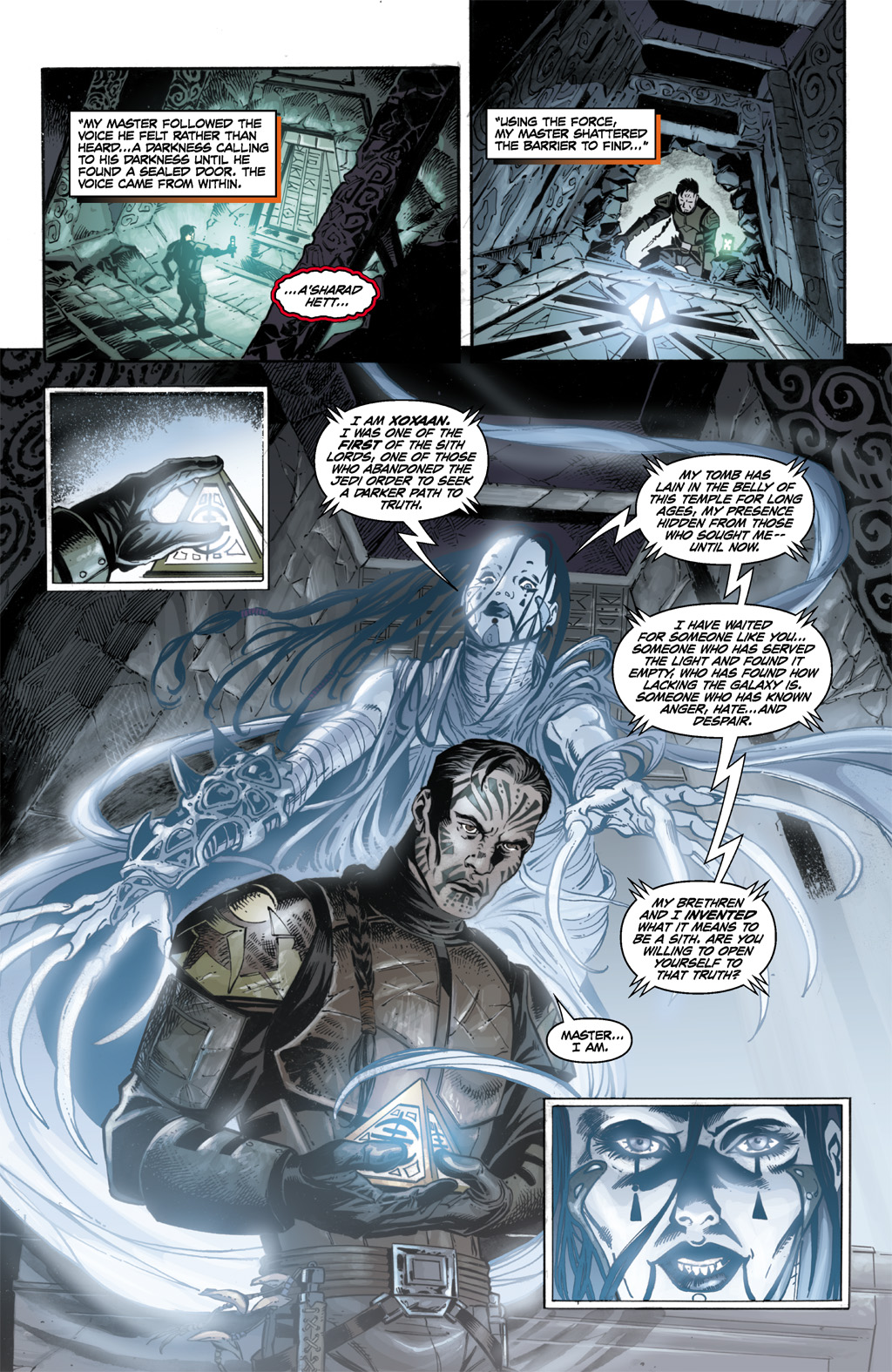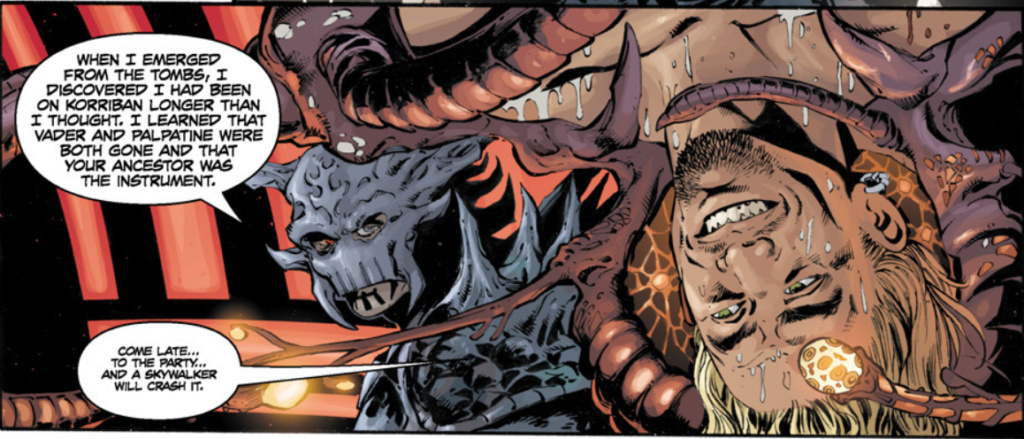 And he considers her his Master and guide even upon founding the One Sith order, after his experiences with the Vong: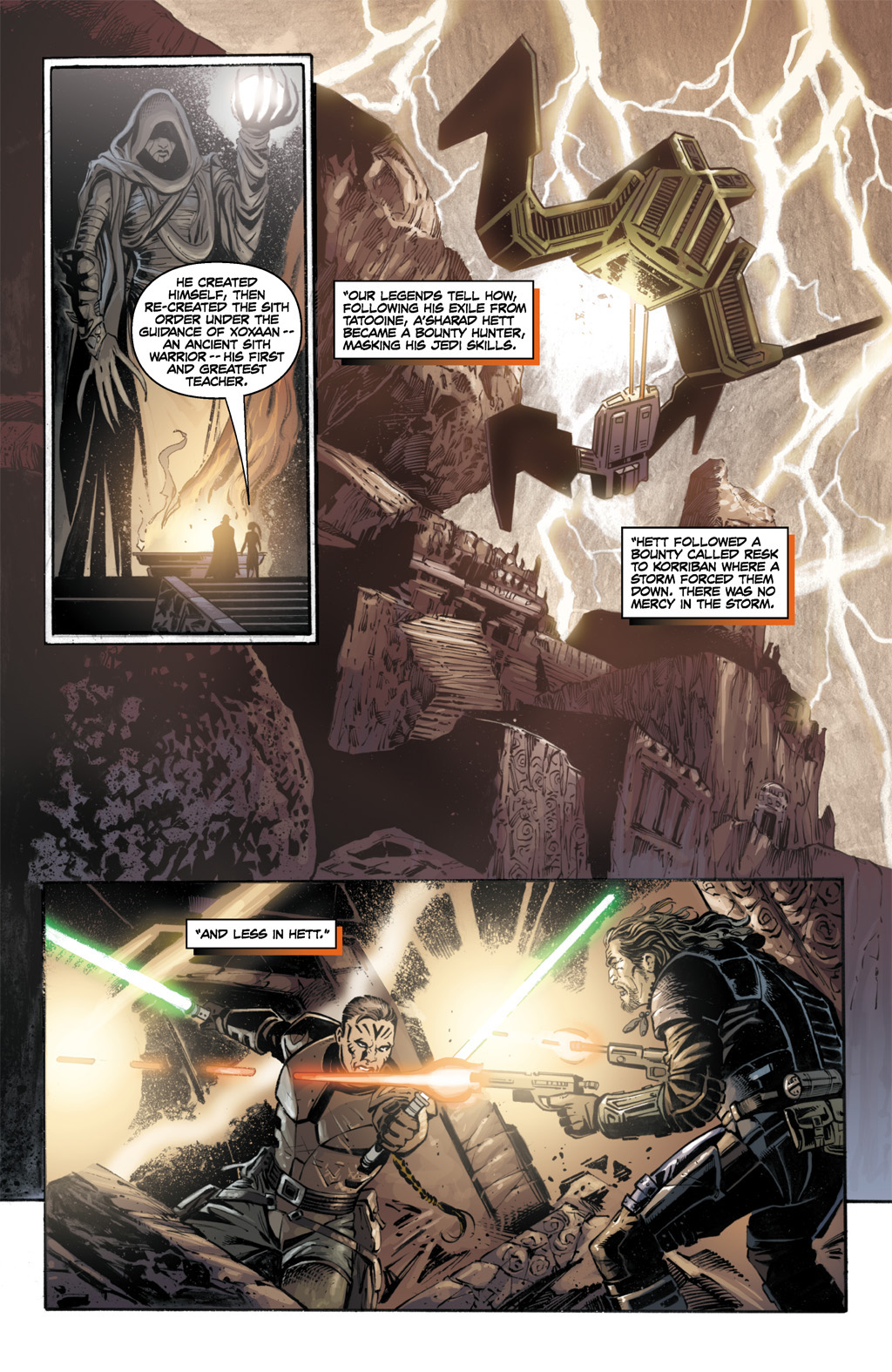 As he states in the above scan, even as he established his One Sith he needed extended periods of stasis and healing pretty much right away, due to what the Vong did to him with the Coral Seeds. So his body(and power) deterioration effectively started immediately from the point when he becomes Master of a new Order, but is still taking 'guidance' from his own Master, Xoxaan.
The Jedi Exiles were established way back in the 1990s: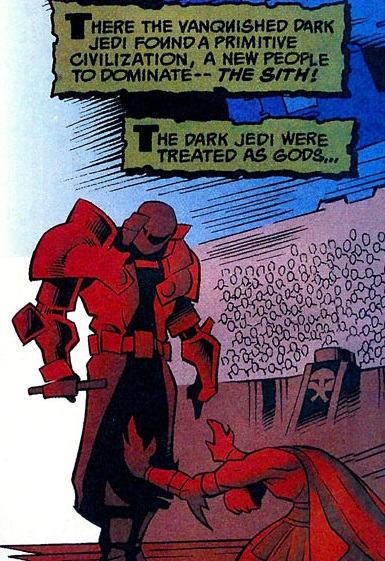 And are responsible for cowing Emperor Palpatine in 0ABY: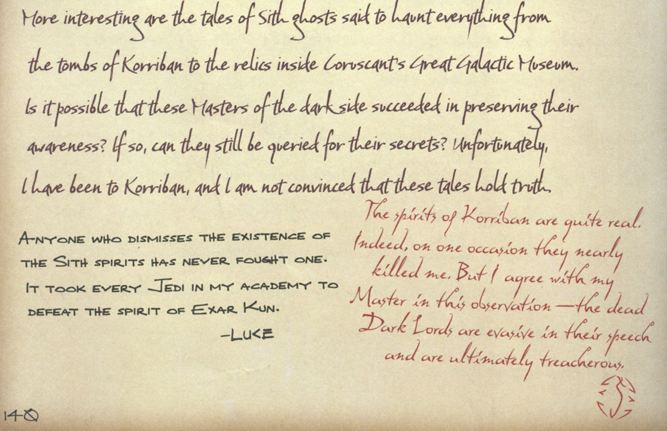 Star Wars Gamer #5 wrote:Shortly after the Battle of Yavin, Droga rescued his cowed master after Palpatine had enraged the mummified Sith by demanding dark side knowledge. Palpatine recovered from the assault in a bacta tank on Imperial Center while Droga retrieved one of the Emperor's clones.
This is the same event that the Emperor refers to when he states he'd been there 'ten years ago' in 10ABY: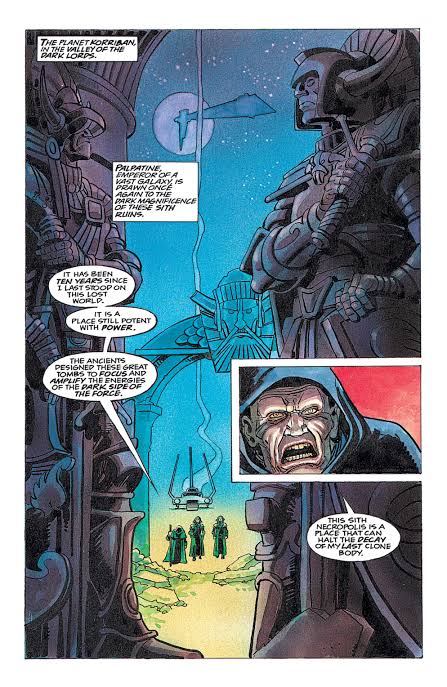 Why is this important? For you to bifurcate Karness Muur and Xoxaan from the rest of the Jedi Exiles you'd need to be able to show that there's certain levels of power shown by either of them that surpasses what was already demonstrated by them before they were fleshed out as characters, but given the aforementioned display of power is no lesser than Karness Muur's greatest claim to fame, this simply isn't possible.
Therefore, Karness Muur and Xoxaan are subjected to the same quotes the Jedi Exiles were collectively subjected to.
Firstly, Naga Sadow is the end result of some of the Exiles, including Xoxaan, mating for thousands of years with a primary purpose of producing stronger offspring with each generation:
He was utterly surpassed by Freedon Nadd, despite Sadow having six hundred years of growing stronger in the Force after becoming that pinnacle:
The Official Fact File 90 wrote:Eventually, the apprentice became far more powerful than the teacher...
The Dark Legacy of Yavin IV, Star Wars the Old Republic wrote:And just as Nadd killed his lord Sadow, Kun destroyed Nadd's spirit here on Yavin 4. These notable deaths likely served to further imbue the moon's temples with dark power, further fueling the barbaric Massassi–as well as the succession of Dark Lords who would later reside here.
Freedon Nadd is himself, utterly surpassed, drained and replaced by Exar Kun: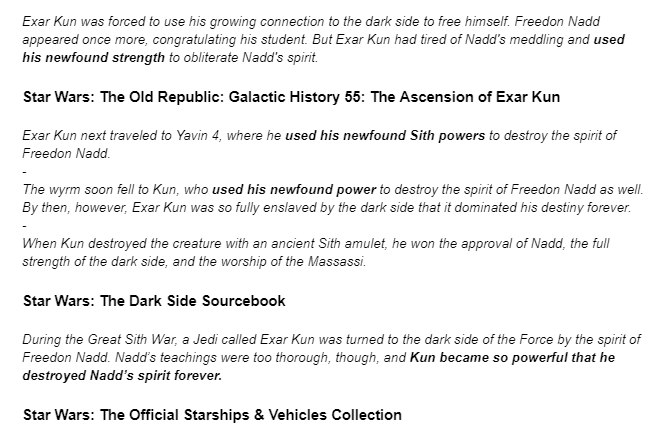 Marka Ragnos is the great Dark Lord of history by his time:
Chronicles of the Old Republic wrote:Meanwhile, on the far side of the galaxy, the Sith Empire has grown powerful through centuries of dark Force wielding and magic and the hundred-year rule of the greatest Dark Lord of the Sith, MARKA RAGNOS.
He's so powerful that he is able to fog the minds of and control both Exar Kun, who is now 'months' beyond surpassing Freedon Nadd
and
his hard equal at that point, Ulic Qel-Droma:
Exar Kun is stated to be more powerful than Marka Ragnos and any other Sith in history multiple times:
Star Wars Omnibus: Tales of the Jedi Vol.2 wrote:Nearly four thousand years before the birth of Luke Skywalker, the galaxy faces its greatest threat since the founding of the Republic!
The Complete Star Wars Encyclopedia wrote:Kun, Exar. Once the most powerful and dangerous of the Dark Lords of the Sith, he was responsible for the deaths of millions four millennia before the Rise of the Empire.
What we end up with is a clear scaling chain of:
Exar Kun > Marka Ragnos >> Cinnagar Exar Kun & Ulic Qel-Droma >>>>> Freedon Nadd >> Naga Sadow >>>>> Karness Muur/Xoxaan >/~ Founding Krayt >>>> Vong Krayt <<<< Reborn Krayt
And even if I grant you that reborn Krayt is more powerful than the pre-degradation Darth Krayt, realistically there's no bridging that gap.
Rem/w4nk
AncientPower

Suspect Hero | Level Four
March 24th 2022, 11:28 pm
Rembeezy has quit this debate and a potential re-match is scheduled for August.
Permissions in this forum:
You
cannot
reply to topics in this forum