TheSwordMaster
October 4th 2020, 1:28 am
Message reputation : 100% (3 votes)
Respect everyone's favorite "featless Battlemaster" Cin Drallig
Respect Cin Drallig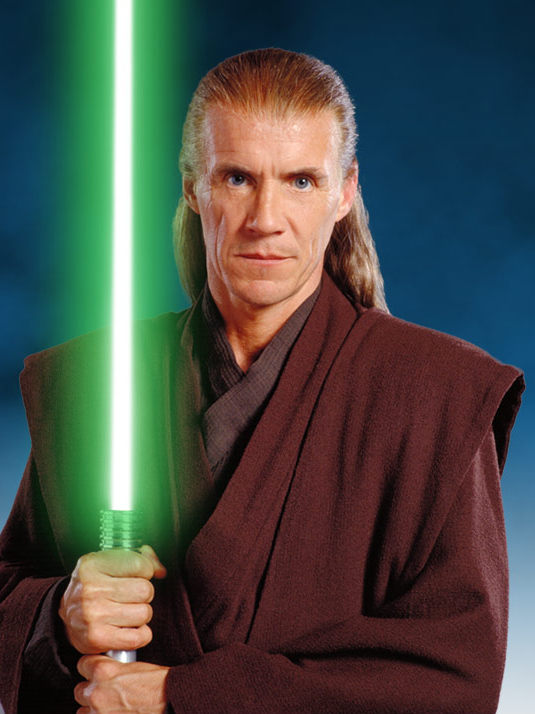 Cin Drallig
was a male human native to the planet of Lavisar and served as the Jedi Battlemaster to the Coruscant Jedi temple during the "Rise of The Empire" era. He was well regarded as a legendary duelist but ultimately met his fate at the hands of Darth Vader during Operation: Knightfall.
Cin was the leading lightsaber combat instructor in the jedi temple which makes sense since he's the Battlemaster
Jedi masters who focus on the use of a lightsaber are some of the most dangerous individuals in the galaxy
Spoiler:

Since it is the traditional weapon of the order, every Jedi has some degree of expertise with the lightsaber. Jedi Masters who focus on the use of the lightsaber to the exclusion of all else, however, are some of the deadliest individuals in the galaxy. Few beings can match their skill with an energy blade, and many a conflict has hinged upon martial prowess of such skilled Jedi Masters.
- Threats of The Galaxy
Drallig possessed great skill with the blade and was chosen for head of the security
Spoiler:

An esteemed Jedi Master and a swordsman of great skill, Cin Drallig was the head of security for the Jedi temple on Coruscant.
- Star Wars: Databank
Described as having unparalleled skill with a saber which was important in teaching other jedi including Anakin Skywalker and Obi Wan Kenobi
Spoiler:

Cin Drallig is honored with the mantle of both Chief of Security and Battlemaster for the Jedi Temple. His unparalleled skill with a lightsaber has benefited many a Jedi under his tutelage, including Obi-Wan Kenobi and Anakin Skywalker
- Star Wars: Force Collection
Described as one of the order's top swordsman
Battlemasters have a reputation of being the greatest masters of lightsaber combat
Spoiler:

The greatest master of lightsaber combat in the Jedi Order was known as the Battlemaster. This Jedi was the head instructor of lightsaber combat and sometimes live at the temple training full time. Some well-known battlemasters are Cin Drallig, Kam Solusar, and Kyle Katarn who was the last to use the title
- Star Wars: Jedi Academy Miniatures Preview 3
Battlemasters have knowledge of all seven forms of lightsaber combat
Spoiler:

Battlemasters train initiates and padawans in the use of forms I through VI combat moves and cadences, and impart knowledge about form VII to those who have earned their trust
- The Jedi Path
Battlemasters are experts in more melee styles than most being know exist
Spoiler:

Dedicated to the art of war, Battlemasters are experts in more melee styles than most beings know exist
- Knights of The Old Republic Campaign Guide
Jedi Battlemasters are described as the most physically dangerous opponents on the battlefield
Spoiler:

Of all the Jedi, the battlemaster is perhaps the most physically dangerous. Despite his obvious superiority on the battlefield, he is still only a single being he rarely attacks large groups of foes, preferring to fight instead in an intelligent and logical manner. Fast attacks tempered with feints and tactical withdrawals, we are often the order of the dayfor the lone battlemaster. When in the company of one or more jedi, he is willing to take greater risks if doing so will end the conflict sooner.
- Jedi Academy Training Manual (Credit to
@DarthAnt66
for this quote)
Lightsaber Skill/Knowledge
Here Cin Drallig displays his knowledge of all seven lightsaber forms
Spoiler:
- Star Wars Jedi vs Sith: Essential Guide To The Force
Saber instructors are known veterans with hundreds of combat kills this naturally extends to Cin since he himself is a saber instructor
Cin was praised by Count Dooku being placed on par with the Jedi Council masters in terms of skill and even claims he would beat Grievous (I subscribe to the notion that Dooku was underestimating Grievous a lot but Dooku still seemed to think highly of Drallig judging by his placement of him its entirely possible the two have sparred with each other in Dooku's Jedi years}
Spoiler:

"But I should pity you should you have to face off against any of the council masters" He called into his hand his courtly, curve-handled lightsaber and drew a rapid x in the air-- a Makashi flourish. "Do I need to demonstrate what responses you can expect from Cin Drallig or Obi-Wan Kenobi? From Mace Windu or, stars help you, Yoda?" He flicked his blade quickly ridding two of the guards of their staffs, then placing the glowing tip a milimeter from Grievous' death-helmeted visage. "Finesse. Artfulness. Economy. Otherwise my friend, I fear that you will end up beyond the repair of even the Geonosians. Do you take my meaning?"
- Star Wars: Labyrinth of Evil
Cin Drallig was confirmed to be the most skilled swordsman in the temple during Operation Knightfall which should allow him to scale off of other notable Jedi that were in the temple such as, Jocasta Nu, Serra Keto, and Sha Koon (and possibly Shaak Ti but probably not since she actually survived her duel with Vader albeit barely)
Spoiler:
- Star Wars: The Complete Visual Encyclopedia & Star Wars: The Revenge of The Sith Visual Dictionary
Cin cut down an unspecified number of clone troopers during the attack on the Jedi Temple
Spoiler:

Stone-faced, Obi-Wan watched younglings run into the room, fleeing a storm of blasterfire; he watched Cin Drallig and a pair of teenage Padawans—was that Whie, the boy Yoda had brought to Vjun?—backing into the scene, blades whirling, cutting down the advancing clone troopers with deflected bolts.
-Star Wars Episode III Revenge of The Sith Novel (Matthew Stover)
Continued
Spoiler:

A huge Jedi with stooped shoulders and a gnarled face backed into view, anchoring the line of teenage defenders, his lightsaber sending bolt after bolt back at the attackers, lashing out to cut down one trooper after another. A pair of Padawans stepped in to support his flanks, and the entire line stopped falling back, the lightsabers of the young Jedi weaving an impenetrable wall of energy that—for a few short moments—allowed nothing past, not a blaster bolt, nor a clone trooper, nor even, it seemed to Han, a stray glance.
- Dark Nest II: The Unseen Queen
Cin very briefly dueled Knightfall Vader for about 3 strikes (6-9) if you count the ones heard offscreen)
Spoiler:


skip to 1:40

- Star Wars: Revenge of The Sith
Quickly cuts a grenade in half saving some padawans and younglings
Spoiler:
- Star Wars: Kanan #8
Video Game Feats
The game version of Drallig is a little too different compared to the canon/legends version of the character so I felt it appropriate to dedicate a section for Game Drallig which includes not only feats from the Ps2 game but also the DS and GBA version.
Described as having nearly unparalleled skills
Cin was an incredibly skilled swordsman
Pierced the upper defense levels an implication that he fought his way through an unspecified number of 501st Clone Troopers
Spoiler:
Dueled Knightfall Vader and seemingly held his own much better than his legends counterpart even getting the drop on Vader at 3:55 though he was defeated via saber throw
Spoiler:


skip to 2:14 for the beginning

- Revenge of The Sith Ps2 Game
Hurls Darth Vader out of the temple
Spoiler:
- Revenge of The Sith Ps2 Game
Force Barrier
Drallig used a force barrier to defend himself against Vader's force push
Spoiler:
- Revenge of The Sith Ps2 Game
Drallig used Force Protection Bubble to heal his unnamed padawn's health and protect himself from Vader's saber strikes
Spoiler:
- Revenge of The Sith DS/GBA Version
Cin could also use Force Protection Bubble offensively using it to shock Vader and push him away so his padawan could flee
Spoiler:
- Revenge of The Sith DS/GBA Game
Thats it for our Battlemaster his game version is pretty decently powerful and deserving of his unparalleled quotes his Legends/Canon version... maybe not so much. Once again let me know if I've missed anything
HellfireUnit

Level Six
October 4th 2020, 4:31 am
Master Azronger

Moderator
October 4th 2020, 7:43 am
_________________
DarthAnt66

Moderator
October 7th 2020, 1:22 pm
Great job. Perhaps you can also add this quote from the Jedi Academy Training Manual.
TheSwordMaster
October 7th 2020, 6:59 pm
DarthAnt66 wrote:

Great job. Perhaps you can also add this quote from the Jedi Academy Training Manual.
Thanks Ant will make sure to add
S_W_LeGenD
December 10th 2020, 10:26 am
Message reputation : 100% (1 vote)
Appreciating your effort.
I am not sure how to gauge this character however because the game paints a much different picture of him than what is written about him in other sources.
"Drallig tried to fend off Vader with the help of two of his students, Whie and Bene, but Vader cut them down."
-
Star Wars: The Complete Encyclopedia.
Drallig's body was found with those of his students in one of the rooms of the Jedi Temple; upon witnessing this, Master Yoda even commented that Drallig would not abandon his students.
The game show Drallig sending Anakin Skywalker (now Darth Vader) packing through a window outside the premises with a Force push and is impaled out by the Sith Lord out in the open - significant contradiction. I would say that Drallig is very poorly carried in the Legends Continuity given his hype.
If only the game is considered, then he is decent, but this is not the case unfortunately. Based on other sources, he is a great choice for teaching Padawans how to duel and help them develop appropriate skills but he is not much of a Force-user on his own.
Zenwolf

Level One
December 10th 2020, 2:29 pm
I mean really, no Jedi or Sith is really featless considering they have scaling they could at bare minimum benefit from the average/standard of their respective Orders. So by that Drallig isn't featless, I mean personal feat wise? Perhaps yeah he is, but on the whole not really and what few stuff he personally does have would paint him above the standard and as a top tier swordmaster.
BreakofDawn

Level Seven
December 10th 2020, 8:22 pm
Very nice. Might also be worth noting that the Grievous quote puts Cin in the same bracket as late-Clone Wars Kenobi in saber skill, for whatever that's worth.
The lord of hunger

Level Two
December 10th 2020, 9:48 pm
Great thread
Permissions in this forum:
You
cannot
reply to topics in this forum