The Fallen Warrior

Level Four
January 18th 2020, 2:54 pm
Message reputation : 100% (4 votes)
Jaster Mereel Respect Thread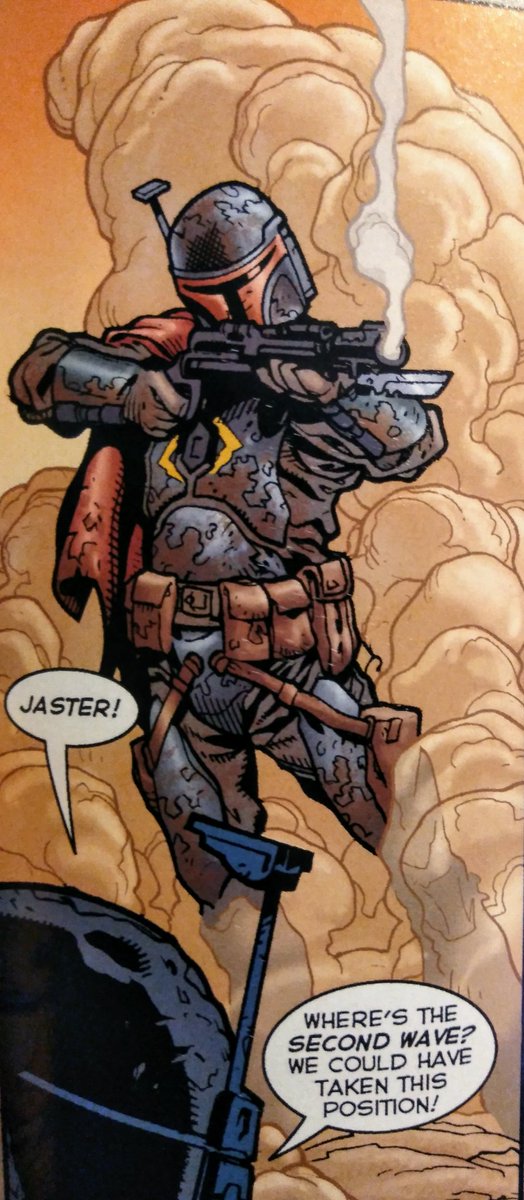 "Do you know how to use a blaster boy?"
"yes my dad... he taught me to shoot"
"Then he was a good man. The boy comes with us!"
-Jaster Mereel and Jango fett
---
Jaster Mereel is an extraordinary soldier who became and maintained the title of Mandalor through his sheer skill, placing him above all true Mandalorians alive of his time. This list includes Kal Skirata, Jango fett, Montross, and Silas. It also likely includes that of Tor Viszla and most of death watch since they broke off after Jaster dominated and united the remaining clans.
-Insider 80 "History of the Mandalorians"
The Mandalorians under Jaster's command were reputed to be the greatest mercenaries in the galaxy, placing them above Maladians and the Black Sun.
-Attack of the Clones Visual Dictionary
Jaster Mereel likely hand trained Jango Fett as it was a key part of the mando'ade way.
-Attack of the Clones Visual D
ictionary
Evidence that Jaster took Jango under his wing as a father includes:
-Galactic Files (Jaster Mereel)
-Star Wars: Fact File
The Mandalorian warrior Montross considers Jaster's armor a prize worthy of keeping as a trophy.
-The New Essential Guide to Characters (Jango Fett)
Tor Viszla who knew Jaster intimately and trained with him implies that Jango Fett as of Open Seasons 4 is not as skilled as Jaster was. He claims Jango's skills are "incomplete", of course it could just be psychological warfare.
-Jango Fett: Open Seasons (Issue 4)
---
Scaling:
Simply by being Mandalore Jaster Mereel must be the best of his clan, Jango Fett as a mere squad commander is fully capable of dispatching Death Watch Mandalorians in hand to hand.
-Jango Fett: Open Seasons (Issue 2)
Deathwatch are described as "elite" Mandalorian Mercenaries.
- The Complete Star Wars Encyclopedia
Based on Viszla's earlier comments Jaster Mereel is a better combatant than Jango Fett, who killed 20 Jedi with his bare hands.
-Star Wars Panel to Panel
It's worth noting Jango accomplished the aforementioned feat after taking a fall from as high as a castle:
-Jango Fett: Open Seasons (Issue 3)
---
Physicality:
Jaster Mereel after saving Montross attempts to retreat but is instead faced with Viszla. The leader of Deathwatch fires a rocket at Jaster which he is able to survive.
Immediately after this, Montross flies away leaving Jaster for dead. The Leader of the True Mandalorians begins to retreat but is shot through his kneecap, but he only falls to his knees and remains upright trying to stand. He is too slow, Viszla unleashes fire from his massive vehicle, literally sending lasers through his stomach plates outside his back. 
Jaster now dying lays smoking atop the wrecked battlefield, but alive still. 
-Jango Fett: Open Seasons (Issue 2)
whether he died from it or not is irrelevant, this showing clearly indicates an advanced level of resistance to physical attacks and his ability to even move after having a hole blown into him is a testament to his endurance and will.
---
Marksmanship and Equipment:
Jaster Mereel headshots several Kordans through a cloud of smoke:
This is likely due to an infrared setting or as he mentions earlier a helmet targeting system.
Making this feat more impressive is the Turret Emplacement seen in the background. In order to get to one of these Turret Emplacements Jaster has to go through this:
we can see that he has no back up as well, so Jaster either killed or dodged many Kordans that would be firing on him.
Throughout the Mandalorian civil war we see Jaster's and his fellow true Mandalorians blasters shoot through the plates of the deathwatch:
This is impressive because the Death Watch have begun reproduction of Beskar armor
but at the very least the basic plates are made of Duraplast or Alum. However the Helmets are that of the ancient Mandalorians:
which was made of beskar, and if you don't see why that's important, I'll repost an earlier scan:
---
That's all, hope you enjoyed reading. RESPECT JASTER MEREEL

The lord of hunger

Level Two
January 19th 2020, 12:16 pm
my favorite mandalorian along the fetts marvelous thread
Divina
January 20th 2020, 3:57 am
nice respect thread! i actually love love love the fetts so
Permissions in this forum:
You
cannot
reply to topics in this forum