Ghost of Grievous
January 16th 2023, 2:56 pm
Message reputation : 100% (3 votes)
MASTER YARAEL POOF RESPECT THREAD
"Very often those who are fearful lash out at others to make themselves feel safe. I helped make their fears a little more visible to them"
The Jedi master Yarael Poof was a member of the Jedi high council during the PT era. Who first appeared in the background of episode 1: the phantom menace in 1999. Since then become quite infamous in not only the hardcore SW community but the normie community as well in the forms of robot chicken and lego star wars.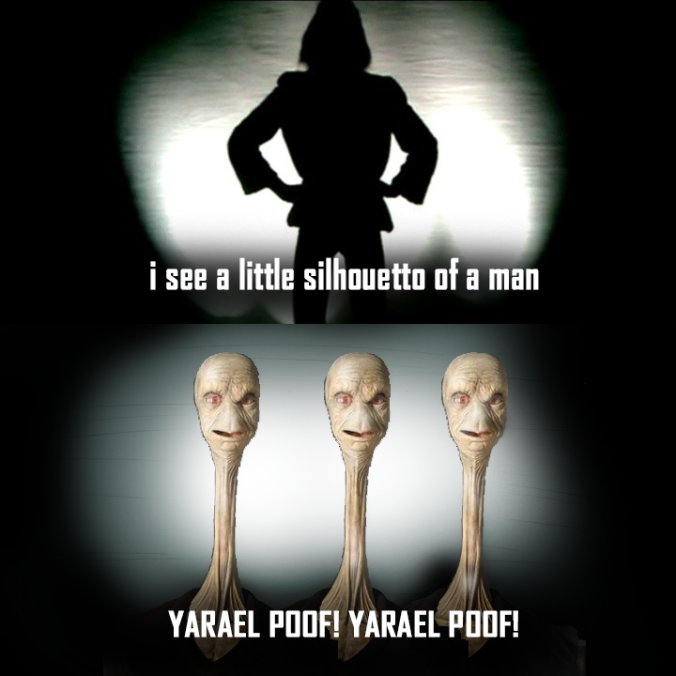 ---------------------------------------------------------------------------------------------------------------------------------------------------------------------------------------------------------------------------------------------------------------------
GENERAL HYPE
Poof is regarded as strongly force sensitive

Is said to have a powerful presence in the Force
-Star wars databank
Noted to have a particularly sensitive force connection, a fact the other members of the council agreed with.
-Fact file 106
His Connection to the force was admired by all. A rather grand line considering this would apply to his fellow council members. Maybe even Yoda himself if taken literally
His connection with the force was admired by all, and he was invited to be a member of the Jedi council, a position he accepted.
-Fact File 100
He is a revered member of the Jedi high council
-Galactic files
---
PHYSICALS
Due to his species Yarael has remarkable dexterity

-Star wars Databank
Thanks to this he was able to perfect many incredible moves only his spineless anatomy allows
-Star wars Character encyclopedia
---
FORCE POWER
BATTLE MEDITATION
Is said to have perfected the particular skill of battle meditation, and used it to ensure the republic victories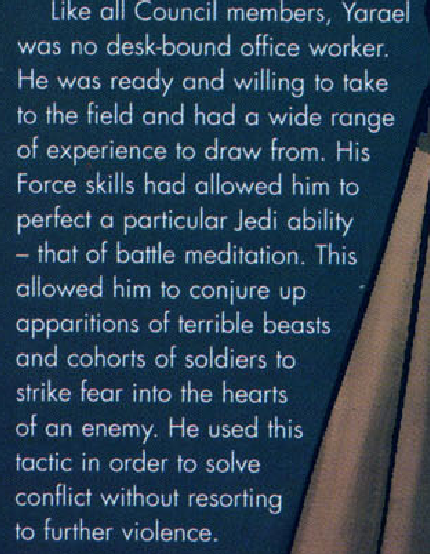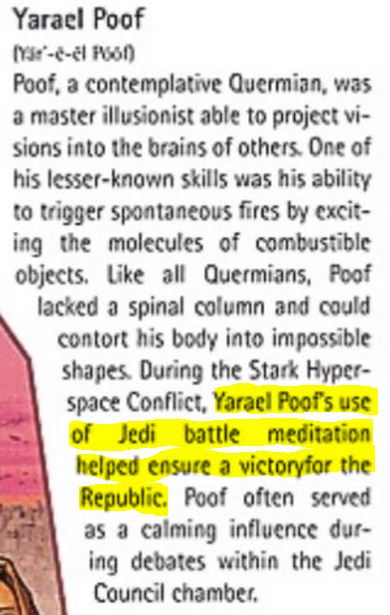 -New essential guide to characters
-Power of the jedi sourcebook
PYROKINESIS
By heating up molecules with the force master Yarael Poof is able to make things combust and catch fire.
-Poof complete encyclopedia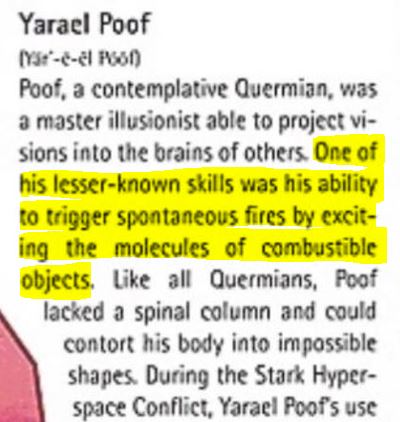 -New essential guide to characters
FORCE HEAL
Poof is capable of healing himself with the force as well as others.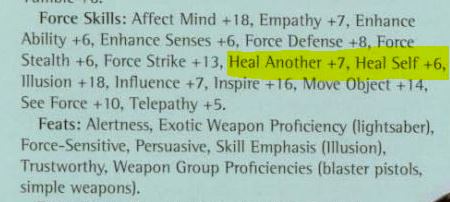 -Power of the jedi sourcebook
Was said that he could have saved himself from a stab in the chest. (likely via force healing)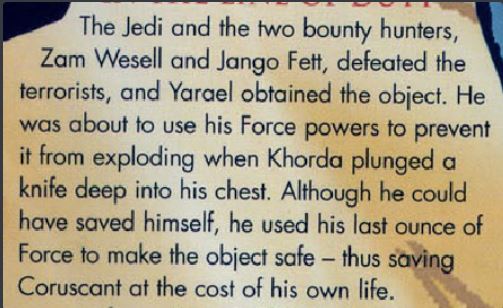 -Fact file 106
What makes this especially worth noting is that where he was stabbed is also the location of where one of his brains are.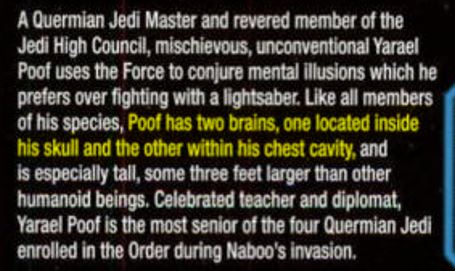 -Galactic files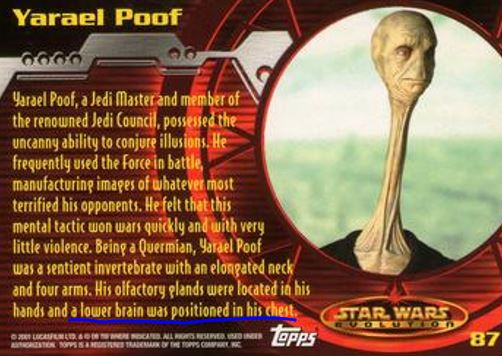 -Star wars evolutions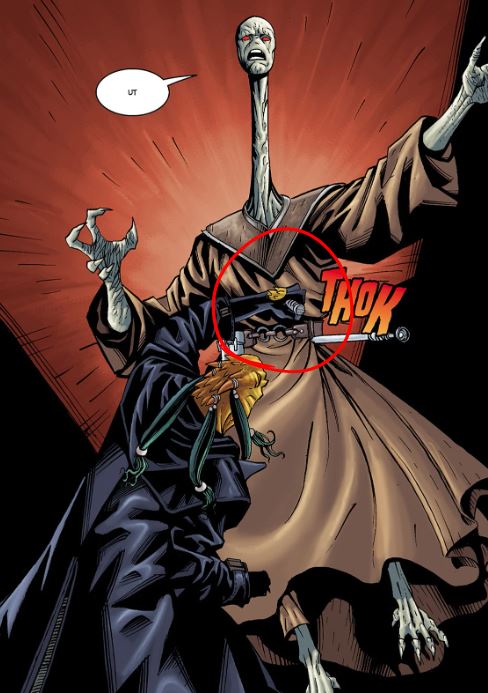 -Zam Wesell comic
So Yarael is able to save himself from a brain or near brain stabbing with what force power he has left or in other words, a fraction of his power. (granted it did knock him on his ass)
TELEPATHY
Yarael is a master of mind trickery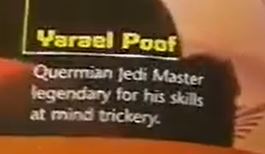 -TPM scrapbook
Proficient in mind tricks which he uses to bring conflicts to a decisive end.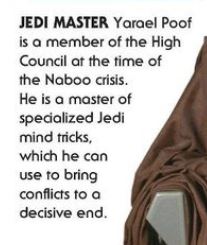 -Star wars character encyclopedia
He was accomplished in mind tricks and being his preferred method of combat he can use the Force to befuddle the mind and conjure false images.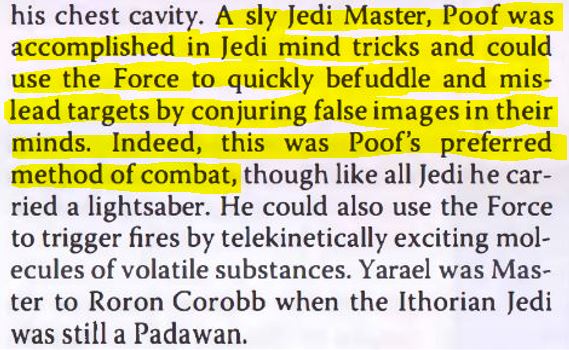 -Star wars complete encyclopedia

-Star wars databank
He uses mindtricks with incredible proficiency to confuse.
-Yarael Poof action figure saga collection
His Padawan, under the tutelage of Yarael Poof developed potent mental skills, which speaks to the skills of his master, where mental attacks are his preferred method.

-Roron Corobb databank
Roron Corobb would be noted to possess remarkable powers of persuasion thanks to both his aforementioned mental tutelage and his Ithorian powerful voice.
-Roron Corobb databank
Poof when teaching a lesson in a holocron talks about what he would do in a hypothetical situation in which he was caught by a guard. Claiming that if he somehow was seen he would make the guard believe him to be nothing but a gust of wind.
-Jedi vs Sith
When dispatching Jedi to find the infant of shaa, Mace was going to assign himself to coruscant until poof spoke up. Claiming that poof's mental powers are reasonably well-honed and would prove a better choice than mace, to which he agrees and bows to his greater wisdom in this affair. Implying that Poof's mental powers are above windu's own.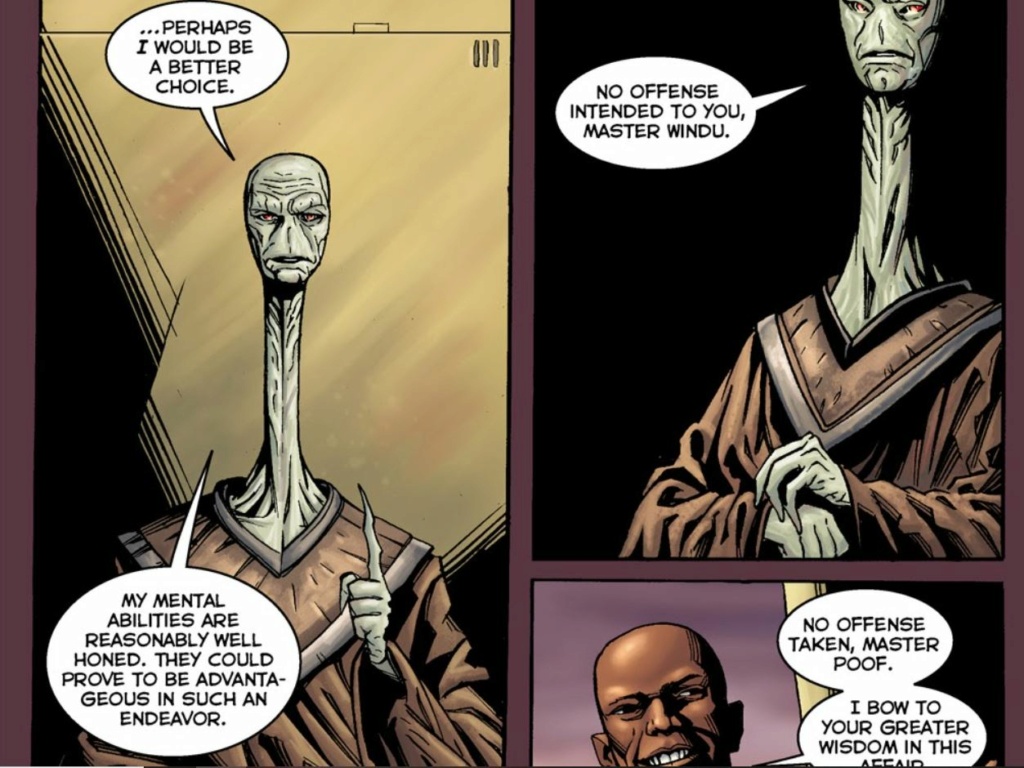 -Zam Wesell comic
Probably his most potent two mental showings is the claim that poof can make himself appear invisible to his fellow jedi, which was under the mind trick section of the Asli Krimsan holocron
-Jedi vs Sith
And poofs ability to play mind tricks on his fellow colleagues, which naturally would include fellow Jedi if not even his fellow council members. (which no doubt is how he appeared invisible to Jedi in some cases)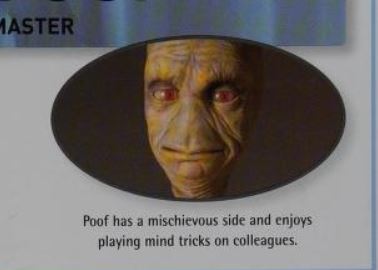 -Star wars encyclopedia
ILLUSIONS
Poof is called a master illusionist as well as a consummate illusionist.
(con-sum-mate: showing a high degree of skill and flair; complete or perfect)
-New essential guide to characters
-Jedi vs Sith
Poof is capable of conjuring terrifying illusions

-TPM insiders guide
Possessed the uncanny ability to conjure illusions of whatever most terrified his opponents, noted to frequently use the force in battle.
-Star Wars evolutions
-Power of the Jedi sourcebook
Uses mental illusions and prefers them over traditional combat.
-Galactic files
By using the force he was able to quickly decipher a person's fears and create illusions that can be perceived be entire armies.
-Jedi vs Sith
Is able to create images of fearsome creatures, he displayed this type of illusion by creating a rancor to scare off some thugs.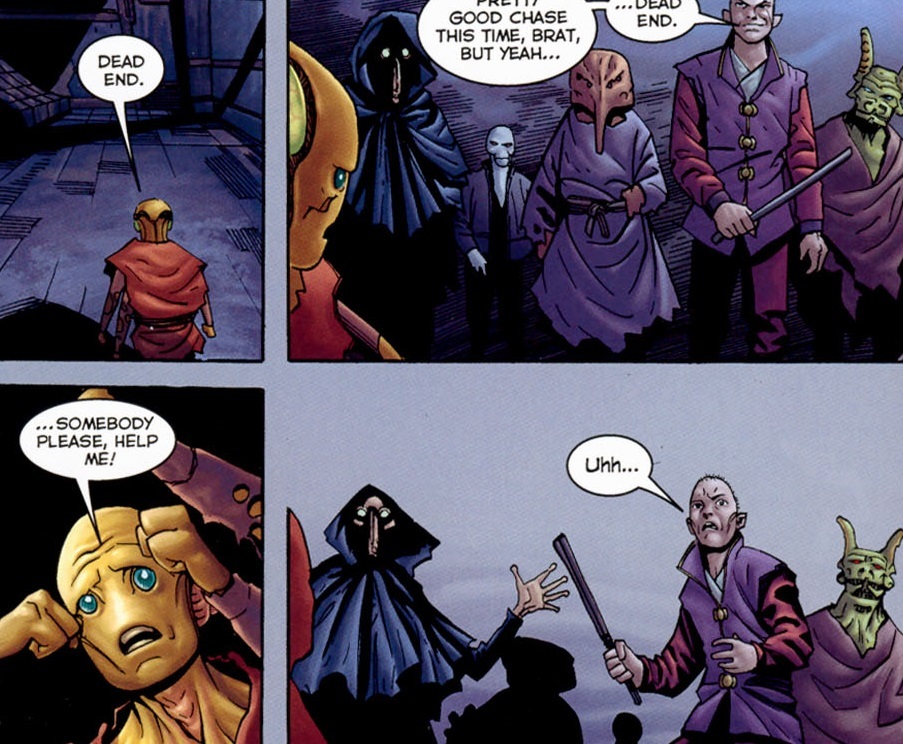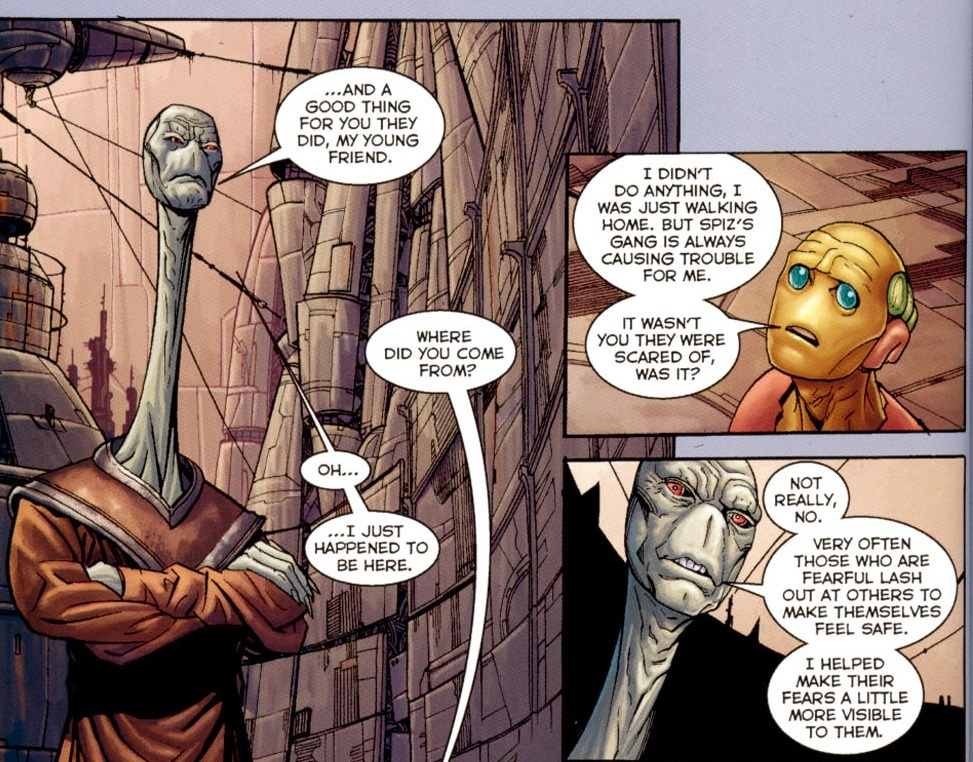 -Zam wesell comic
In the POWER OF THE JEDI sourcebook Yarael Poof is given an illusion modifier of +18.
To help emphasize how great this is beyond it being a big number, allow me to show the illusion will check chart.
For those who dont understand the mechanics of this game system
Poof will roll a D20 dice (20 sided dice numbered 1-20) and then will add his illusion + 18 to his roll resulting in minimum 19 to 38 max what he rolls determines what save the opponent needs to meet or beat, if they fail the fall under his illusion
His adversary (for this example i will use exar kun) will roll the same dice (D20) and add their will to it (in this case exar has +10)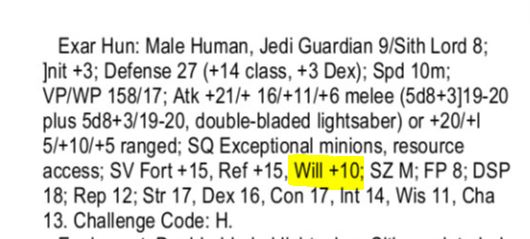 If what exar rolls is the same number or above the saving DC then he succeeds in warding off the illusion.
Now, returning to why Poofs illusion is impressive, having crunched the numbers, exar will have a 65% chance of failing and falling under poofs illusion (credit to durin for the graph and statistics)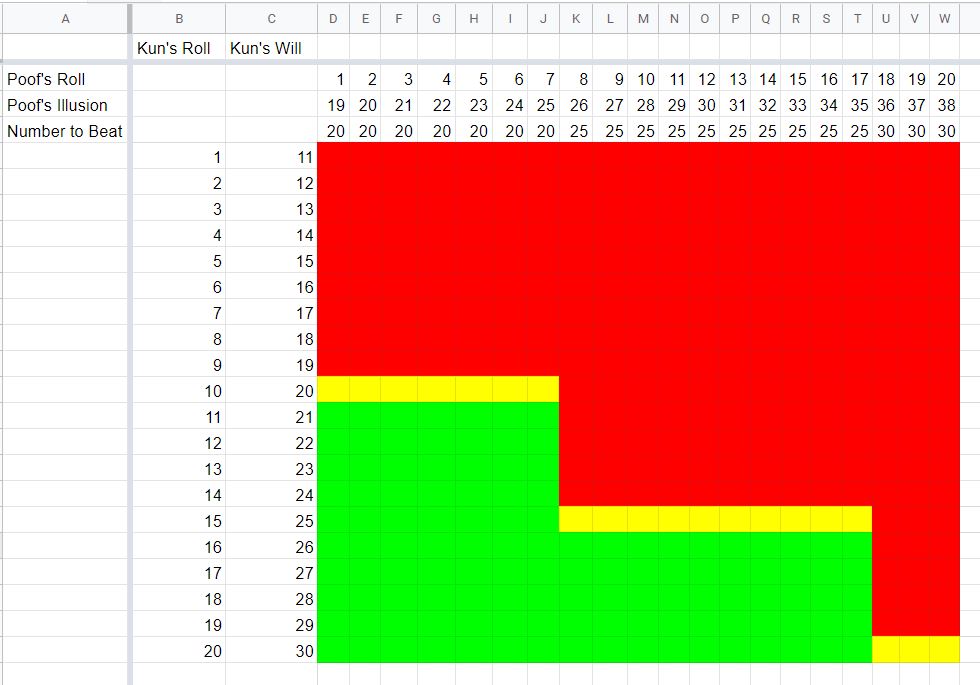 -GREEN being exar succeeds, YELLOW is tie (which is also a succeed) and RED is failNote
this is not to say poof can trap exar in an illusion IU, just that his game stat reflects and emphasizes a rather potent ability, that's disproportionate to his other abilities, allowing him to ensnare someone (again in game stats) in or above his weight class.
INFANT OF SHAA
This section is dedicated to no doubt poofs biggest claim to fame. The artifact known as the infant of Shaa is a relic that is said to be capable of storing force energy that can be released with enough power to destroy an entire planet. This notion is repeated often enough, by the natives who guard it, the terrorist who sought to use it and pretty much everyone else.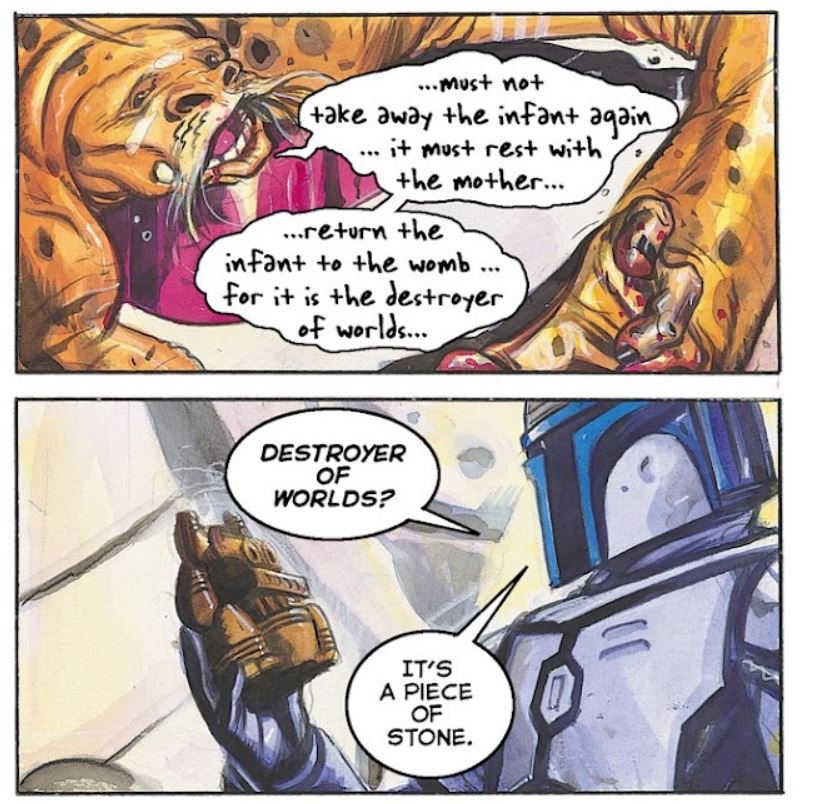 -Zam Wesell comic
-Star wars Complete visual dictionary
-Star wars Complete encyclopedia
You get the picture, this tiny rock is a vessel of force power and when released is capable of destroying a planet.
While he was retrieving the idol poof was stabbed in the chest, possibly in his second brain as talked about in
FORCE HEAL
section. This is worth keeping in mind going forward.
There are different sources of what Poof does with the idol, some claim he absorbs its energies.

-Fact file 110
Others claim he defused/deactivated it.
-Star wars complete visual dictionary
While I feel the most prominent depiction including the main comic is he contains and binds the energies of the idol together again so it doesn't explode.

-Complete encyclopedia

-Star wars Databank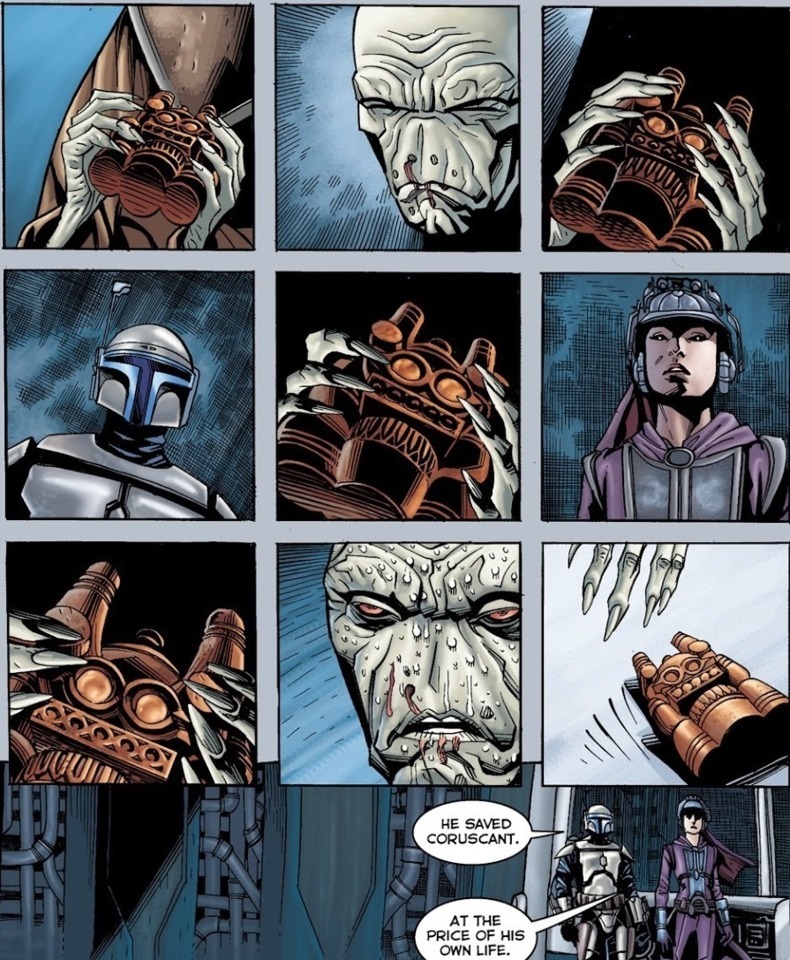 -Zam Wesell comic
A very impressive display, especially considering he was again, stabbed in the chest, possibly in the brain and was using his "last remnants of his force power"
-Fact File 106
To conclude this section, Yarael with a fraction of his force power, a dagger in his brain, instead of healing said injuries used what little power he had left to bind and manipulate, possibly also drain on top, the unstable energies of the idol that would have destroyed all of Coruscant. Manipulating the energies I feel is a lot harder to do than straight absorbing since with drain its transfer of energy from X to Y whereas binding requires complete control over X energy, able to move it, and compress it
Regardless how you wish to interpret it, a dying poof at a fraction of his power is handling planet destroying energies
---
STATS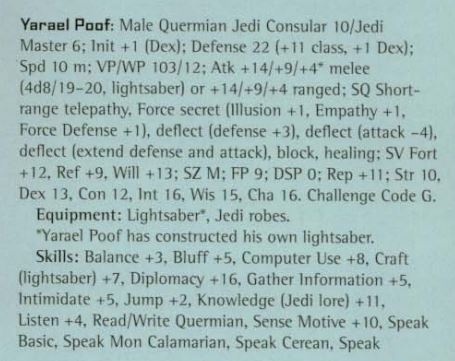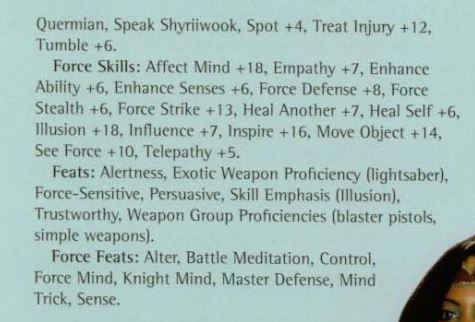 -Power of the Jedi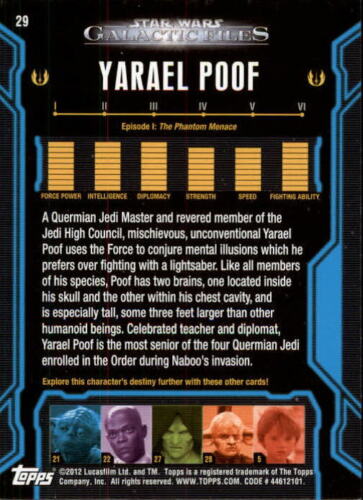 -Galactic file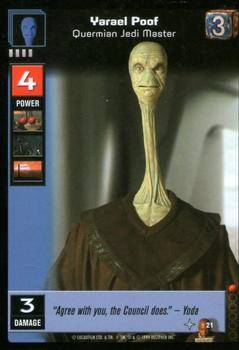 -Star wars young Jedi, collectible card game
---
FUN FILES
Thank you for reading my respect thread on the jedi council member Yarael Poof, to conclude this RT here is a tidbit of info i found fun
Yarael poof was originally a puppet during TPM but come AoTC George felt that the audience may confuse him with the newly introduced kaminoans so they had him replaced by digitally adding in the Coleman Trebor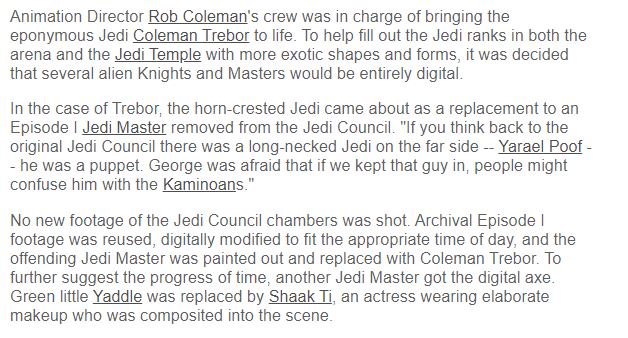 THANK YOU FOR READING
lorenzo.r.2nd

Level Three
January 16th 2023, 4:09 pm
Permissions in this forum:
You
cannot
reply to topics in this forum