DarthAnt66

Moderator
August 20th 2022, 2:43 pm
Message reputation : 100% (1 vote)
Dissecting Legacy #2: Darth Krayt vs Darth Wyyrlok
Darth Krayt approaches as a "dark presence in the Force" (1) and is a "
firestorm of raw emotion and cold rage
" (2).
Krayt says he will commit his own "Order 66" against the One Sith who betrayed him (3). He will hear the "screams" of the traitors (3), and "those who stand with the usurper will die" (4). He wants "blood" (4).
Krayt's opening words to Darth Wyyrlok are that he betrayed him and that among all the Sith, Wyyrlok was "the closest" to him (6). Wyyrlok offers no apology (7). Krayt says he would accept no apology and tells him to "begin" fighting (8).
Force lightning is shown to ripple between Krayt and Wyyrlok. It is unclear who is firing. It has commonly been suggested that only Wyyrlok is firing and that Krayt is using tutaminis to absorb the energy. However, within the Dark Horse Jon Ostrander and Jan Duursma medium, tutaminis has never been depicted this way. 
Upward raised palm almost perpendicular with the ceiling. No lightning effects shown beyond the reach of the palm. 
Upward raised palm almost perpendicular with the sky. A purple circle around the hand. No lightning effects shown beyond the reach of the palm.
Palm not that perpendicular with the sky.
No
purple circle around the hand. Lightning effects shown across almost his
entire
arm. Wyyrlok and Krayt strike identical poses and have lightning effects equally deep across their arms. 
Moreover, if only Wyyrlok is firing, it means that one of his primary two lightning streams only reach Krayt after taking an
abrupt
90 degree turn six feet from him. Lucky Wyyrlok! Makes more sense if that perpendicular meeting isn't a hard shift but rather Krayt's lightning meeting Wyyrlok's. 
(Krayt's lightning appears thicker and more volatile, which is consistent with his emotions burning raw and rageful. Note, though, that some of Wyyrlok's lightning likewise streaks in vertical directions near the hand. Virtually all depictions of lightning in this medium has some degree of high-volatility). 
Again, it's unclear who is firing. Maybe just Wyyrlok. Maybe just Krayt. Maybe both. But I'd say there's good reason to think both!
Krayt, now using two hands, channels lightning to break two columns. Again, its unclear who's lightning that is, but its notable that Krayt's
entire
torso is shown to be crackling with the lightning. No precedent of this ever happening with tutaminis... but it's happened with lightning. 
What are the implications of Wyyrlok surviving, seemingly, Krayt's "firestorm of raw emotion and cold rage" Force lightning attack?¯\_(ツ)_/¯ 
Who's to really say?
Let's also do a close-up of Krayt's face during this:
Now, doesn't that look like a face of someone who doesn't care?
Moving on...
Wyyrlok hurls the shattered columns at Krayt (12). Krayt grabs them in the air and hurls them back on Wyyrlok (13). It's unclear whether Wyyrlok is telekinetically guiding them to Krayt all the way through, or if he's just throwing them like a ball and letting go of his telekinetic hold. Decent chance that Krayt is ripping them directly from Wyyrlok's grasp, though. Certainly expected from the presumed more powerful Force user! Wyyrlok's able to conjure a Force protection bubble that shields him from the rocks Krayt threw at him (14). Notice the rocks to the left of Wyyrlok. Unless Krayt has atrocious aim, which seems unlikely, they must have bounced off Wyyrlok's barrier. This matches Wyyrlok showing no battle damage in the next page (15). 
What are the implications of Wyyrlok successfully fending off Krayt's "firestorm of raw emotion and cold rage" telekinetic rock attack?¯\_(ツ)_/¯ 
This is a close-up of Krayt's face as he hurls the rocks:
Krayt again showing that he is emotionally beyond the fight and doesn't care.
Moving on...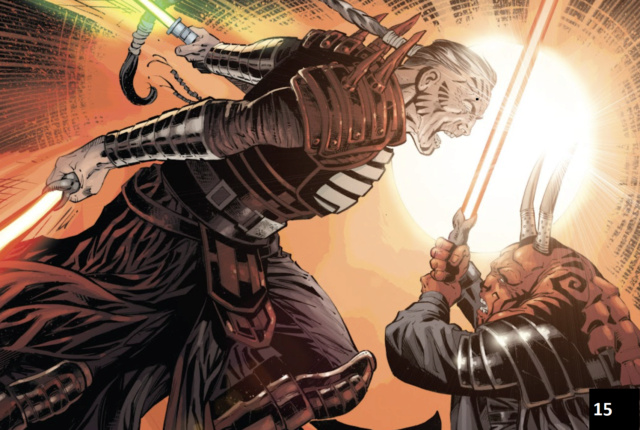 That's not to say Krayt's telekinetic rock attack was a failure. Krayt uses the momentum to leap at Wyyrlok with two lightsabers, monstrous in form and roaring. Wyyrlok is shown shriveling behind his lightsaber.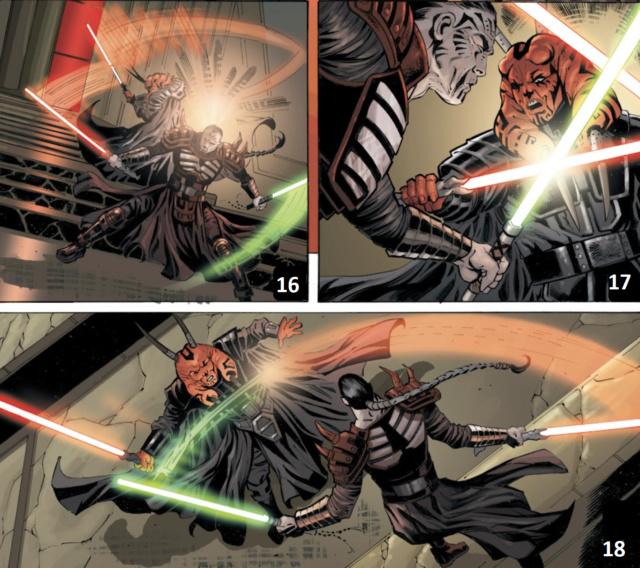 Across the next three panels, Krayt is shown dominant over Wyyrlok in lightsaber combat. Wyyrlok retreats up the first stair (16). Krayt presses the attack (17). Wyyrlok makes it to the first stair clearing, but Krayt slices off his bottom horns (18). Wyyrlok's face is shown panicked throughout. 
What about this stair business, though?

The staircase has ten stairs in all, including a long clearing (the yellow line) that appears to be at least twelve feet long (18).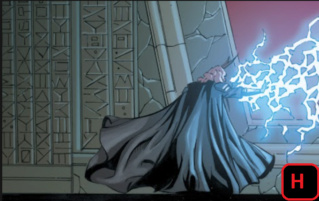 Krayt and Wyyrlok start dueling at least eight feat from the staircase.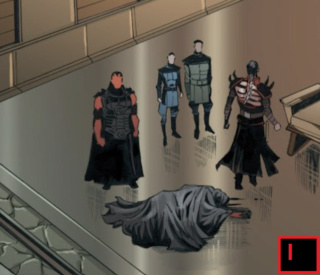 And we know Wyyrlok is at the top of the stairs by the time he stops dueling and tries the Memory Walk. 
So, Krayt and Wyyrlok fought at least eight feat to the staircase, up five stairs (conservative length of each stair is two feat based on the clipped size in the top left of 18), across a twelve foot clearing, and up five more stairs. That's at least forty feet, give or take. 
How good of a fighter is Wyyrlok, anyway?

"Wyyrlok is a diplomat rather than a warrior."
(Star Wars Ultimate Visual Guide - Updated and Expanded)
Well, that's not the best saber accolade. But you can still be a strong warrior even if you don't care much for being one.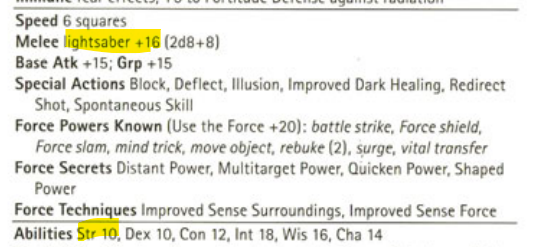 Wyyrlok's
only
other saber indicator. A "lightsaber
+16
" in the Legacy Campaign Guide. This ranks among the worst lightsaber stats of any prominent Force user in all of the SAGA Edition Roleplaying Game. Note this reflects Wyyrlok's lightsaber output, so it's not just technical skill -- it includes the Force bonuses. For comparison:
Early Clone Wars Jedi:
Kit Fisto: +18
Ki-Adi Mundi: +17
K'Kruhk: +16
Plo Koon: +20
An'ya Kuro: +20
Aayla Secura: +16
Saesee Tiin: +19
Quinlan Vos: +16
Legacy Sith:
Darth Maladi: +14
Darth Maleval: +18
Darth Nihl: +21
Darth Talon: +18
(The higher the number, the better.) 
Note the stats actually put Wyyrlok quite high overall... they just emphasize he's not that good a lightsaber combatant. Wyyrlok is also tied for being the physically weakest (10 Strength) of any character listed. 
What are the implications of a "diplomat rather than a warrior," +16 fighter weathering Krayt's "firestorm of raw emotion and cold rage" saber attacks for over 40 feet?¯\_(ツ)_/¯ 
Maybe Krayt wasn't particularly trying, hence... being a "firestorm of raw emotion and cold rage"...  
Perhaps Krayt is artificially prolonging the fight to maximize Wyyrlok's humiliation? Except:
(A) Krayt's never been shown to do this before. Generally characters who do this have a history of doing this, like Palpatine 
(B) Krayt walked in bitterly monologuing about Order 66 2.0 and that he will hear the screams of his traitors -- no mention of trying to humiliate
(C) There's more flagrant ways to humiliate Wyyrlok than letting Wyyrlok duel him across a significant distance 
(D) Wyyrlok's not known as a warrior. He's a sorcerer. Humiliating Wyyrlok via sabers is like humiliating Babe Ruth by challenging him to football
Points (C) and (D) mean that Krayt's certainly not
optimizing
for humiliation. Way better ways to go about that than how he does. 
Is it possible, though? Sure. Is it probable? Little reason to believe so and substantial reason to not believe so, if you ask me.
Ultimately, do you think this is the face of someone trying to squash an enemy or humiliate an enemy?: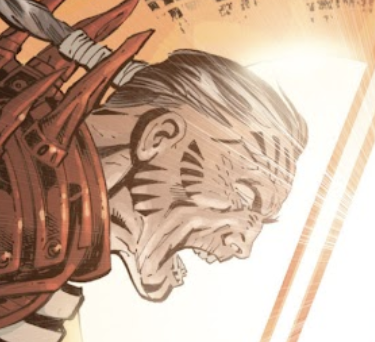 (Remember: the ideas of Krayt dominating Wyyrlok in sabers and Wyyrlok persisting for a period are not mutually exclusive!)
Moving on...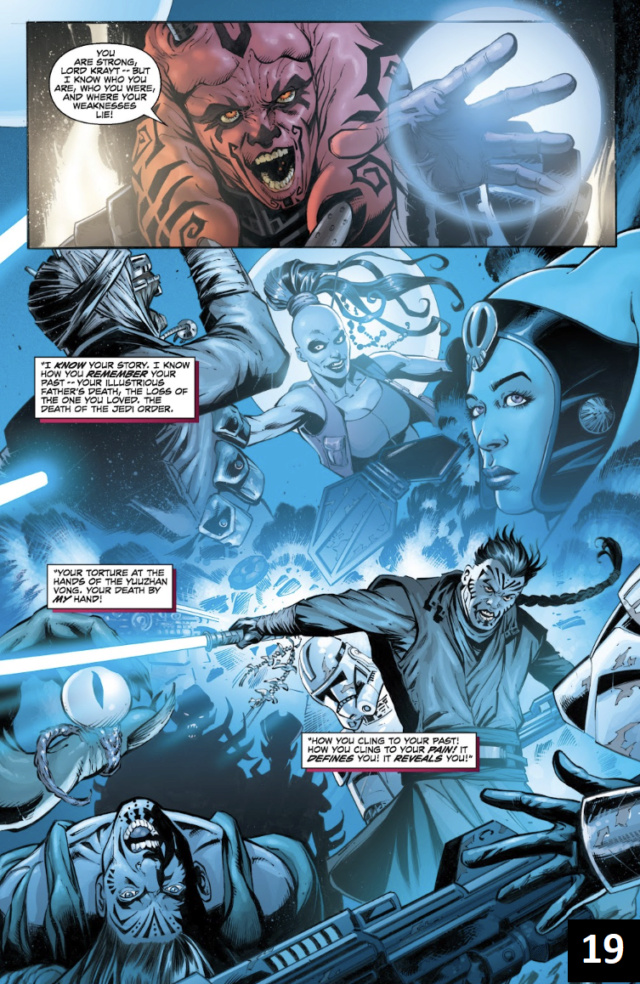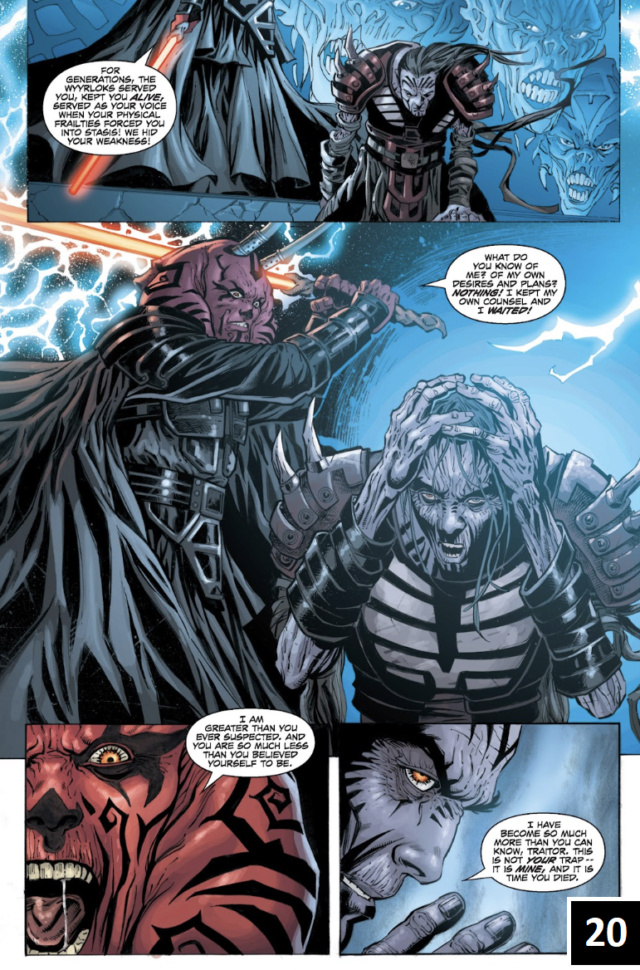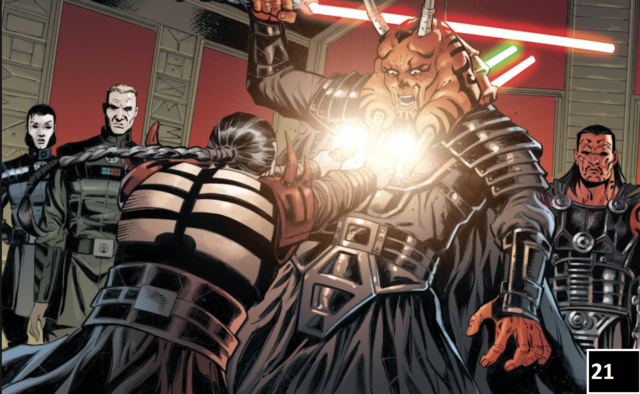 Wyyrlok manages to hit Krayt with a Memory Walk (19). It's worth wondering whether this implies Wyyrlok was charging up this illusionary attack across the saber battle same way in kind to how Zannah is said to in her duels against the Jedi and Darth Bane, or if Wyyrlok just let it rip instantly. Wyyrlok admits that Krayt is "strong" but that he knows all of Krayt's "weaknesses" (19). Krayt seemingly crumbles before revealing to Wyyrlok that he has "become so much more than [he] can know" and this illusion is actually his own trap (20). Krayt grabs his lightsabers and impales Wyyrlok through the chest (21). 
KEY TAKEAWAYS:
- Wyyrlok seemingly can block Krayt's "firestorm of raw emotion and cold rage" Force lightning attack with his own
- Wyyrlok can block Krayt's "firestorm of raw emotion and cold rage" telekinetic rock attack with a Force protection bubble 
- Wyyrlok can last in a duel with a maybe-trying ("firestorm of raw emotion and cold rage," anyone? ) Krayt for at least 40 feet despite being a relatively poor duelist

I look forward to follow-up posts and may respond if the points are worthwhile. Be sure to read the CC blog why stats are canon.
Other blogs in the series:
- 
Dissecting Legacy #1: Cade Skywalker's Ending Growth
- 
Dissecting Legacy #3: Cade Skywalker vs Darth Krayt
---
Completely unrelated, but here's the Hero of Tython if he tries to fight Revan single-handedly:
And some additional food for thought: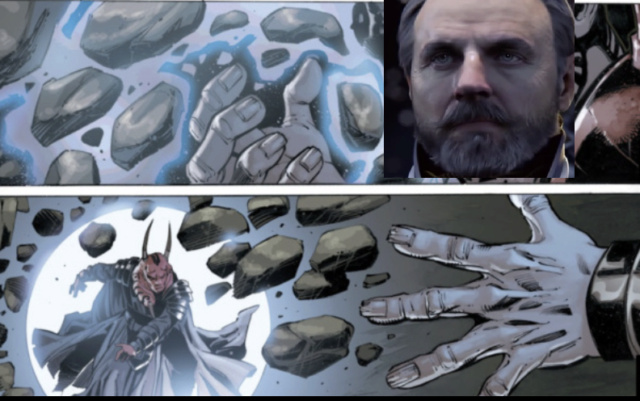 TheAce
August 22nd 2022, 4:39 am
Just get a room you two, KoB's delays are tiring and this would be much better. We need Ant Vs ILS.
Could revive the dead community for a while.

Permissions in this forum:
You
cannot
reply to topics in this forum