DarthAnt66

Moderator

TFNU! ULIC QEL-DROMA
(Vaelias)
-
VS-
JAX PAVAN
(Proto Dan)
Character Constraints
A Opener -> 2,500K
B Opener -> 3,125K
A Response1 -> 3,725K
B Response1 -> 4,375K
A Response2 -> 5,000K
B Response2 -> 4,375K
A Response3 -> 3,750K
B Response3 -> 3,125K
A Conclusion -> 1,250K
B Conclusion -> 1,250K
(Opener B should contain counters to Opener A)
(Conclusions should not introduce wholly original arguments)
Dan
My goal is to prove the following:

1. Jax is a capable moving keeping up if not being faster than Ulic
2. Being capable of Skilled and capable of fighting evenly with him.

In the events of the 2nd book Jax has been noted move faster then the of light speed.

Jax glanced down at the weapon, saw his distorted image staring back at him from the blade's surface. "Yeah? How do you know th―?"

I-Five suddenly whipped up his left hand, index finger extended, and fired a laser beam at Jax. The laser beam splashed off the ionized fire that suddenly coated the length of the blade, which Jax had automatically raised to block the beam.

"That's how," I-Five said. "The speed of light is just under three hundred kilometers per second. You are currently seven-point-three meters from me. Your Force-augmented anticipatory reflex action obviously is working fine. You just have to let them."


Later he battles Aurra Sing. Sing being a person that can battle characters such as Ashard and Sharad Hett, Battle Qui-gon Jinn and Kenobi, and face off against Aayla Secura.

Jax landed on his side, rolled, and came to his feet in a single motion, letting the Force do most of the work. At some point during the move he activated his lightsaber, though he couldn't have said when. The blade―crimson, a remote part of his brain noted―boiled out to its full length in a heartbeat.

Then he was on his feet and facing Aurra Sing.

Though he'd never met her before, her appearance left him with no doubt of her identity. He would have little room for doubt in any case, because her blade was already whistling towards him. It was a green blade, and its glow painted everything the same shade of corroded brass. Everything, that is, except the Twi'lek's green skin―that it rendered the deep gray-green of ripe chee nuts.

Jax had just time enough to register that Lanarth was either grievously wounded or already dead, and that she was directly in the path of the blade's second downward arc, before he lunged in a desperate attempt to block it.

He did, but just barely. The clashing blades crackled, the air rent with ozone, and the two lightsabers rebounded. Sing's blade had been deflected just enough to miss Lanarth. It sheared through the suspended floor of the elevated walkway, cutting supports. Jax backflipped and came down on the still-supported section, his lightsaber ready for another attack.

Behind him, his comrades fell into the abyss.(edited)
[11:27 AM]
No time for even the briefest reactions, as Aurra Sing was leaping at him again. Several meters below, an emergency-response tractor field automatically activated by the disintegration of the corridor caught his tumbling companions. They would slow-fall, but he wouldn't have time to watch, he barely had time to breath. She rained down on him a fury of blows almost as vociferous as the oaths and curses that accompanied them.

"Fear me. Jedi! I am Aurra Sing, Nashtah, scourge of your kind! I haunt your darkest dreams! I drink Jedi blood; I nest in their guts! Your nightmares now have a name, hierophant, and that name is Aurra Sing!"

He felt the Force flowing around her. There was considerable might to it, but it was wild and undisciplined and, as such, difficult to anticipate. He'd never felt anything quite like it, and he'd certainly never heard anything like it.

"You'd be the bounty hunter, then." He said.

Hefting her own weapon, the woman grinned a feral grin at him. Externally, she was beautiful; even without an endocrine advantage, she could give Dejah a run for her credits. What Jax sensed within her, however, utterly obliterated any outward impressions. She had an ugly soul.

"You handle a lightsaber well, prey." Suddenly she leaned forward, and her crimson eyes narrowed. Then rage filled them―or at least, he thought, topped off the last little bit of sanity; it's not like there was a whole lot to begin with―and she snarled. "Where did you get that?" She indicated his lightsaber.

He told her the truth: "An acquaintance sent it to me," He shrugged. " I guess he didn't want it anymore."

She came in, and she was incredibly fast; faster than anyone he had ever encountered. Only the Force allowed him to anticipate her reactions; otherwise he would have surely lost limbs in the first minute of action. It was all he could do to parry the hurricane of blows she threw at him: cut-cut-cut-thrust-diagonal-cut―!(edited)
[11:28 AM]
He leapt backward to escape, felt the heat of her lightsaber singe his right foot as it cut through his boot and sliced off part of the heel.

Maybe needling her into loosing control wasn't such a good plan after all...

As he flew backwards, Jax slashed behind him with his lightsaber. A newly installed transparasteel plane shattered under the impact of his lightsaber, just in time for him to sail through unharmed. He landed on his feet on the roof.

In an instant Sing followed. She flew through the opening, eyes narrowed, her arms held wide for balance. Her lightsaber was a viridian shaft in the semidarkness.

She cut downward, hard, so fast! Without the Force, he would have been bisected. Instead, before he could think, his body moved on it's own, wrapped in lines of power. Unbidden, his hand snapped up to block her blade with his. Scarlet and emerald lightning blinded them both momentarily. Coupled with the force of her decent, her strike knocked him backwards again, across the roof construction. He nearly fell off the far edge.

Behind him, several massive automata were hard at the business of demolition and construction. At a comfortable control station somewhere, a supervisory sentient was probably kicked back in a formchair, watching as the gigantic machines did all the work. Would he or she glance at the screen, take notice of the fight amid all the heavy work, set down the inevitable cup of caf and notify security? Would the fight even last long enough for help to arrive?(edited)
[11:29 AM]
She came at him again. She was fast, strong, and good, but she was also reckless. She had said it herself; her passion was hunting Jedi, not fighting them. She was used to striking hard and fast, a streak of scarlet in the night. She was used to fighting skilled opponents for any length of time.

Jax kept backing away, parrying, letting the Force completely control him. A wrong move and he would be chopped down. His best bet was to wait, to let her wear herself out before attempting to take her down. Assuming her could outlast her. She was humanoid, but not human; their might be different rules for her kind. He was already certain that her fast twitch muscle percentage was higher than his. He was getting tired, and she seemed as fast and strong as when they'd started.

They were along the machines now. Heavy lifters and composite depositors, link checkers, emitters, and synthesizers whirled and hummed and rumbled around them. Sing continued to push him back, back, always back. Jax went with it. He wanted her to be sure that she was winning.

Maybe she was...

At least she's stopped her diatribe. I was beginning to think she was trying to talk me to death.

"No need to die," she said, as if reading his mind. She threw a fast series of chop attacks, none designed to do major damage, but rather to set him up for the killing stroke.

"Really? What do you think your boss plans to do with me? Buy me lunch?"(edited)
[11:29 AM]
"Not my concern, Jedi. Surrender now and maybe we can negotiate something with him. Don't, and I kill you now. An iffy future is better than none, don't you agree?"

She charged in without waiting for an answer, and her attack sequence was to fast for him to follow consciously. The Force answered, its strings manipulating his body like a marionette's, but his body would not be able to keep up much longer. Be blocked, counter attacked, was parried, and ducked just in time as she tried to take his head off.

This was not going well. He needed to do something, and soon, or―

Sing was growing impatient. The blasted Jedi refused to capitulate, even though the Force was all that was holding him up at this point.

She wasn't sure how he'd come upon her lightsaber; most likely he'd had an encounter of some sort with Typho. The particulars didn't concern her―she was intent on getting it back, and she wasn't too particular about how. If it meant prying it from the cold, dead fingers of his severed hand, she was sure Lord Vader would understand. But she wanted this to be over, and soon. Her stamina would outlast most humanoid sentients, but when it faded, it faded fast.

Even acknowledging the possibility of failure was not an option. She would defeat this upstart Jedi. Anything else was unthinkable.

Movement out of the corner of his right eye caught Jax's attention. The energy of their lightsabers clashed and sizzled yet again, and he allowed the blow to send him staggering back toward the activity he had sensed. All he had time for was a quick look.

He couldn't fight any harder. He had to fight smarter.(edited)
[11:30 AM]
The machine was a large reposticator, or fabber. It chewed up raw material that looked like sand from a hopper, then laid a sheet of translucent plate onto the roof for a hard, weatherproof coater. The hopper had a safety field that glowed a pale blue, to keep things from falling into the raw-materials bin. Wise, because the fabber would ingest anything that fell into it and resurrect the material into it's extrusion.

A desperate plan popped into his head.

He tried a simple attack, a basic, simple Form II series that he had learned early on. Not really much of a threat; the moves were designed as defense against an opposing lightsaber.

Sing did just that, easily blocking the attack. She laughed.

"A defense unworthy of a padawan? Come on, you can do better than that, can't you?"

"Not really," he said. But all he wanted was a little running room, which the move had given him. He turned, sprinted three steps, and leapt with every bit of the Force he could muster, managing to land on the control bar above the fabber, arms windmilling in a charade of seeking balance―

Sing would be right behind him, he knew; he wouldn't even have time to turn and face her, and she would use the field guarding the raw-materials bin as a step before launching into a lunge that would easily unbalance him from his narrow perch.(edited)
[11:30 AM]
He felt for her using the Force―

The flashing red button on the control panel was right next to his damaged boot. Jax waited until he felt Sing land on the field―

Then he stepped on the button.

The field shut off.

Sing screamed as she fell into the churning sand. Her ligthsaber cutting a swath of molten energy through it, fusing sand into lumpy green glass―then was snuffed out as she lost her grip on the hilt.

Sing looked up at him as she sank beneath the sand. It churned while it was sucked into the machine. The last he saw of her was a splotch of red hair.

He turned and started toward a nearby drop-tube, realizing that his friends should have reached the ground by now...

As stated before Aurra had several battles with Qui-gon Jinn and Young Kenobi both which being capable of fighting Darth Maul at the same time and capable of Fighting equally with Aayla before losing in evenly fought battel Aayla being able battle briefly against Vos and Greivous (Yes I Know shit examples, but f*ck it).

In the Last Jedi (Not the shit one) Jax was able to battle and contend with an amp Vader who was using Bota. Bota being noted to amplify the users force powers incredibly. This being the same Vader that battles a fake Darth Maul, Dark Woman, and several other Jedi prior. Battle goes as follows:

"I'm surprised at you, Pavan. Surprised you'd sully yourself with such knowledge from the dark side. What could have driven you to that, I wonder? The death of your Paladin?"

Jax tried to keep from reacting to the taunt, but it was beyond him. Fine. Let Vader imagine he was a quivering wreck. Maybe he was exactly that.

And maybe not.

"You don't need to die, you know," said the dark, velvety voice.

Jax found his own voice. "No?"

"No. In fact, it would be … unfortunate … for you to die with all that knowledge in your mind."

"And you're going to offer me a deal, right … Anakin?"

The grip on Jax's throat tightened. The coldness of interstellar space invaded his core. If he could see Vader's face—Anakin's face—what would it reveal? Anger? Hurt? Torment?

"Let me make this clear," Vader said. "Anakin Skywalker is dead. Burned to a cinder and blown away by the winds of betrayal."

Jax dared to laugh. It sounded thin and wheezing. "Betrayed? You? No. You were the betrayer. You betrayed the Jedi Order. You betrayed us all. You betrayed yourself."

The grip tightened more now. Jax gasped, the bay area growing dark. Vader's tone remained amused, but with an edge to it. "Do you suppose your opinion of me matters?"

"Hardly."

The Dark Lord relaxed his hold a tiny bit and activated his lightsaber. The vivid red of the blade slashed across Jax's gaze. The Sith drew closer to his captive. Closer still, until Jax could see his own pale face as a warped reflection in the curved obsidian surface of Vader's mask.

"I sense that you already dance at the edges of the shadows, Pavan. Come into them fully, share this knowledge with me, and you can live. Your cause is lost in any case. You might as well salvage something."

"And Yimmon?"

"I have you, now. What do I need with him?"

"You won't torture him anymore? You won't kill him?"

"Is it so important to you at this moment?"

"If you want what's in my head, it will be important to you, too."

The Dark Lord hesitated. "Where is he?"

Jax flicked a glance at the lift doors to his extreme right. The doors parted, revealing Thi Xon Yimmon and Den Dhur. Yimmon leaned against the wall of the lift; Den, looking horror-struck, supported him.

The unexpected sight was enough to break Vader's concentration. The blast of Force energy that Jax then unleashed sent the Dark Lord staggering back, one, two, three steps.

Not much. But enough.

Jax dropped prone, his body hovering horizontally six centimeters above the floor. He coiled and hurled himself past Vader, accelerating through the open portal of the docking bay.

Vader recovered swiftly and strode through the doors, his robes billowing about him in an inky cloud.

"You've progressed, Pavan. I hadn't imagined you could wield such knowledge so well. It won't do you any good, of course. I can see through you. I always could see through you."

Jax came lightly to his feet and turned to face the Sith Lord. Lightsaber poised and activated, he continued to move backward deeper into the bay, keeping one eye out for Imperial troops. He saw none—only a handful of terrified crew huddled in a far corner.

"I'm that transparent, am I?" he asked Vader.

"Perhaps not, but your illusions are. You neglected to give them life signs." The Dark Lord swept a hand back at "Yimmon" and "Den"—still standing in the open turbolift—as if to dismiss Jax's careful mirage. They blurred about the edges, but did not evaporate. That Vader had expected them to do so was evident only in the slightest halting of his step, the sudden tilt of his helmeted head,

the twitch of his gloved fingers.

Jax quashed the bubble of elation that bloomed in his heart at having thwarted the Dark Lord's expectations. He held the projections long enough to make the point that he could, then dropped them. The images of the Sullustan and the Cerean vanished like smoke.

"Proud of yourself?" Vader asked. "Perhaps you're entitled. You've exceeded my expectations, I'll allow. But … how interesting—the projections of your comrades are gone, yet I can still feel the texture of an illusion … somewhere …"

The helm tilted upward as if the Dark Lord was scenting the air, and Jax realized his mistake. Having touched and felt of Jax's projections, Vader could now recognize them. And there was a pyronium-powered projection buried in a far corner of this bay.

"What is it?" Vader asked Jax, moving slowly, inexorably closer. He was mere meters away. "What are you hiding, Jedi? What have you concealed in here? More to the point—how are you concealing it?"

Jax hesitated. He had hoped he could foil Darth Vader with a combination of thrust, parry, and projection, but that now seemed naïve. Now Vader stood a good chance of having not just the Jedi ship, but the pyronium, as well.

Ironic. Anakin Skywalker had been the one to give Jax the pyronium in the first place. For safekeeping, he'd said. That had been before—before he had become this towering pillar of darkness, this … thing. What might such a conscienceless creature do with that inexhaustible power source now?

The black helmet canted toward the corner of the bay where the Jedi starfighter sat, half concealed by the vessel that had entered the bay before it.

"Ah! The pyronium, of course. That's how you're doing it. That's how you're powering all your projections. Stupid of you, Pavan, to carry it with you."

"Oh, but I'm not."

Jax Force-grabbed the first thing he could find—a discarded length of shielding from a nearby shuttle under repair—and flung it at the Dark Lord. When Vader whirled out of its way, Jax followed it by wrenching the entire shuttle off its repair struts and tumbling it onto the Sith.

Without stopping to see the results of his efforts, Jax darted to his left, away from the telltale signature of the projection around the Delta-7. He was cut off from the lift core by his own hand, but he knew that there were, in every docking bay, hatches in the deck used to lower large pieces of machinery and cargo from one level to another. If he could just find one …

He heard the shriek of metal on metal behind him as Vader dealt with the shuttle. He spent no more of his precious Force sense on that, instead probing ahead as he ran.

There! There was a hatch, five meters ahead—but closed.

Not for long. Using the Force, Jax ripped the thick durasteel grating up and flung it back on its groaning hinges. Then he leapt, throwing himself into the open maw. He landed lightly, one level down, on the bow of a docked shuttle, then turned a quick somersault and vaulted to the deck.

What would Vader do?

If he believed the pyronium was in Jax's possession, he'd pursue Jax. Then the starfighter and the pyronium would be safe … for the time being. If he believed the pyronium must be aboard the vessel, if he failed to give chase, Jax could cause the nameless ship to self-destruct and maybe—a slim maybe—he could catch Vader in the blast.

Jax knew, now, what the endgame would have to be. He told himself he'd know when the moment arrived for him to give up fighting for his life.

The lower bay was laid out just like the one above it, with a portal that gave onto a liftcore. Jax headed for that, chose a lift at random, and took it up two levels. He would head back toward the civilian sector of the station, hope that Den and Sacha had disobeyed after all, and waited for him.

As Den had waited, once before, in the corridor of the Far Ranger …

Off the lift, Jax headed to his left—west, in the geography of Kantaros Station. He'd have to work his way back down a number of levels once he'd gotten farther from Vader, but for now he just wanted distance.

He dashed past crewmates, stormtroopers, and officers, knowing they saw him as one of their own—an anonymous grease monkey hurrying about his assigned tasks. He hesitated when a trio of Inquisitors stepped out of a lift ahead, then

dodged left and found himself in a galley.

It was a long, gleaming room, redolent with cooking smells and furnished with durasteel tables and equipment. The droids that staffed it were busily preparing meals for the crew. They paid him no heed.

He was halfway across the galley when the far door into the canteen swept back and Darth Vader appeared, his lightsaber vibrating the air around him. The droids ignored him, too.

"The problem with those projections, Pavan, is that I now know their scent. You left a trail a blind bantha could follow."

From the corner of his eye, Jax saw ranks of pots, pans, and metal utensils hanging above a center prep area. Beneath them were stacks of meal trays. Realizing the only escape was behind him, Jax coiled the Force in his hands and swept every pot, pan, utensil, and tray at Vader in a hail of metal.

Not done, Jax scooted back the way he'd come, using the Force to turn the droids in the galley to his own uses. He turned them on Darth Vader, with their knives and choppingblades, pestles and cook pots. There were a good half dozen of them, now intent on the Sith.

Jax had no doubt that the Dark Lord, with his mastery of the Force, could repel the attack, but it gave him time to flee. This time he didn't use a projection. And this time, he was spotted by the enemy. A handful of stormtroopers led by a corpulent lieutenant turned to give chase.

That decided his course of action. He headed back toward the docking bays, hoping Vader might believe he had gone the opposite way.

It was a forlorn hope. He heard the uproar as the Dark Lord entered the corridor outside the galley, felt the disturbance among the Imperials at the sight of him, heard his voice of command as he made it clear that this Jedi was his to dispose of.

"Leave him to me!"

Leave him to me.

Was it that inevitable?

Fine—endgame, then.

Lightsaber activated, Jax raced back to the docking bay in which the Delta-7 sat hidden. He entered the huge chamber and turned as Darth Vader came through the portal behind him.

"Your last chance, Pavan. Come willingly and live. Resist, and die. It makes no difference to me."

That was a lie and Jax knew it. It did make a difference to Darth Vader, because it made a difference to Anakin Skywalker. Jax understood, at last, that if he capitulated, he would vindicate Anakin in his fall to the dark side. If he resisted to the last and died, there could be no vindication. The Jedi Order—the thing that Vader lived to crush—would be gone, true enough. But Jax knew that merely killing it would not be enough for Darth Vader. No, the last Jedi had to do more than just die.

He had to be broken.

If not—if he made Vader end him—the Dark Lord's thirst for vengeance would remain unslaked, and there would be no one left for him to avenge himself upon. Even if there were other Jedi still alive—it was a big galaxy, after all—the man who had been Anakin Skywalker could search for a lifetime—a thousand lifetimes—and never find them.

He would be without purpose.

Like you were?

Something deep within Jax Pavan resonated with that. Didn't he also seek revenge for Laranth's death? Yes, of course—he'd come to rescue Yimmon, but hadn't he ultimately wanted this?

He met Vader's opaque gaze, stared into the gleaming black lenses. If he died, would that put an end to Vader's purpose? If Vader died, would that put an end to Jax's?

There was no time to answer the question. The Dark Lord was coming at him with long strides.

"Choose, Jedi!"

Jax chose. He flung himself at the Sith, lightsaber cutting the machine-scented air of the docking bay. Vader parried and the blades locked, slid apart, arced, and locked again. The air sizzled with their power.

Again, again. Thrust, parry, fade. Thrust, parry, fade.

Jax worked his way slowly, inexorably back toward the Aethersprite's berth. He was careful not to seem as if he'd given up the fight. If Vader realized he was being lured, there was no telling how he'd react.

So Jax fought. Quite as if he expected to win.

He pelted his adversary with small objects—anything that wasn't bolted down, and a few things that were. Vader parried them with his lightsaber, slicing everything that came at him into shards of slag. He answered by treating Jax to the same rain of metal.

Crew scrambled to get out of the

way; but, prisoners of curiosity, most of them continued to watch from the far sidelines.

And that gave Vader the advantage he sought.

With a flick of his free hand, the Dark Lord Force-lifted one of the deckhands off his feetand hurled him at Jax.

Jax froze for a split second, his weapon raised, then twisted out of the way of the screaming crewman. Anakin knew him too well—knew what he would and would not do.

Maybe.

With a supreme effort of will, the Jedi felt the local time currents around him, stirred them to eddies, then dropped and rolled beneath the fuselage of a small shuttle that lay between him and the Aethersprite.

Vader's next barrage of ordnance was aimed at where Jax had been, not where he had gone.

Jax shot to his feet and pelted toward the Jedi starfighter where it lay tucked behind its Imperial look-alike. He was panting with the effort now, drained by the effort it took to harness so much energy.

The deafening groan of metal from behind him caused Jax to turn. The small vessel he'd just rolled beneath was ripped from her moorings and flung aside as if she were a bit of stray debris. Darth Vader came at him out of her wake, his Sith weapon shedding lurid light.

"You amaze me, Pavan. The things you have absorbed from that dark well of knowledge, the ease with which you use them. You are truly wasted on the light side. Your continued existence and what you have done to ensure it confirm this."

The observation cut deep, but Jax would not let Vader see him bleed. "What I've done, I did to free Yimmon. Having done that, I've served my purpose."

He was close enough to the Delta-7 now that he could feel the energies of the pyronium-fed projection as a humming tremor in the Force around him. He was certain Vader must feel it, too.

"Served your purpose?" the Sith echoed. He made an elegant gesture with gloved hands, the lightsaber describing a graceful arc in the air. "Then surrender."

"I'll die before I let you have what's in my head, Anakin."

Vader was completely still for a moment, then raised his lightsaber for an attack. "As you wish … Jax."

As Vader swept toward him, Jax reached back and felt of the connection between the pyronium and the ship. A simple command—a simple trigger—was all it would take to end this.

He was startled by the sudden flash of light that exploded along the hull of the starfighter's nearest neighbor. It was as if someone had opened a door between the two ships, letting sunlight pour through.

—Star Wars: The Last Jedi



Vaelias
In Favor of Ulic Qel-Droma, Opener A
"Now is not the time to start fixing droids"
Ulic scales enormously over Jax Paven, lets kick this off with establishing how Ulic is a naturally gifted Jedi of notable blood (Jax is not hehehe)
KOTOR (Qel-Droma Robes) wrote:'The Force is strong in the Qel-Droma blood, and many of the family have joined the Jedi Order over the centuries.'
- Knights of the Old Republic II: The Sith Lords: Prima Official Game Guide wrote:The Qel-Droma family has produced many powerful Force sensitives. Some, such as Cay Qel-Droma, have been shining examples of the strength of the Force. Others, like Cay's brother Ulic, have fallen prey to the temptations of the dark side.
He is also regarded as a 'Legendary' figure amongst the Jedi order
- Shades of Gray wrote:Even the legendary Ulic Qel-Droma had eventually come back to the light.
- Star Wars: Tales of the Jedi Omnibus Volume 2 Solicitation wrote:Learn the fate of the ancient Jedi Order's most legendary heroes in this huge collection!
he is described as having 'great power' and regarded as '
the orders greatest Jedi Knight'
The Complete Encyclopedia wrote:A powerful young Jedi some 4000 years before the Galactic Civil War
- Tales of the Jedi Audio Drama wrote:Two of the most famous of these Jedi warrior's were Ulic Qel-Droma and Nomi Sunrider. Young Jedi Knights of great power, who learned to master the ways of the Force.
- Tales of the Jedi: Redemption wrote:"Ulic was once our greatest Jedi Knight. Now he is our greatest shame." –Sylvar
He was so powerful that he quickly '
mastered'
Lightsaber Combat
Power of the Jedi Sourcebook wrote:While his brother [Ulic] perfected his combat skills by defeating training droids, Cay was more interested in putting the dismantled droids back together.
The Complete Star Wars Encyclopedia wrote:Ulic Qel-Droma quickly mastered the art of lightsaber dueling
he specializes in Djem So

Djem So is said to focus on brute strength and lack mobility
despite this Ulic is shown to incorporate incredible speed and agility into his saber form, even moving fast enough to dodge blaster bolts and create after-images with his body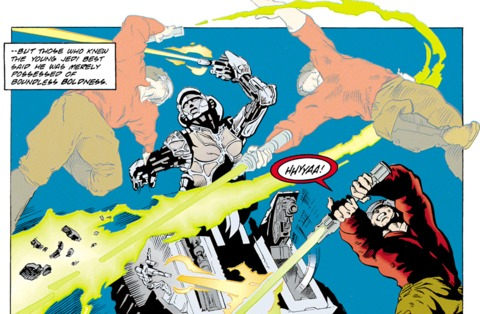 With Ulic instantly accelerating, to create these two images of himself roughly 1 meter apart he needs to be traveling at a velocity of 1000 meters per second or 2236 miles per hour, (this is pre prime FNU Ulic)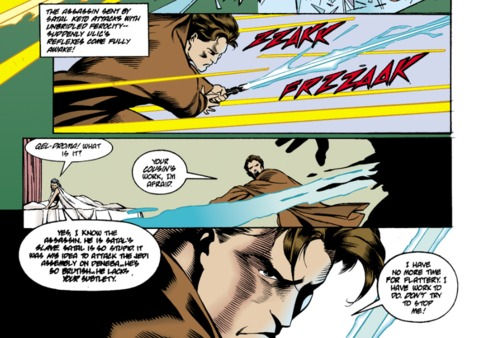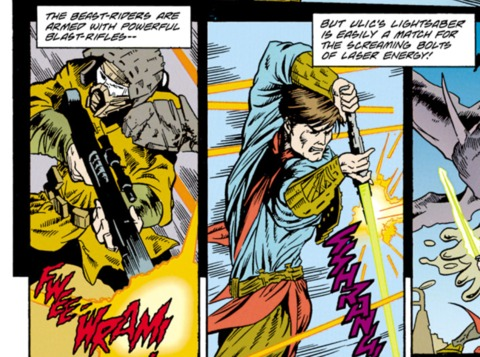 Ulic 'easily a match' for the blasters
-Fact File 45 wrote:The Power of Light- Like most energy weapons, turbolasers fire invisible beams of energy at lightspeed.
Coupling Form V's brute strength with this incredible demonstration of speed, Ulic should easily be able to blitz Jax who couldn't hope to match Vader without Pyronium, despite Vader's lightsaber prowess being 'seriously hampered' and Luke (Vader's equal) not being as 'skillful' or 'acrobatic' as the 'young Jedi of the prequels'

Ulic is similar to Luke in his actions, both having 'angry streaks'
-- Tom Veitch, Co-Author of Tales of the Jedi wrote:"Ulic is a prefiguration of Luke Skywalker. He's rash and impulsive, an excellent swordsman. He acts before he thinks and has an angry streak. It was very difficult working out the story of his turning to the dark side, because we had to do it in very few pages."
If Luke's 'angry streaks' are enough to quickly overwhelm ROTJ Vader, then the much faster Ulic in an 'angry streak' should have no difficulty doing this, whereas Jax Paven knows he has no hope of doing this to a pre ANH Vader who is far less powerful, a Vader much more akin to ROTS Suit Vader who is seriously handicapped to say the least
-ROTS Novel wrote:The tall boots were a poor fit for his artificial feet, whose claw-like toes lacked the electrostatic sensitivity of his equally false fingertips. Raised in the heel, the cumbersome footgear canted him slightly forward, forcing him to move with exaggerated caution lest he stumble or topple over. Worse, they were so heavy that he often felt rooted to the ground, or as if he were moving in high gravity.

What good was motion of this sort, if he was going to have to call on the Force even to walk from place to place! He may as well have resigned himself to using a repulsor chair and abandoned any hope of movement. The defects in his prosthetic arms mirrored those of his legs.

Only the right one felt natural to him-though it, too, was artificial-and the pneumatic mechanisms that supplied articulation and support were sometimes slow to respond. The weighty cloak and pectoral plating so restricted his movement that he could scarcely lift his arms over his head, and he had already been forced to adapt his lightsaber technique to compensate.
Now that we have established that Ulic's family is one of the most powerful bloodlines in history, that he is one of the strongest Jedi of the TOTJ Order and that he would most likely blitz Jax, in my Opener B we will examine how the notable Jedi of this Order are superior to most of the Jedi in the PT, and go deeper into how Ulic scales tremendously above Jax Paven
TO BE CONTINUED...
Dan
Sorry for wait
I will point out that Vader was as of the time being amped by Bota at the time which increased his power greatly. To note even though Vader was hindered at time it's to note that Vader has been stated and noted by Ferous Olin to be faster than any Jedi and blitzing him and another Jedi :

"He is a former associate, yes, but --"

It happened before he could get out another word. Faster than an eyeblink. Faster than he'd seen anyone move, anyone except Yoda.

The lightsaber hadn't been there, and then it was, and the lightsaber was a blur. Vader moved without seeming to move, and the lightsaber sliced into Roan, straight into his chest. Straight into his heart.:

It happened before he could get out another word. Faster than an eyeblink. Faster than he'd seen anyone move, anyone except Yoda.

-- Last Of The Jedi: Secret Weapon


Ferus heard Amie shout, but he couldn't focus on anything but his own need to plunge his lightsaber deep into Vader. He whirled and attacked again, but Vader again was gone, moving with a speed and lightness that was surprising considering his body armor.

-- Last Of The Jedi: Secret Weapon

This was it, then. The final confrontation.

He was ready. His rage was ice and fire.

He charged.

His first blow was easily parried. He came at Vader again. Again. Circling, jumping, vaulting past him, turning. Each time his lightsaber came toward him, it was eilher deflected in a shock that ran up his arm, Vader simply wasn't there.

---

Ferus leaped over a gaping hole in the floor and attacked Vader again, but his lightsaber cut through empty air.

-- Last Of The Jedi: Reckoning
Even if you don't take the early
statements
into account Ferous has still manage to do the following:
As a Padawn
He was tired. So tired that he almost missed the blur at the corner of his vision. A lightsaber had been activated and someone hurled at him from a tree branch above. It was another one of Soara's sudden attacks. She had enlisted another Padawan to surprise him

Anakin forgot his fatigue and jumped back just in time. To his dismay, he saw that his attacker was Ferus Olin.

If only it had been anyone else! Anakin didn't like to see Ferus under the best of circumstances. He certainly didn't want to fight him when he was tired and hungry.

Soara appeared on top of the waterfall where she could watch. He knew he had no choice. As Ferus came at him with a somersaulting reversal, Anakin kicked into fight mode. She had sent the best Padawan fighter in the Temple against him. She wanted to see what he would do.

He would win.

What Soara could not know was that this time, friendship would not gentle him. Not with Ferus.

Ferus was starting out slowly. He would fight smart. He would save his energy and pace himself. Anakin decided to surprise him.

He launched an assault so fierce that he saw Ferus's eyes flare with astonishment. Ferus retreated fast, needing to collect himself. Anakin came after him, swinging his training lightsaber without pause. He almost touched him, but Ferus twisted away just in time, turning the movement into a twisting leap. He surprised Anakin by immediately swinging back a backward blow. Anakin ducked, feeling the whistle of air created by the power of Ferus's swipe.

Ferus was tall and solid, but he was also agile. He was expert at using the ground.

Unlike Tru, he used both hands equally well. The rocky terrain was perfect for his style

He jumped, spun, and leaped, keeping Anakin off guard. Now he was driving the battle. Anakin did not know how Ferus had regained the upper hand, but he wasn't happy about it. He was reacting to Ferus's moves instead of the other way around. What was Soara thinking?

Anakin feinted to his left and then leaped straight ahead. To his dismay, Ferus dropped to the floor and rolled underneath Anakin, then sprang up in one smooth movement. He was behind him now. Anakin had only a split second before he felt the touch of the lightsaber on his shoulder. It only just missed his neck. When he twisted away, he saw the gleam of triumph in Ferus's eyes.

Fury roared through him. Ferus wanted to humiliate him in front of Soara!

He did something Ferus would never expect him to do. He copied Ferus's move, dropping to his knees and rolling underneath him as he made his next leap. He flipped up onto his feet and then charged at the rock wall.

The Force entered him. He felt it. He saw the rock wall as a shifting shape, ready to receive him. He sprang off the wall and straight over Ferus's head. It seemed the easiest thing in the galaxy to simply lean down and touch the side of Ferus's neck with his lightsaber.

He landed and looked up. Soara had seen everything. He had never fought so well.

She called down from the cliff, "Thank you, Ferus. Stay there, Anakin. "

"Good fight," Ferus said, sticking the training lightsaber in his belt. "Except for one thing."

"What one thing?" Anakin asked, irritated. He wiped the sweat off his forehead with his sleeve.

Ferus only smiled. Then he walked off.

Anakin jammed the lightsaber hilt into his belt. No one could get to him like Ferus could.

Soara walked toward him. "That was your last lesson," she said.

Anakin was surprised and pleased. She must have seen how seamlessly he had connected with the Force.

"Before this, I had been impressed with your gifts," Soara said. "I had thought you had the potential to be one of the great Jedi fighters of all time. I thought I could teach you. Now I have grave doubts about you, Anakin."

Anakin couldn't believe what he was hearing. "What did I do wrong?"

"That question is the problem," Soara said, shaking her head. "That is what is wrong. You don't know what you did. Didn't you feel your anger, Anakin? Didn't you realize it was fueling the battle?"

"Obi-Wan told you that Ferus and I do not get along," Anakin said sullenly.

"Obi-Wan didn't need to tell me," Soara snapped. "I saw it. Not from Ferus. From you."

"He wanted to win," Anakin said. "I saw triumph in his eyes when he surprised me."

"And it made you angry." Soara sighed. "Ferus did not fight from his emotion, Anakin. If you saw triumph in his eyes, he absorbed it and went on. That is the lesson you must learn. You will feel the emotion. You must let it go."

—Jedi Quest: Master of Disguise
Vaelias
Opener B
Dan wrote:In the events of the 2nd book Jax has been noted move faster then the of light speed.

Jax glanced down at the weapon, saw his distorted image staring back at him from the blade's surface. "Yeah? How do you know th―?"

I-Five suddenly whipped up his left hand, index finger extended, and fired a laser beam at Jax. The laser beam splashed off the ionized fire that suddenly coated the length of the blade, which Jax had automatically raised to block the beam.

"That's how," I-Five said. "The speed of light is just under three hundred kilometers per second. You are currently seven-point-three meters from me. Your Force-augmented anticipatory reflex action obviously is working fine. You just have to let them."
Ok so if Jax can move that fast then Ulic can move far far faster seeing how absurdly he scales above Jax, this just pushes up Ulic on the speed scale
Dan wrote:As stated before Aurra had several battles with Qui-gon Jinn and Young Kenobi both which being capable of fighting Darth Maul at the same time and capable of Fighting equally with Aayla before losing in evenly fought battel Aayla being able battle briefly against Vos and Greivous (Yes I Know shit examples, but f*ck it).
This was a before growth leading up to fighting Maul, and Aurra is hardly a match for then, she essentially showed up, caught them off guard with a bunch of kicks and flips and took off, besides Aurra speedblitzed Jax
―Star Wars: Coruscant Nights II: Street of Shadows wrote:She cut downward, hard, so fast! Without the Force, he would have been bisected. Instead, before he could think, his body moved on it's own, wrapped in lines of power. Unbidden, his hand snapped up to block her blade with his.
Dan wrote:In the Last Jedi (Not the shit one) Jax was able to battle and contend with an amp Vader who was using Bota. Bota being noted to amplify the users force powers incredibly. This being the same Vader that battles a fake Darth Maul, Dark Woman, and several other Jedi prior. Battle goes as follows
I will touch on this fight in my next response seeing as you mentioned it in your second post, but ill just show you how contending with Vader (if you can even call it that
) means nothing when coming up against Ulic, also refer to my previous post where I outlined how Vader is weaker than the Jedi from the prequels and is physically handicapped 
First off... The Jedi of the Great Sith War possess talents and techniques 'all but forgotten by the time of the Clone Wars' meaning Ulic would have access to abilities Jax has never seen, let alone know how to counter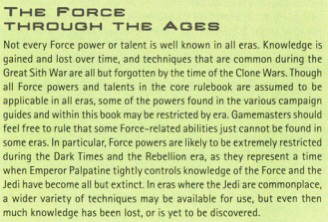 Warb Null
possess a suit of armour in which he draws power, the armor was strongly imbued with sorcery from an ancient 'Sith Tome'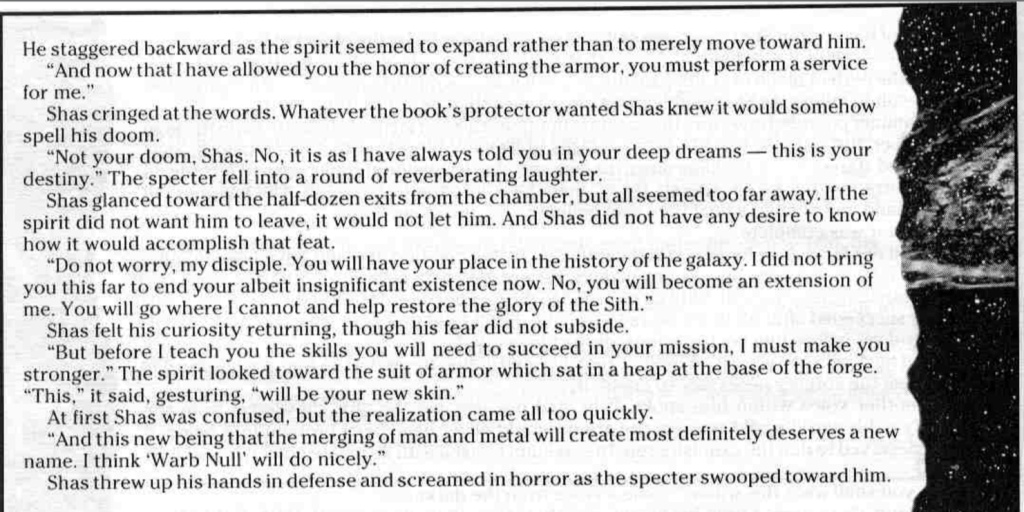 On top of Null drawing power from his armor
he also
mastered
the Dark Side which he combined with his martial prowess
Null's lightsaber prowess and dark side knowledge is incredible as he possesses all the memories of Nadd and Adas through his armor 
- Hammer wrote:Telloti knew the weapon in his hands. Somehow, he knew it. He had fashioned it. millennia ago. Or rather, the man in his vision, Shas Dovos, the man who became Warb Null, had, inspired by the dark teachings of Freedon Nadd and dread King Adas before him. He knew these things. He had their memories, their wisdom, the cunning of the Sith.
Nadd possesses training and skills that took people years to attain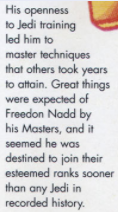 he also possesses everything Sadow knew
Null also possesses Adas' vast mastery of combat 
Evil Never Dies: The Sith Dynasties wrote:Ruling nearly 3,000 years before the rise of the Galactic Republic, King Adas was a massive, regal being encased in majestic ebon warrior armor. Raised from his youth as a chosen being due to the charcoal pigment of his skin, Adas demonstrated great intelligence, fighting prowess, and a tremendous aptitude for Sith magic. With his alchemically forged battle-ax, Adas led the bloody unification of Korriban's disparate nations and became its undisputed world ruler. The Sith people came to believe that King Adas was immortal and that his reign would be eternal.
Null is also aided by 'immeasurable' dark side potency 
Star Wars: Insider 27 wrote:The Naddists were aided immeasurably by the mystical up welling of the dark-side power of Freedon Nadd still prevalent throughout Onderon.
this was stronger than anything Arca Jeth had ever felt 
Arca Jeth, Tales of the Jedi Audio Drama wrote:"Dark Side energy, the strongest I've ever felt."
for reference Arca Jeth was powerful enough to overpower Amanoa's TP hold 
for scale Amanoa was powerful enough to dominate the minds of beast riders that number in the thousands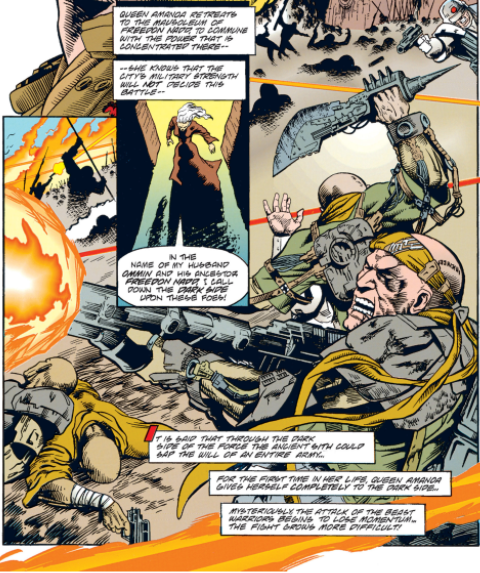 Null has all this from his armor, on top of his own personal mastery of the dark side,
Null's armor was discovered thousands of years later by Telloti, a failed Jedi Youngling, who was literally too weak to become a Padawan 
Star Wars Insider 147 - Short Story Hammer wrote:"Why shouldn't he take the armor? It had power. Real power. He could feel the Force like never "before.
even the presence of Null's armour oozed the force like Telloti had never felt, keep in mind he had been training in the Jedi temple amongst notable PT era Jedi, Nulls lightsaber had a similar effect 
- Hammer wrote:"As soon as his fingertips touched [Warb Null's lightsaber] it, a wave of cold air blew over him, through his clothes, his skin, through his very soul. He shivered."

With the Armour Telloti was also imbued like Warb Null thousands of years earlier 
- Hammer wrote:"When Telloti opened his eyes again, the helmet was in his hands, poised over his head, its dark iron hood casting a shadow over his blinking eyes. Inside, secret glyphs glowed with orange light, waiting to brand his cheeks, imbue him with their power."
- Hammer wrote:Master Ryelli stood in the door in his brown robes. His lightsaber hummed in his malformed hand. "Take that off, Telloti," Ryelli urged, a tremor of something in his voice. Fear? It excited him to think a Jedi Master was afraid of him.
"It's of the Sith. This place… it's a tomb of some kind. That armor.. it's infected with the dark side of the Force."
The dark side? With this kind of power, he could be a hammer to crush the dark side. What did Ryelli know? He had no insight at all. Why shouldn't he take this armor for himself? It had power in it. Real power. He could feel the Force like never before. With it, he could be a warrior. He could join the war, cut his way through legions of battle droids and take the Count of Serenno's head, be the hero the Republic needed.
With this the failed Padawan rises to the level of Ekim Ryelli, and utterly dominate him in combat
- Hammer wrote:The armor was like a web of conduits. It drew the Force into him. Telloti felt it surging through his blood vessels, contracting muscles, swinging his arms up to defend the downward stroke of Ryelli's lightsaber almost before Telloti could even think it. He was fast. So fast. And strong. He drove Ryelli back with shuddering blows. the emerald lightsabers flashed and buzzed as they clashed and were batted aside. inadvertently hewing chucks of glowing stone from the walls.
Telloti grinned ecstatically behind his grim metal face. His heart thundered.
Ryelli seemed so small now. Was he himself larger? He felt immense. Ryelli's blade skimmed his shoulder, sending sparks cascading into the air. He laughed. He hadn't even felt it. He forced Ryelli out into the corridor, and there locked blades with the Jedi Master. Master. What right did he have to that title? This squinting bookworm? This ditch digger? He looked for greatness in small, broken things, and failed to recognize it when it towered over him.
- Hammer wrote:Telloti knew the weapon in his hands. Somehow, he knew it. He had fashioned it. millennia ago. Or rather, the man in his vision, Shas Dovos, the man who became Warb Null, had, inspired by the dark teachings of Freedon Nadd and dread King Adas before him. He knew these things. He had their memories, their wisdom, the cunning of the Sith.
His bare thumb felt along the length of the two-handed hilt to a small toggle, and as Ryelli forced his superior position, bearing down with all his strength,
Telloti triggered it and sidestepped.
The extra-long green blade of the ancient lightsaber retracted into the hilt. In the same instant, the butt sprang open like the maw of a sarlacc, revealing a hidden, secondary emitter. A blade of red energy erupted from it, the ingenious mechanism within realigning and refocusing the power in a nanosecond.
Without the resistance of the green blade,
Ryelli stumbled forward, dangerously off balance. Telloti shifted his grip and flipped the new red blade over, slicing neatly through the nape of Ryelli's neck. The Jedi Master tumbled to the floor.
Telloti straightened, listening to the sound of his own breathing, feeling his heart pounding deep behind the black shell of his breastplate.

Master Ryelli was putting 'all his strength' into this duel, this is a Jedi Master, one of the greatest/Pinnacle of the order
Ryelli was a Geonosis Arena Veteran, surviving the battle and 'fighting brilliantly' despite being out of practice at the time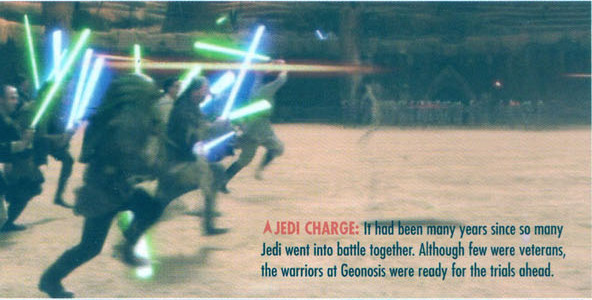 - AOTC Novel wrote:But even with that, even with all of the remaining Jedi fighting brilliantly in the arena, the droids continued to press in, herding them all together in a hopeless position.
Ryelli performed better than the Jedi who died in the Arena, this includes individuals like Sta-Den Eekin who was known to have the ability to cloud minds of vast crowds 

Telloti wearing the armour resulted in him going from sub padawan to stomping Jedi Masters, and the armour was not even at full potency, over time dark side imbued objects lose their potency 
Darth Bane: The Rule Of Two. wrote:They walked slowly along the length of the display cases, Zannah splitting her attention between Hetton's words and the intriguing array of Sith artifacts. She could still feel faint remnants of dark side energy clinging to them: fading memories of the incredible power they once contained.
if the Ancient Sith Dark Side imbued items only possess
faint remnants
(barely perceptible) of the power they once held, by 990BBY then by 39BBY, after a further 951 years the power Warb Nulls armor once held must be a miniscule fraction of what it once was, 951 further years of degradation from the 'faint remnants'
the armour was not even complete 
-Hammer wrote:There was a crooked molten scar across the neck, and the right arm was missing entirely from the elbow down.
So if the faint remnants of the faint remnants with missing pieces was still enough power to allow a youngling to stomp a > Vader level opponent, imagine how much power the full potency of the full set of armour would bare.
Amped Warb Null + Armour >>> Warb Null + Armour > Warb Nulls Armour > Telloti with Warb Nulls broken Armour with 3,959 years of degradation > PT Jedi Master 
Note: the power of the failed Jedi would not add much at all to the armour at all
Ulic Qel Droma quite literally oneshot blitzed Warb Null in combat while weakened by the 'immeasurable' dark side energies surrounding the area

Ulic actually
destroyed
Warb Null 
- Tales of the Jedi Companion wrote:Fighting past a wall of dark force, Ulic manages to destroy Warb Null.
Prime FNU Ulic >> Hindered Ulic >>>Amped Warb Null + Armour >>> Warb Null + Armour > Warb Nulls Armour > Telloti with Warb Nulls broken Armour with 3,959 years of degradation > PT Jedi Master > Vader >> Jax Paven 
if the blue is a oneshot/destroyed gap, then Jax Paven should be utterly abolished in a nanosecond
Permissions in this forum:
You
cannot
reply to topics in this forum