ILS
August 21st 2022, 3:39 pm
Message reputation : 100% (1 vote)
Attack of the Clones #4 is pencilled by Jan Duursema.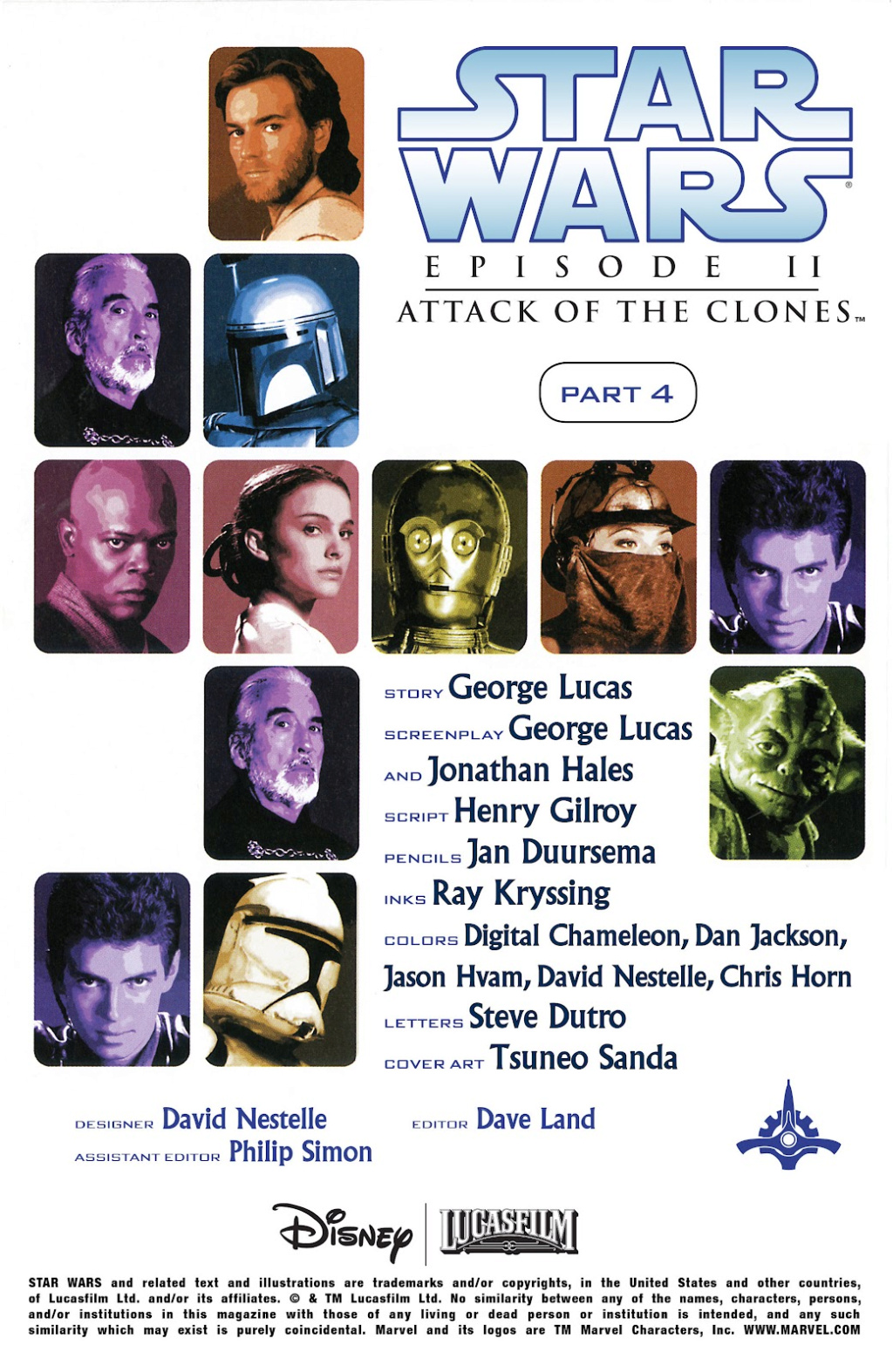 Jan is also responsible for the story and pencils of Legacy #5.

What are the implications of Jan doing the pencils of both Attack of the Clones and Legacy?

¯\_(ツ)_/¯
Who's to really say?
In AotC, Kenobi fights an Acklay, described as a
"monstrous, bloodthirsty beast"
and
"deadly."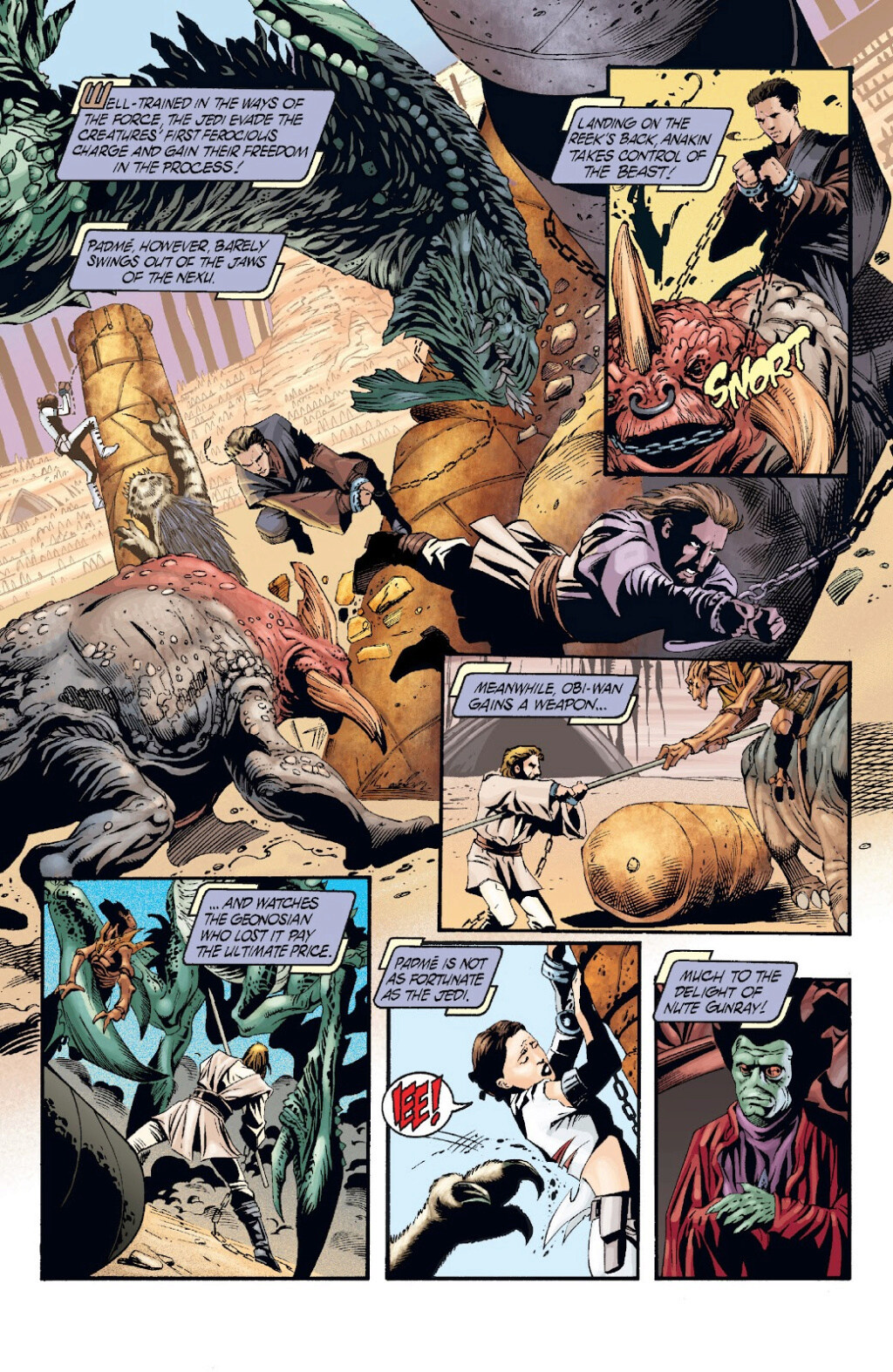 Kenobi is depicted using the Acklay's first strike to gain his freedom, before snatching a spear from a Geonosian and using it to fend off the Acklay. The rest of their conflict occurs off-panel, but thankfully we have the movie depiction to fall back on (which Jan is modelling the comic after anyway) to fill in any gaps!
https://www.youtube.com/watch?v=Ypt1Ae1zvts
(A) At 0:58 onward we see Kenobi desperately evading the Acklay's stomps.
(B) At 1:32 we see Kenobi rolling around on the floor desperately avoiding more stomps
(C) At 2:10 we see Kenobi still lying on the deck, and the Acklay seems to be making the tactical decision to smash a pillar down onto Kenobi
(D) At 2:18 Kenobi can be seen running away from the Acklay!
(E) At 2:23 Kenobi gains a spear as a weapon
(F) At 2:40 Kenobi can be seen backing away from the Acklay, not making use of the opportunity to attack it while it kills a Geonosian
(G) At 3:03 Kenobi can be seen engaging in a tactical struggle as he and the Acklay probe each other for weaknesses, each throwing feints at one another, neither landing a blow
(H) At 3:28 Kenobi can be seen throwing his spear at the Acklay, which unfortunately does absolutely nothing to harm it, and he then flees for his life once again
After Kenobi flees, he seeks safety beside Anakin and the mighty reek he has allied himself with.
However, we're not done. As the battle of Geonosis goes into full swing Kenobi has a final rematch with his Acklay rival.
(A) Kenobi is described as
"cornered."
To corner is defined as
"To place or drive into a corner."
, and according to
dictionary.com,
"cornered" is defined as
"forced into an awkward, embarrassing, or inescapable position:a cornered debater; a cornered fox."
(B) It is stated
"This time, it is the Jedi who is executioner!"
, which informs us that in their first encounter it was the Acklay who was
"executing"
Kenobi.
(C) Kenobi exclaims
"Too close!"
as he dodges the Acklay's attack.
(D) It's stated
"Obi-Wan has little time to rest"
and in the same panel he looks quite ragged. And while some of that fatigue can be from earlier fighting in the arena, the Acklay had been fighting for the same amount of time and had not yet sated its voracious appetite, in fact it had been wounded by this point.
(E) Finally, Kenobi has had lots of experience fighting the Acklay from round one, and now has a new weapon the Acklay is unfamiliar with; this Acklay has been conditioned to fight against arena weapons that can't hurt it easily like spears or blasters, allowing it scope to just tank attacks, so it won't be able to properly account for the lightsaber in a random encounter against a prepared opponent.
Now, this wouldn't be the first time Jan has pencilled an Acklay. She also depicts one in Legacy #5: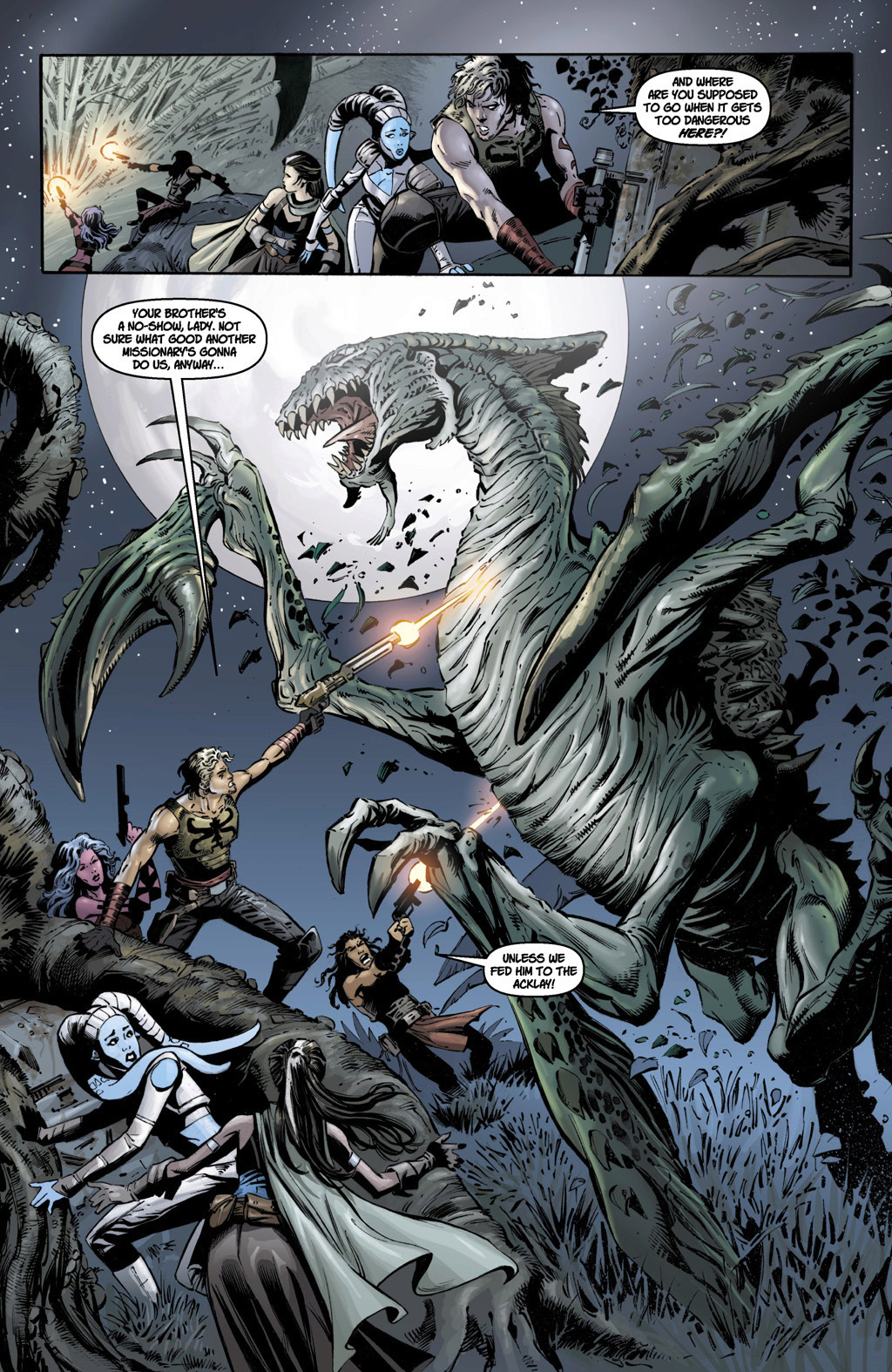 (A) You'll notice Jan has taken direct inspiration for this Acklay from her earlier drawing of the AotC Acklay, virtually copying it in this panel.
(B) I think you could argue this one looks a bit bigger and healthier when comparing panels from both comics, which is only natural,
as the one on Geonosis was kept in captivity and starved,
whereas this one is roaming in its native habitat of Vendaxa.
(C) It's stated that Acklay
are excellent night-time hunters with finely tuned senses
, but in the same excerpt it's noted that the Acklay Kenobi fought was suffering from
"reduced eyesight"
as a result of Geonosis' hazy and dim sunlight, whereas normally an Acklay would have
"excellent sight."
Meanwhile, on Vendaxa at night-time as depicted in Legacy, the Acklay
"relies on three other senses"
to hunt, which include
"sensitive ears"
which let it
"fine-tune hearing in a particular direction," "sensory hairs"
that let the Acklay sense creatures that brush against its legs, and
"an organ that can sense a creature's bio-electric field."
This field is
also described
as an
"electric aura."
It can use these senses
"even in pitch darkness and total silence."
(D)
Acklay who aren't used in gladiator fights
"are left out in the wild"
and
"either die - or they breed, survive and threaten anyone they encounter."
This means that the Legacy Acklay
is likely a descendant of a lineage of Acklay
over a century after AotC who have thrived in the
"evolutionary race for survival"
, or evolved in the
"arms race of the animal world"
where
"only the deadliest of predators and the toughest of prey survive."
This would make this Acklay
an
"evolutionary terror,"
indeed. In fact,
even Acklays from thousands of years ago
benefit from
"evolutionary specialization"
when on their home planet Vendaxa.
"There, Ackley are among the top predators."
It's further stated that Acklay are
"not built to build nests or forage or migrate when seasons change - an acklay only knows how to hunt, and survive the hunting."
Combined with the
"arms race"
quote we can take this to mean Acklays are under constant evolutionary pressure to adapt and overcome against other top predators in their
"ultra-dense ecosystem,"
and that this has been going on for thousands of years before the feats in question. This extreme specialization to evolve in the conditions specific to Vendaxa means they should be more formidable there than anywhere else. As added proof of this ability to evolve rapidly,
take a look
at this mutant sub-species of Acklay that evolved on Geonosis and consider the 150+ years of evolutionary arms race the Legacy Acklay's benefit from.
(E)
The Acklay that Kenobi fought was described
as
"clumsy",
likely because it was relying on its
"reduced eyesight"
from earlier.
Nevertheless
,
"It took all of Obi-Wan's skill to fend off."
(F) Kenobi's Acklay, in addition to having poor eyesight, wouldn't have as good use of it's hearing due to the noise of hundreds of blaster bolts, explosions, screaming, footsteps pounding etc, and the sheer amount and variety of beings would do nothing to help the Acklay's
"bio-electric field"
sensing. Also, these senses are only
"relied"
on at night, anyway, so it's possible the Ackley was going almost solely off of it's
"reduced eyesight"
as it evolved to during daylight.
Legacy Acklay is seen trying to stab Astraal Vao, and comes within inches of killing her, but she is saved at lightning speeds by her brother Shado Vao, meanwhile Wolf Sazen slashes the giant beast in the face. After depositing Astraal to safety the two Jedi clean up the Acklay in an impressive acrobatic display in short order.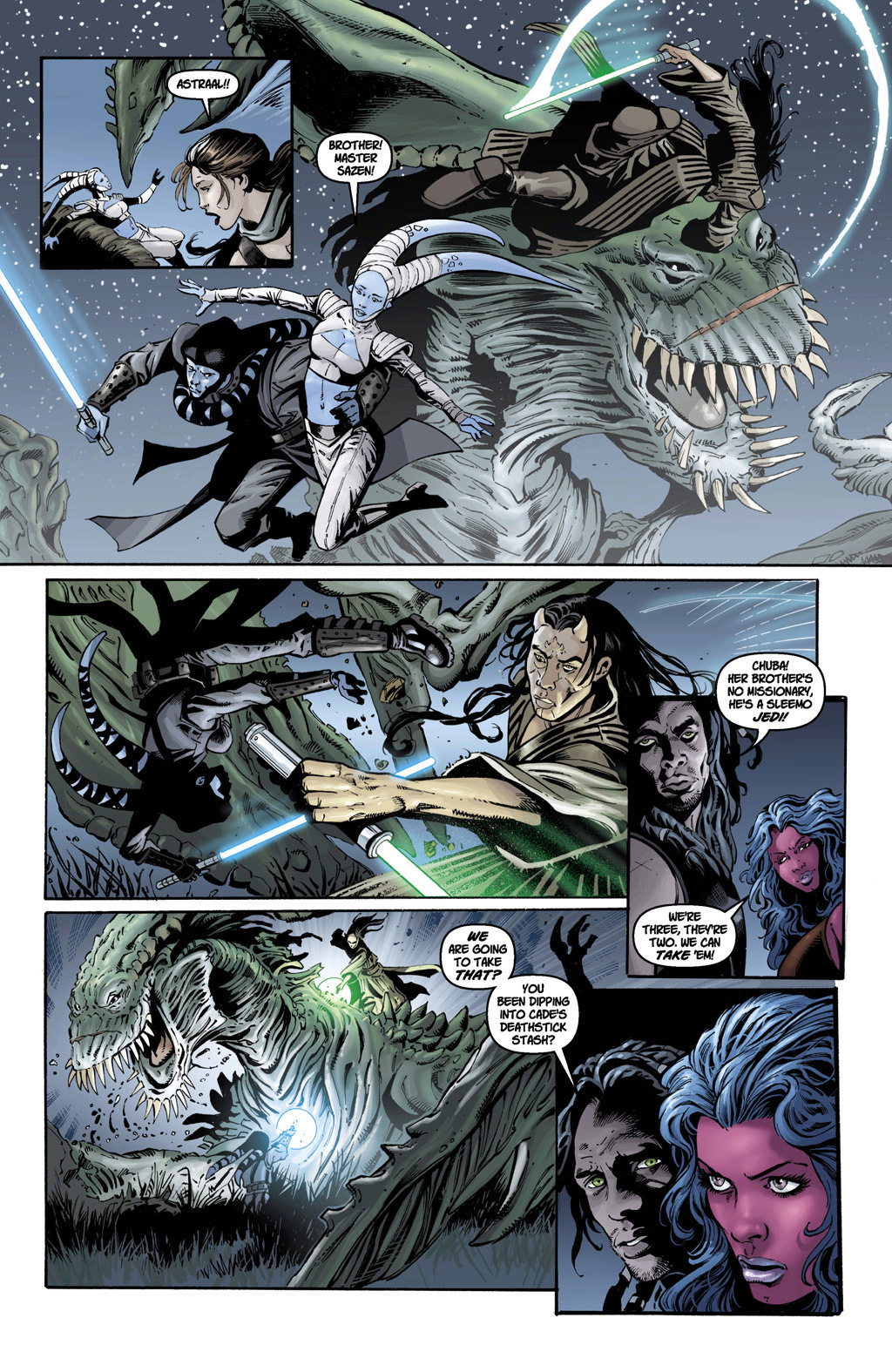 (A) We can make a comparison between Shado confidently diving in seemingly from out of nowhere to save his sister from being impaled with just inches to spare,
to Kenobi not feeling confident enough to exploit the opening
the Acklay gave him when he attacked the Geonosian.
(B) We can compare Kenobi being
"cornered"
by his
"clumsy"
Acklay who came
"Too close!"
to both Jedi's confident and impressive use of acrobatics to outmaneuver the Acklay with ease.
(C) We can compare Kenobi requiring/benefitting from
"time to rest"
after his fight which required
"all of his skills"
to Shado rather casually flowing into a conversation
with his sister, with no signs of fatigue or raggedness to speak of.
What are the implications of Jan penciling a direct inspiration of her AotC Acklay fight where Wolf and Shado stomp a much more skilled, healthy, evolutionary advanced, unhindered Acklay and showing none of Kenobi's fatigue after?

¯\_(ツ)_/¯
Who's to really say?
How did Darth Talon perform against this Jedi duo? I'll let the comic speak for itself.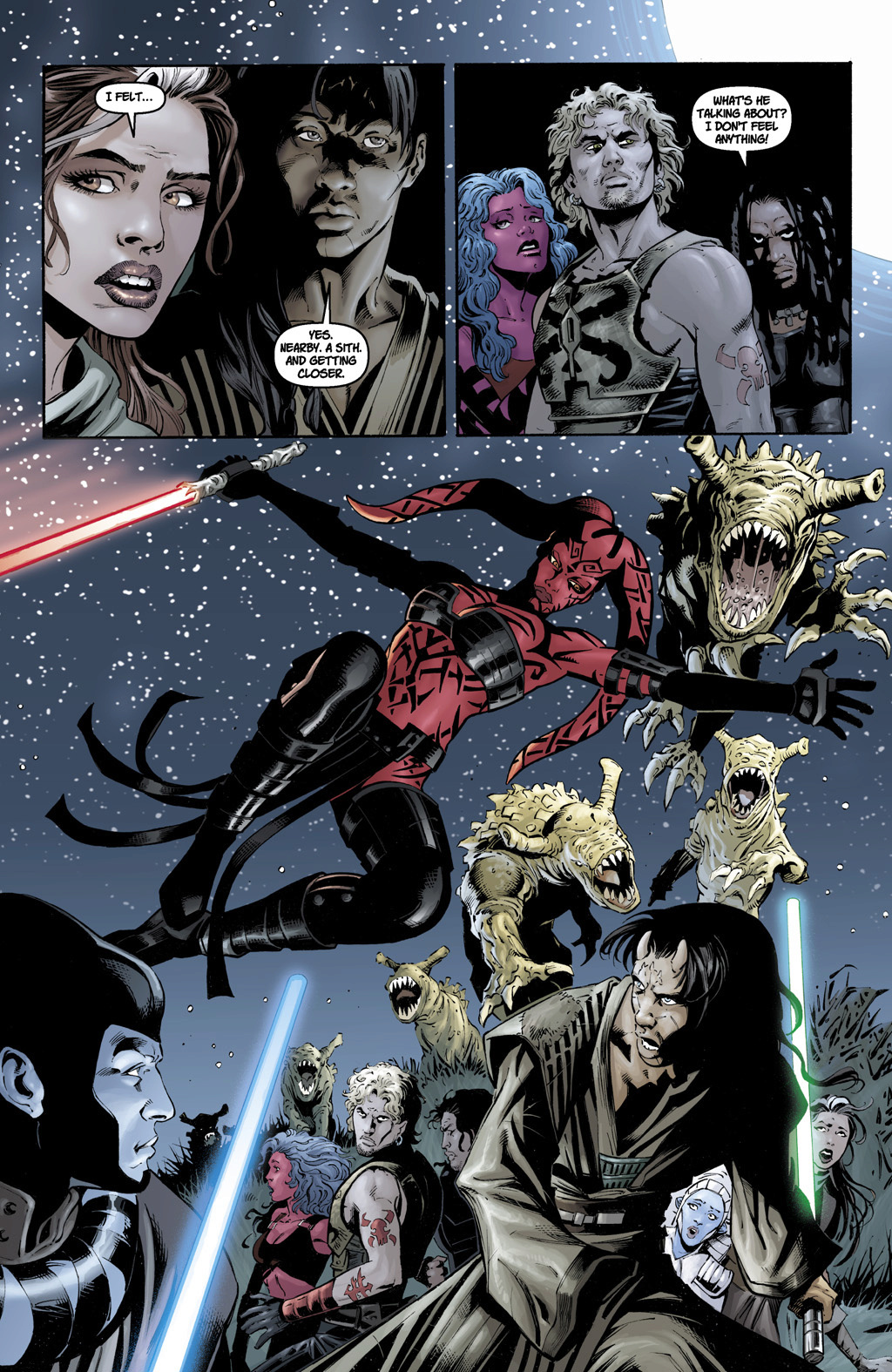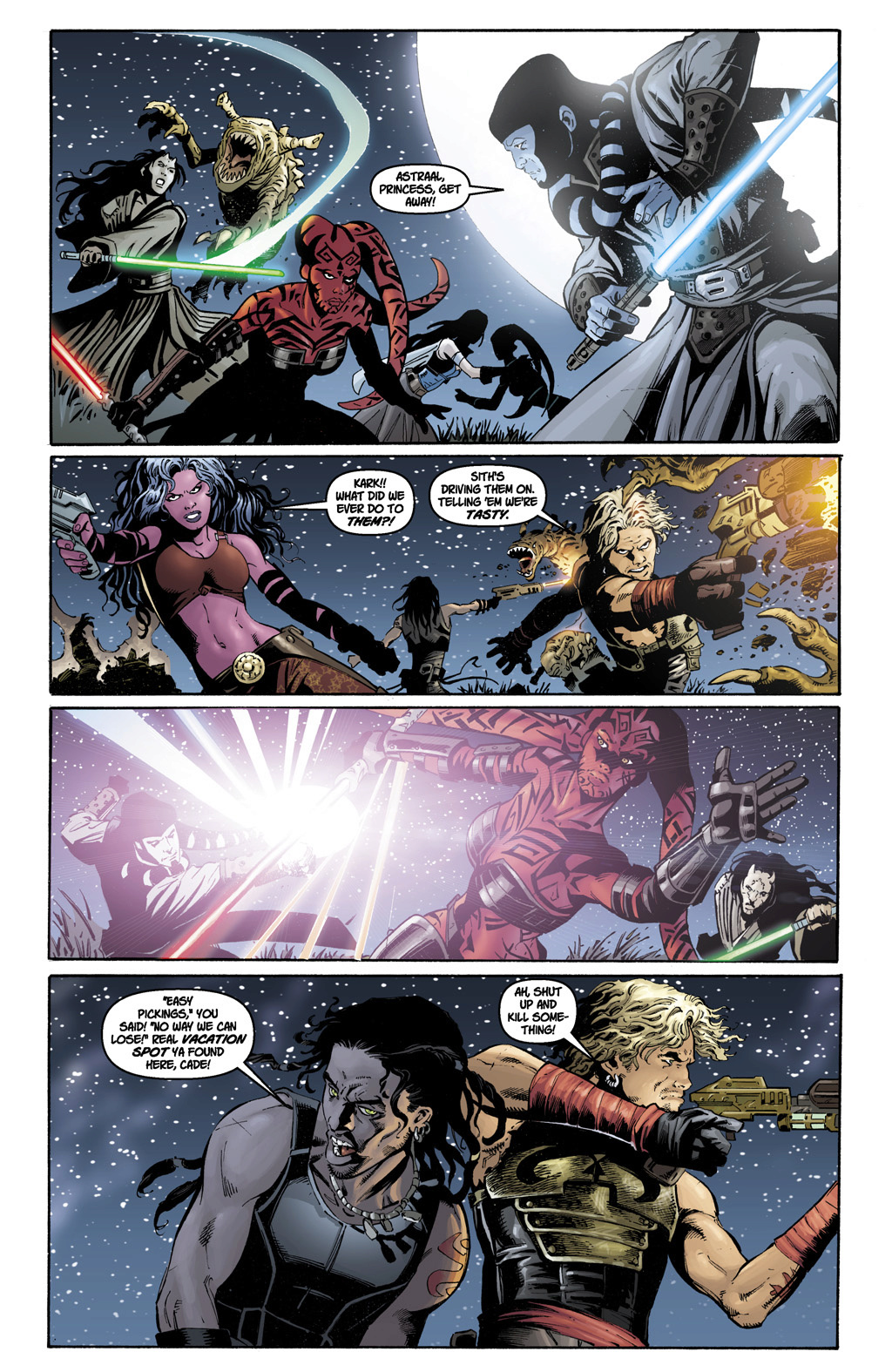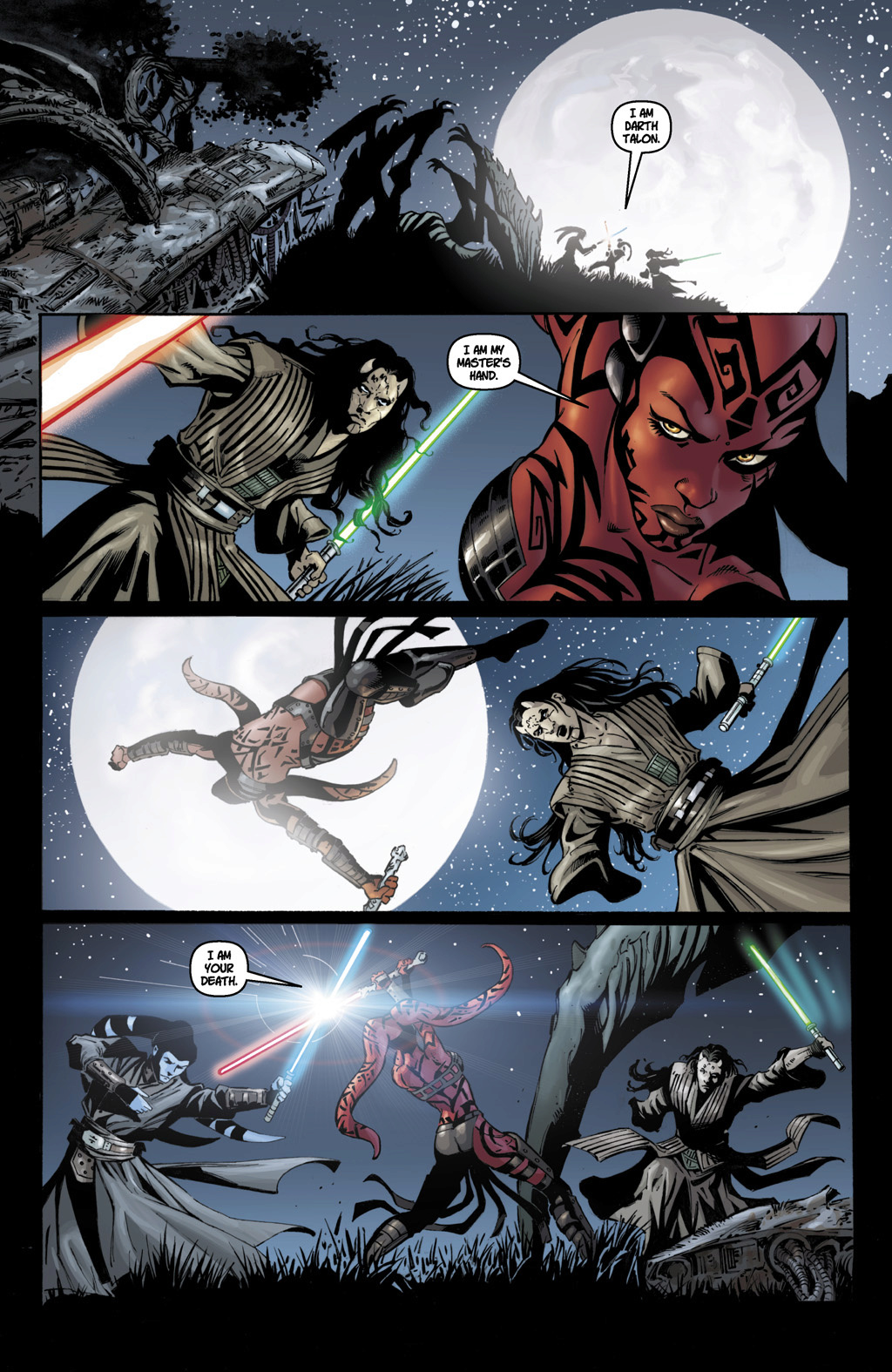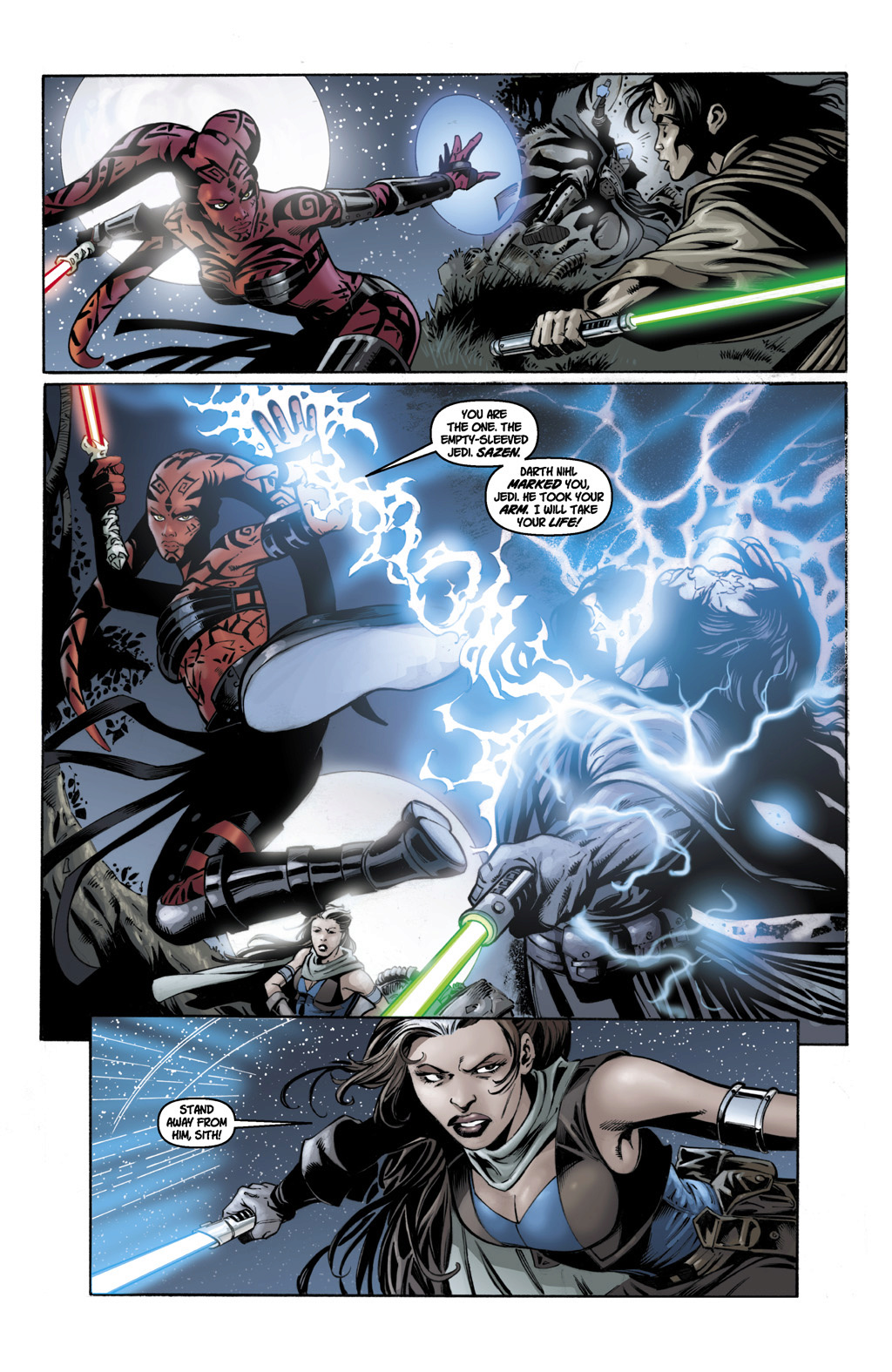 (A) Part of Talon's power has been devoted to Beast Control during this fight.
(B) Talon is sensed by the Jedi before she arrives, so she doesn't take them by complete surprise.
(C) After Talon engages in some impressive acrobatics which make Wolf gasp in shock and some polite introductory conversation, she easily subdues both Jedi with telekinesis and lightning, finding openings in both of their defences easily.
What are the implications of Talon stomping a Jedi duo who outperformed AotC Kenobi using "all of his skills," all under the same artist?

¯\_(ツ)_/¯
Who's to really say?
Now, this blog wasn't just about Kenobi, we need to bring Mace into this. Well let's first note that the Acklay Kenobi fought was
"The most frightening and formidable arena monster."
This gives it explicit superiority over the Reek that first faces Anakin.
Additionally,
"Of all the creatures to have appeared in the Geonosis arena, the most renowned is probably the Acklay."
And the Acklay in sources linked above has already been praised for its
"tactical"
abilities which the relatively straightforward Reek lacks.
How does Mace do against this Reek?
(A) Jango was watching Mace fight the Reek and
"Waiting for the moment when Mace Windu is at a disadvantage, Jango's patience finally pays off!"
(B) The Reek disarms Mace and puts him at a disadvantage.
(C) Jango has Mace dead to rights in panel 2, as Mace is bereft of his lightsaber and Jango is aiming right at him.
(D) The Reek saves Mace by getting in the way of Jango's shot and lets him retrieve his lightsaber.
(E) Jango is able to kill the Reek by himself anyway, Mace unable to benefit from this distraction in any way.
What happens next?
(A)
"With the element of surprise lost, Jedi Master and Bounty Hunter prepare to face off.
(B) Mace and Jango are depicted in a fierce contest where Mace deflects a flurry of blaster bolts, it being unclear who has the advantage.
(C) As Mace gets closer, Jango is able to dodge a point-blank slash from Mace while Mace desperately ducks under Jango's aim.
(D) While Jango is off-balance, Mace strikes a killing blow.
(E) Jango makes no use of any of his other equipment aside from his blasters.
Lets take a look at how Kenobi fares against Jango!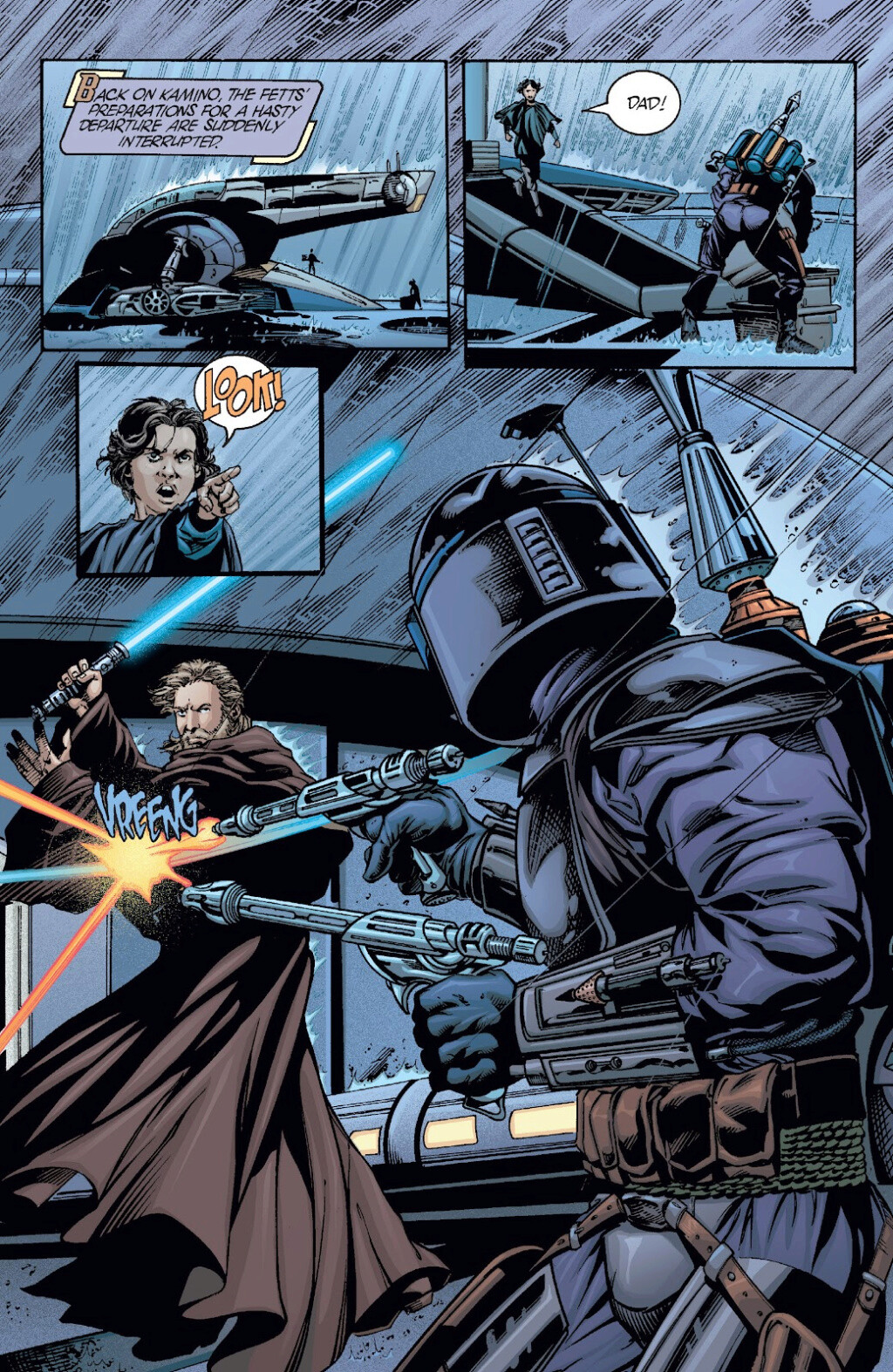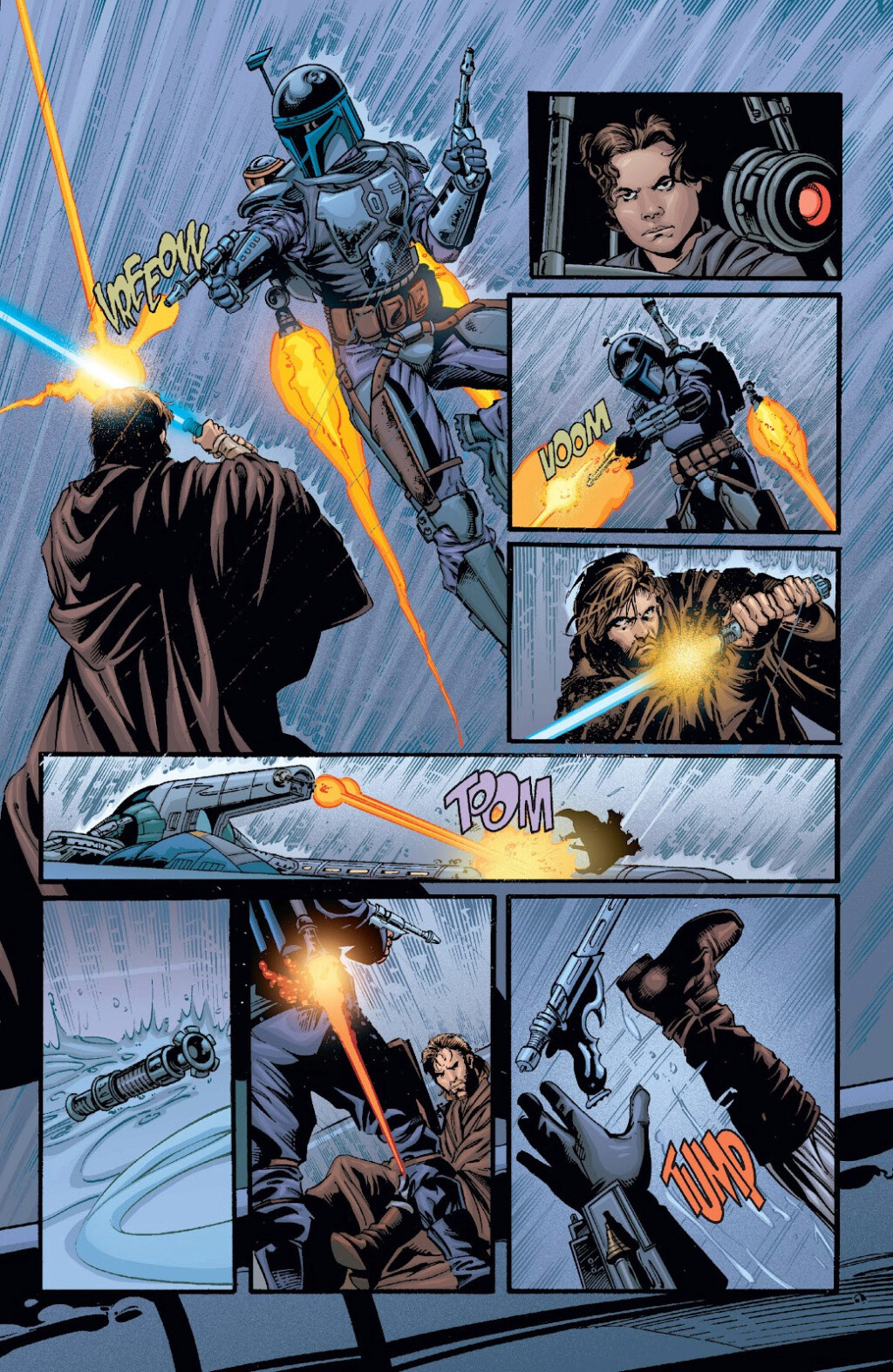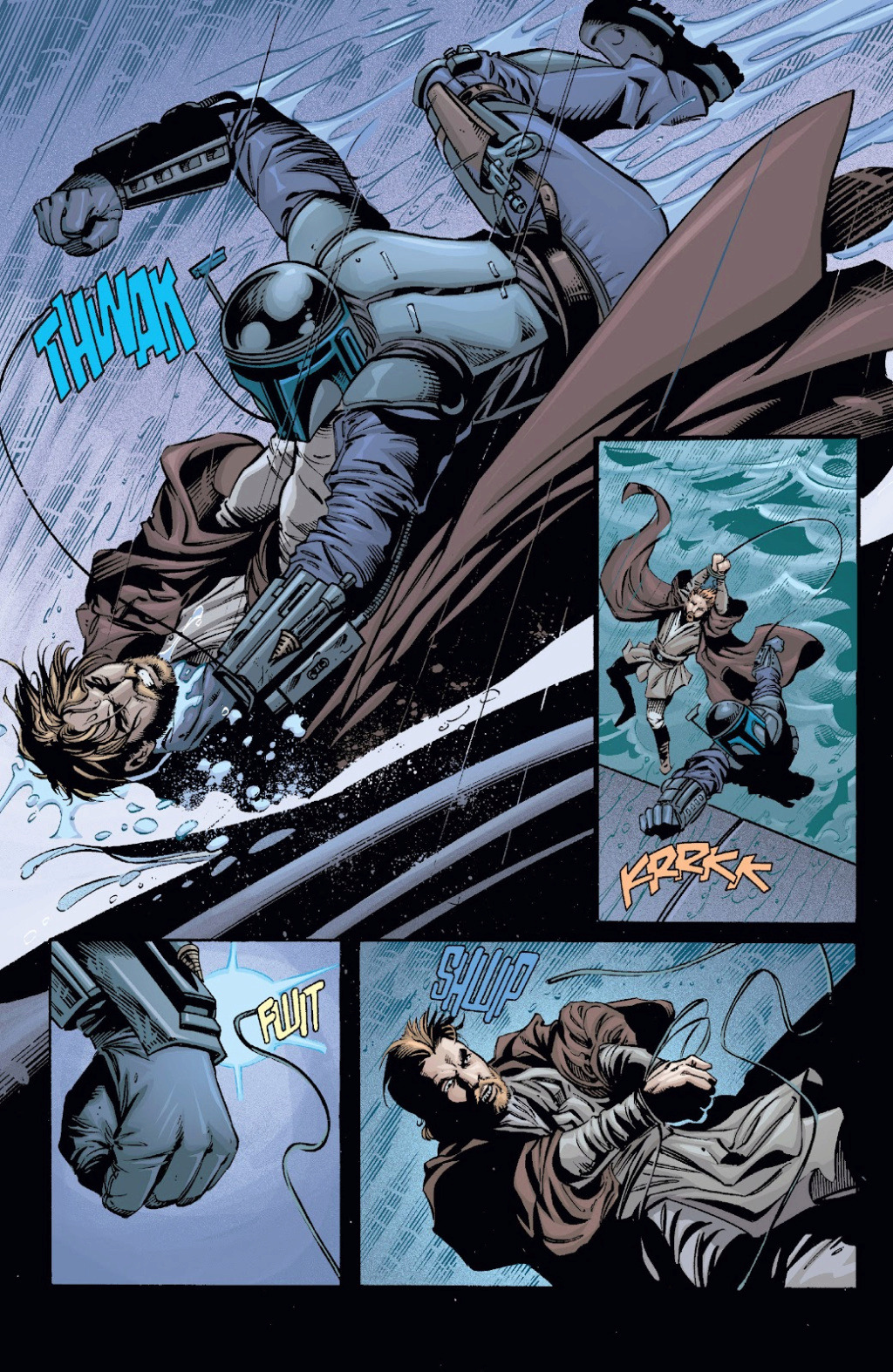 (A) Jango uses his jetpack early when firing on Kenobi.
(B) Boba cheapshots Kenobi with a laser cannon blast.
(C) Despite Kenobi being disarmed, far from being dead to rights like Mace and needing a Reek to save him, he disarms Jango!
(D) Kenobi and Jango trade hits and Jango makes further use his jetpack and zipcord.
(E) Kenobi instantly adapts and tools Jango, making his rocketpack detonate.
(F) After some brawling, the two are separated and Jango
"wastes no time"
fleeing from Kenobi in his fully equipped starship!
I submit that a comparison between Jan's Kenobi and Jan's Mace wouldn't be unfavourable to Kenobi considering:
(A) Kenobi managed to defeat a superior opponent (the Acklay) to one (the Reek) that put Mace at a
"disadvantage."
(B) Kenobi managed to make a far more dangerous Jango Fett flee from him, under far worse circumstances than Mace, and actually outperform Mace in several areas, such as intimidating Jango and not being helpless without a lightsaber!
Conclusion
(A) Either Wolf or Shado could have done just as well as Kenobi against the Acklay he fought, if not better, or at least with more ease than him.
(B) Mace is shown to be perfectly comparable to Kenobi using common and comparable opposition.
(C) Talon dominated/stomped/defeated with relative ease a Jedi duo who based on (A) and (B) are perfectly comparable, to one extent or another that doesn't require razor-sharp precision to be valid, to Wolf and Shado.
What are the implications of this for Talon's chances against AotC Kenobi and Mace?

¯\_(ツ)_/¯
Who's to really say?
---
Completely unrelated, but here's Revan if he tries to fight a krayt dragon single-handedly:
https://youtu.be/Sck-GfscSdE?t=473

And some additional food for thought: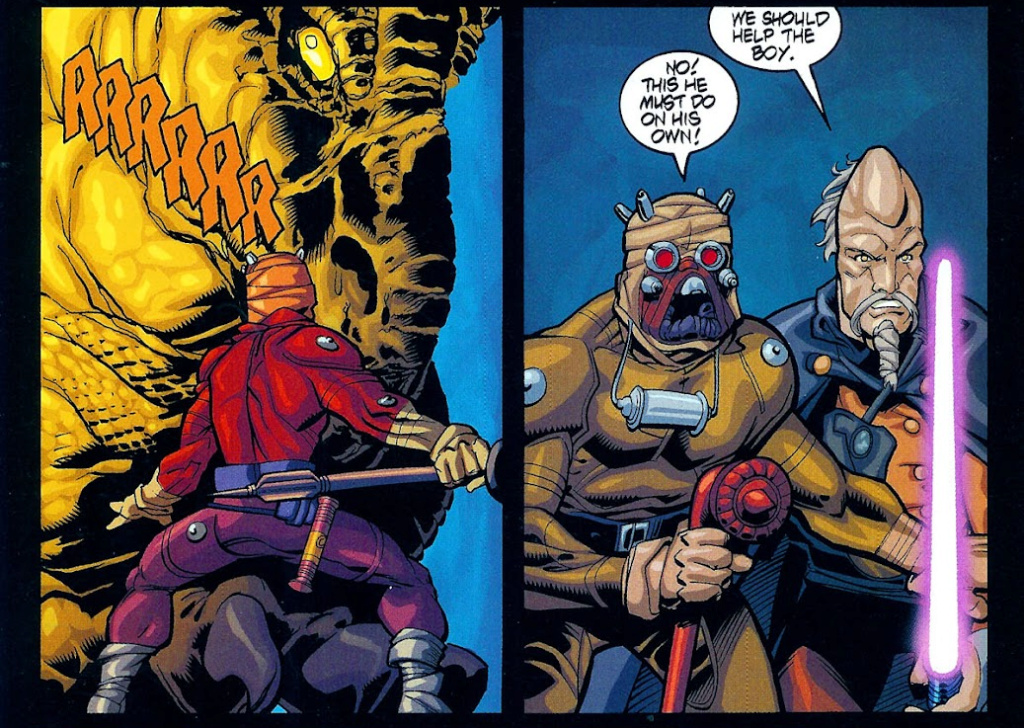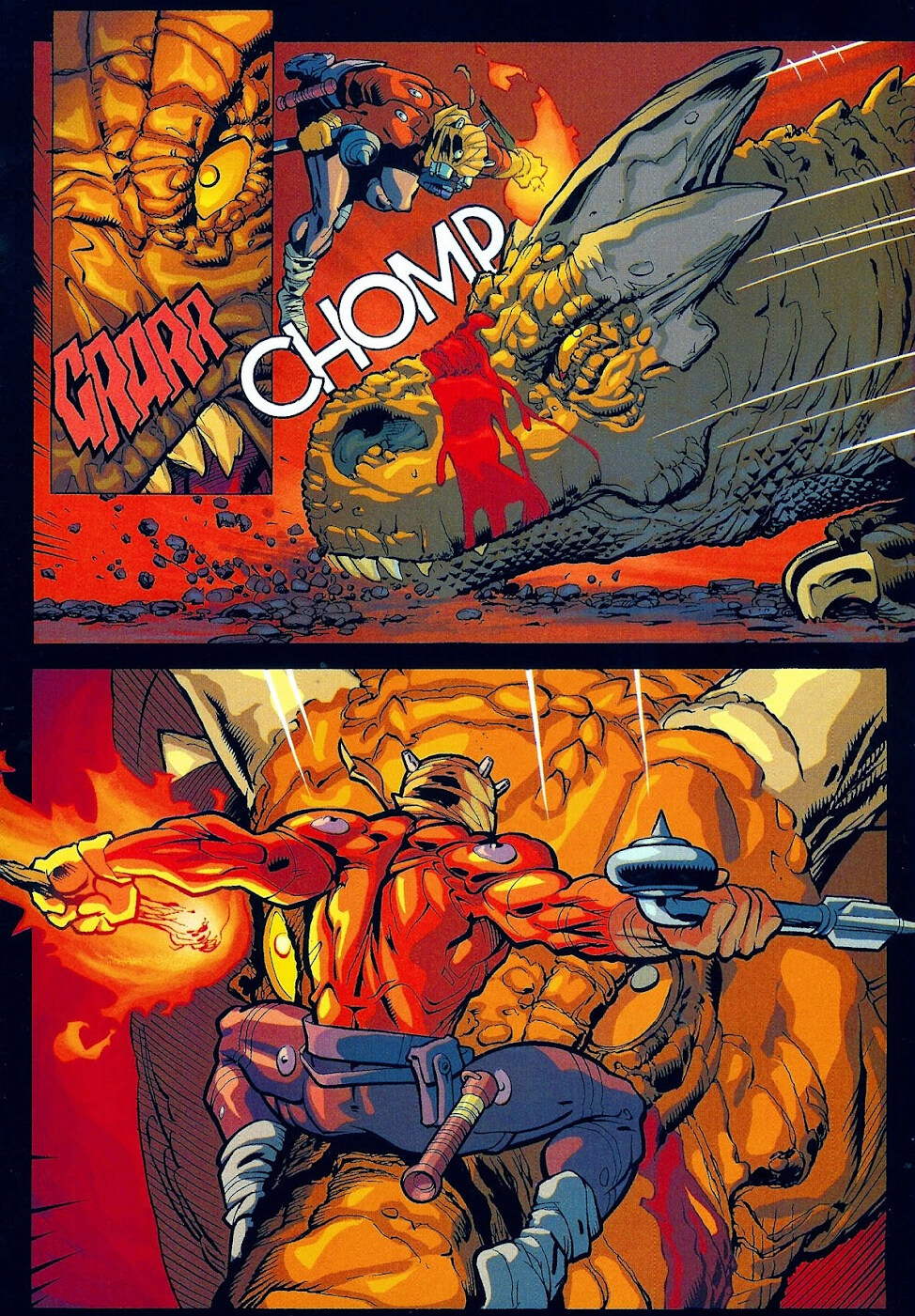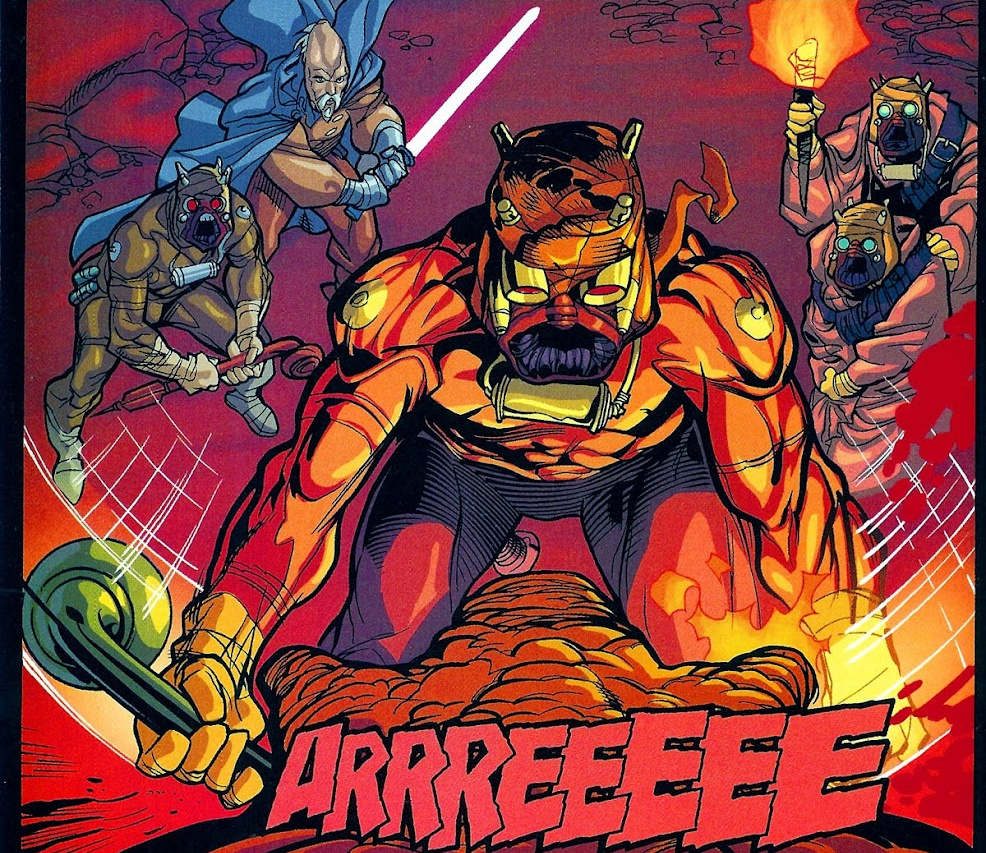 Romeothekotorlover
December 4th 2022, 12:38 pm
Hey everyone!
So, in my Opinion i just can't see talon being near to obi wan and windu especially when they're together. They win in my opinion !
currious on you guys opinions!
Permissions in this forum:
You
cannot
reply to topics in this forum