Suspect Insight

Administrator
on Fri 19 Apr 2019 - 14:46
There will be many forum-hosted tournaments that will give members the opportunity to demonstrate or improve their knowledge of Star Wars and debating. Note that if a member is in a tournament but fails to meet the time deadlines for any post without good reason, they will be banned from participating in the next tournament.
GENERAL REWARDS:
Champions and runner-ups will be given a customized user ranking below their profile picture. 
Here are the rewards for
T
he 
T
yrannical
T
en tournament:
Here are the rewards for the
I
nstant
H
eroes
T
ournament: 
Champions will also be added to the 'Champions' user group and have their username color changed to purple. Example:
Suspect Insight
.
Please click the "spoiler" button to view relevant content.
(1) THE TYRANNICAL TEN: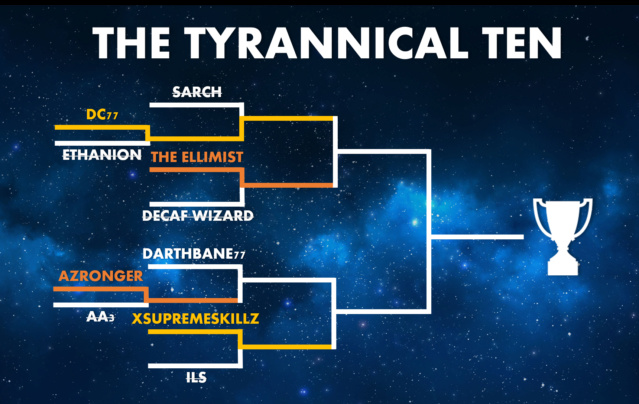 The Tyrannical Ten
is our first and currently ongoing closed debate tournament. You can view the links to the debates below:
(2) INSTANT HEROES TOURNAMENT: 
The
Instant Heroes Tournament
 is our second and also currently ongoing closed debate tournament that emphasizes succinctness and quick-thinking. More information about the tournament can be found at the following link: 
https://www.suspectinsightforums.com/t1272-suspect-insight-s-instant-hero-tournament
.

Permissions in this forum:
You
cannot
reply to topics in this forum