Ghost of Grievous
December 14th 2021, 2:58 pm
Message reputation : 100% (5 votes)
---
General Grievous was born under the name Qymaen jai Sheelal was a Kaleesh warrior whos people were at a constant war with the insectoid species known as the Huks. After an ship crash engineered by Count Dooku, the Kaleesh warlord was rebuilt by Banking clan member Sam Hill in part with Geonosian Technicians. Reborn as the dreaded Cyborg and granted an army of droids, the reborn general would go on to be an active member in the Clone Wars and would be the author of the Separatist movements war effort.
Thought up by George Lucas and designed by artist Warren J. Fu. The General was to play a supporting antagonist role for the soon to be named Emperor Palpatine in the final Prequel film "Revenge of the Sith" back in 2005. With many citing his first appearance in the Clone wars animated series in 2003.
some music for you to listen to as you peruse my work
---
---------------------------------------------------------------------------------------------------------------------------------------------------------------------------------------------------------------------------------------------------------------------------------
---------------------------------------------------------------------------------------------------------------------------------------------------------------------------------------------------------------------------------------------------------------------------------
a description of the generals cybernetic body
the general is mostly made up of duranium, durasteel and armorplast. Very strong lightweight alloys capable of sustaining heavy damage and used in sturdy construction jobs

Noted as being nearly indestructible or impervious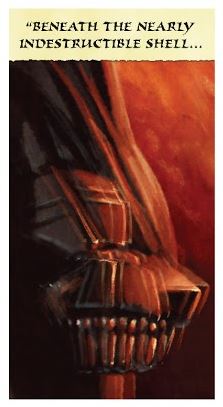 the armor making up his body can even withstand volleys from a starfighter laser cannon
a brief description of starfighter laser cannons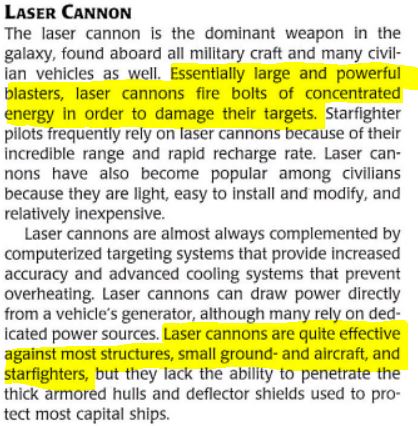 Grievous' brain has been taxed with cybernetic alterations as well. granting him greater reaction and faster learning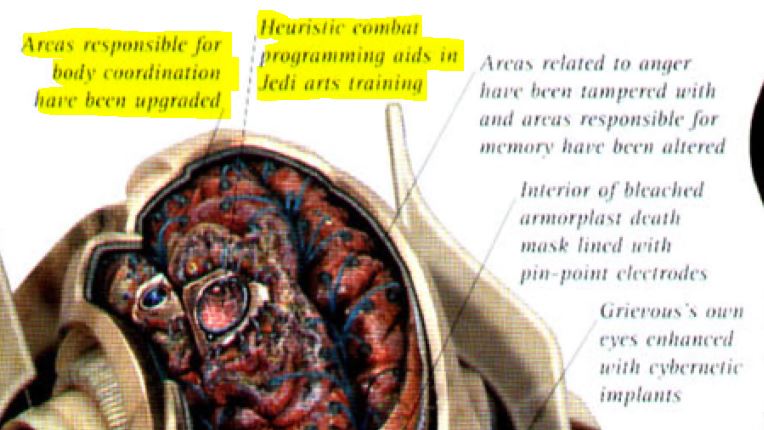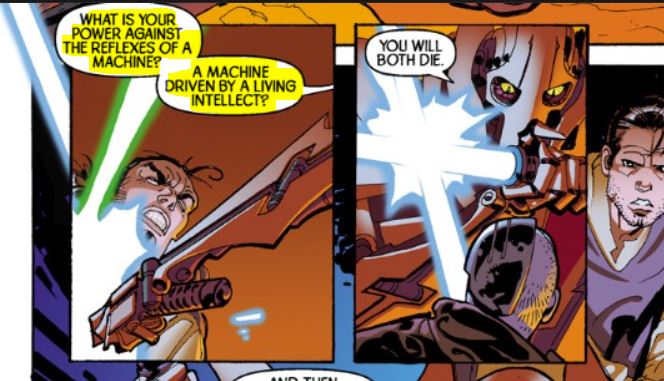 Sam hill believes that grievous' new cybernetic abilities will put him beyond the jedi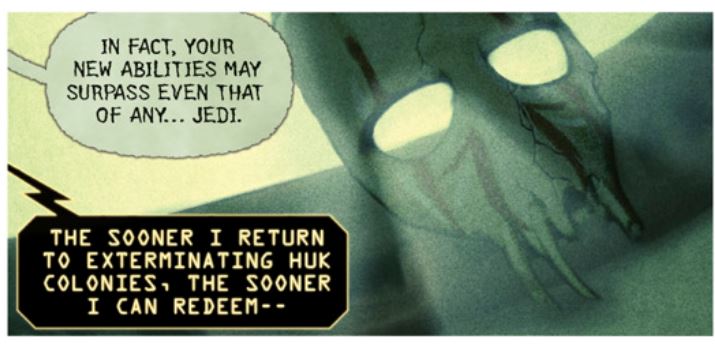 ---
Grievous survives being in the center of a massive explosion that ruins an entire city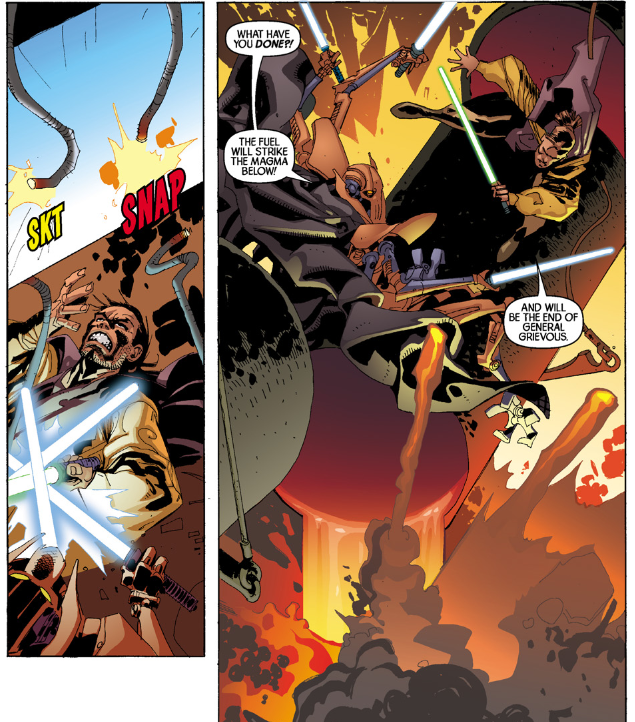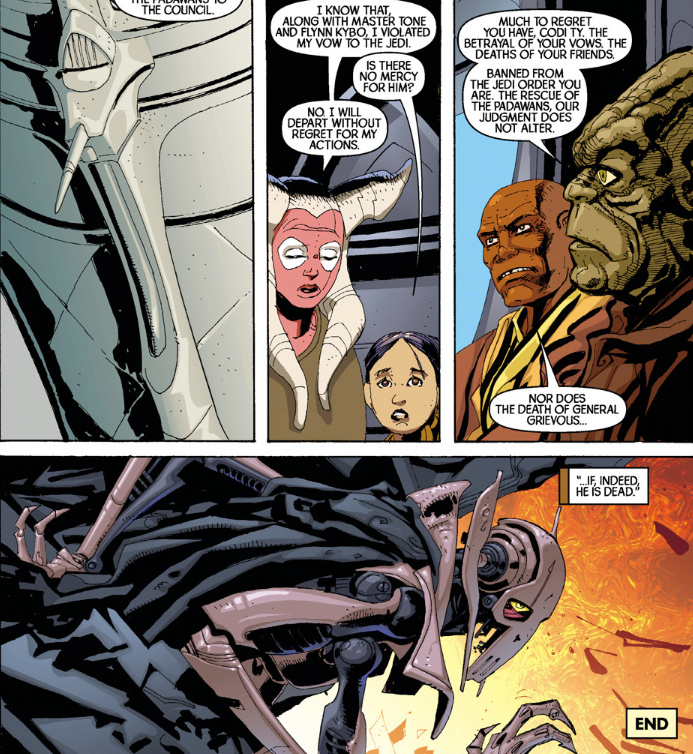 Grievous Shrugs off getting punched several feet by Durge  and slashed by ventress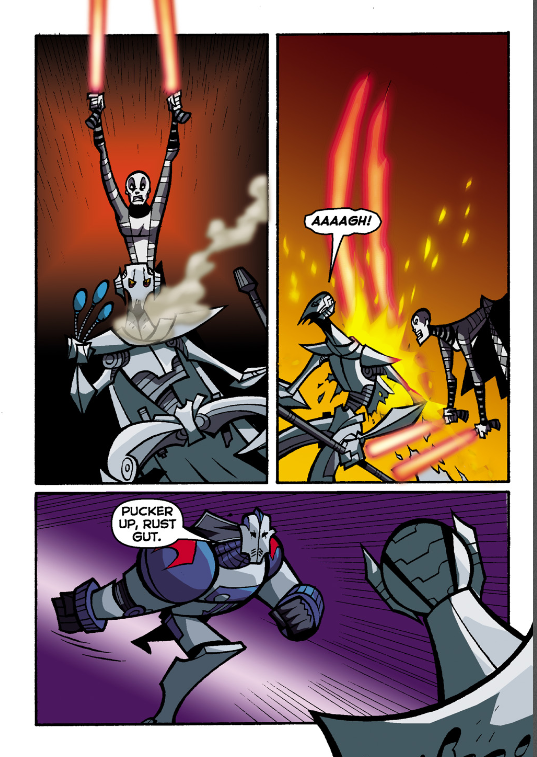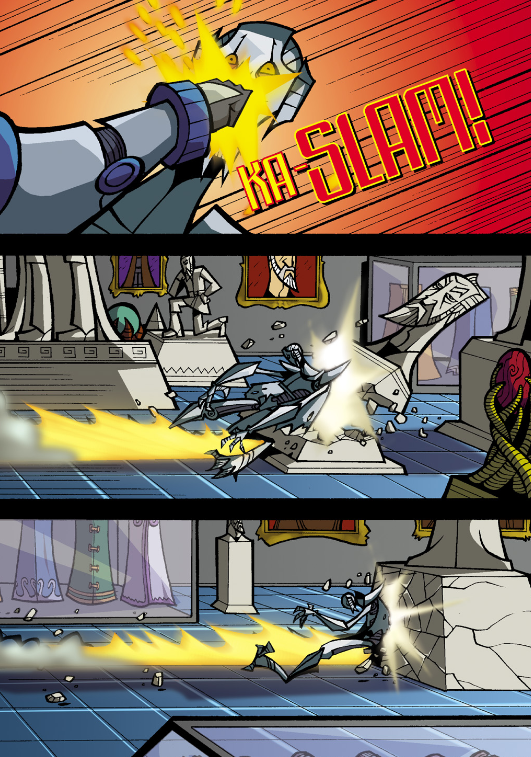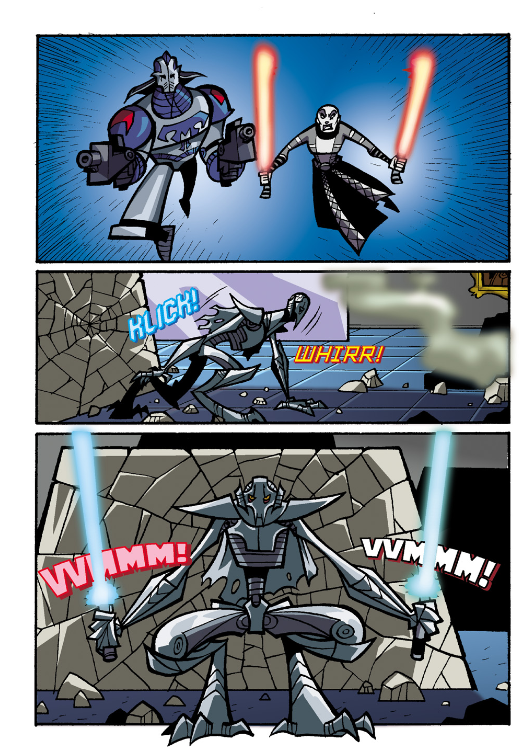 Greivous' Guards staffs cannot harm him

[url=
the same staffs cracked and broke part of Jangos armor

Grievous blasts off being buried in rubble
[url=
Grievous tanks a rocket launcher point blank to the face
[url=
Survives and seems unharmed by being inside a ship exploding
[url=
[url=
Probably the lowest showing for Grievous' Durability here. Mace Windu force slamming a Droid speeder on him with massive force to make a large explosion of dust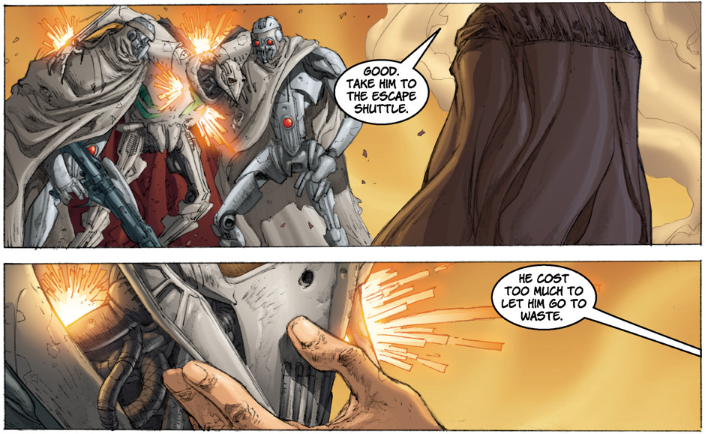 shrugs off an exploding tank
takes a blaster shot from a DC-17 to the face (gif slowed down to make it easier to see)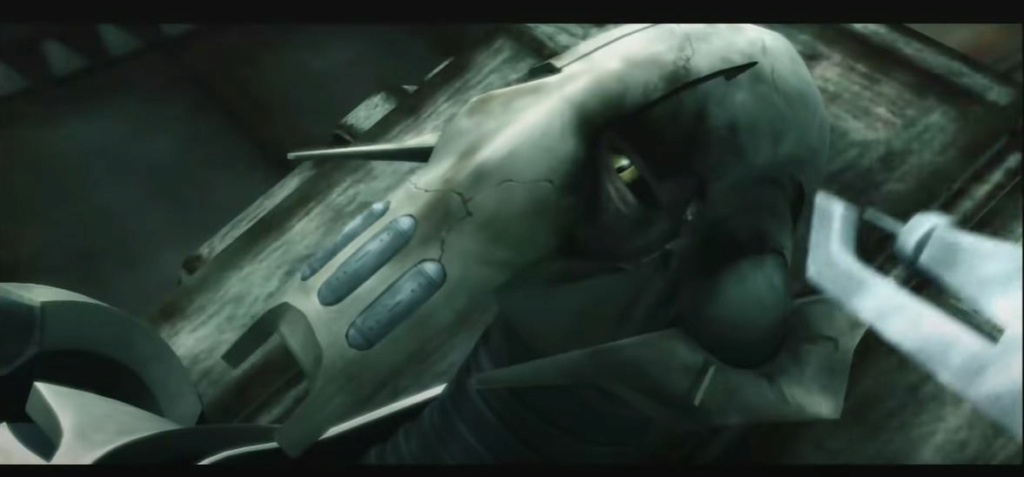 in concept art for ROTS grievous shows to be able to hold saber blades in his hand and is completely immune to saber attacks
a concept that was also used in the non canon japanese manga where a he once again hold saber blades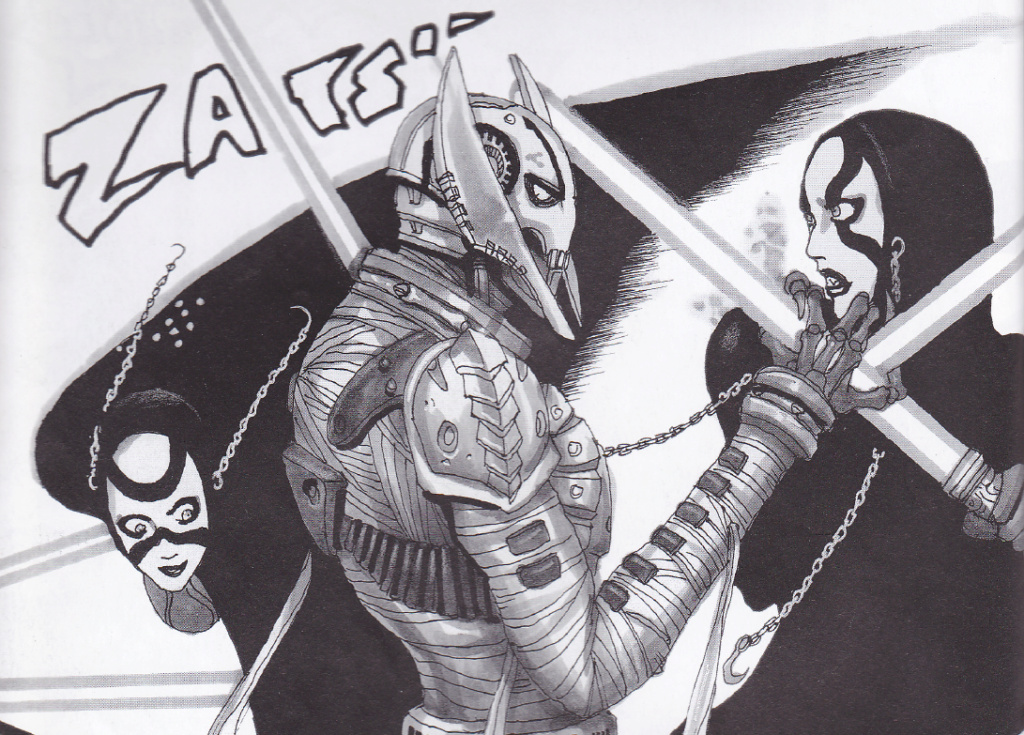 ---
Grievous moves so fast he appears to teleport

Dodges point blank blaster fire from a mandalorian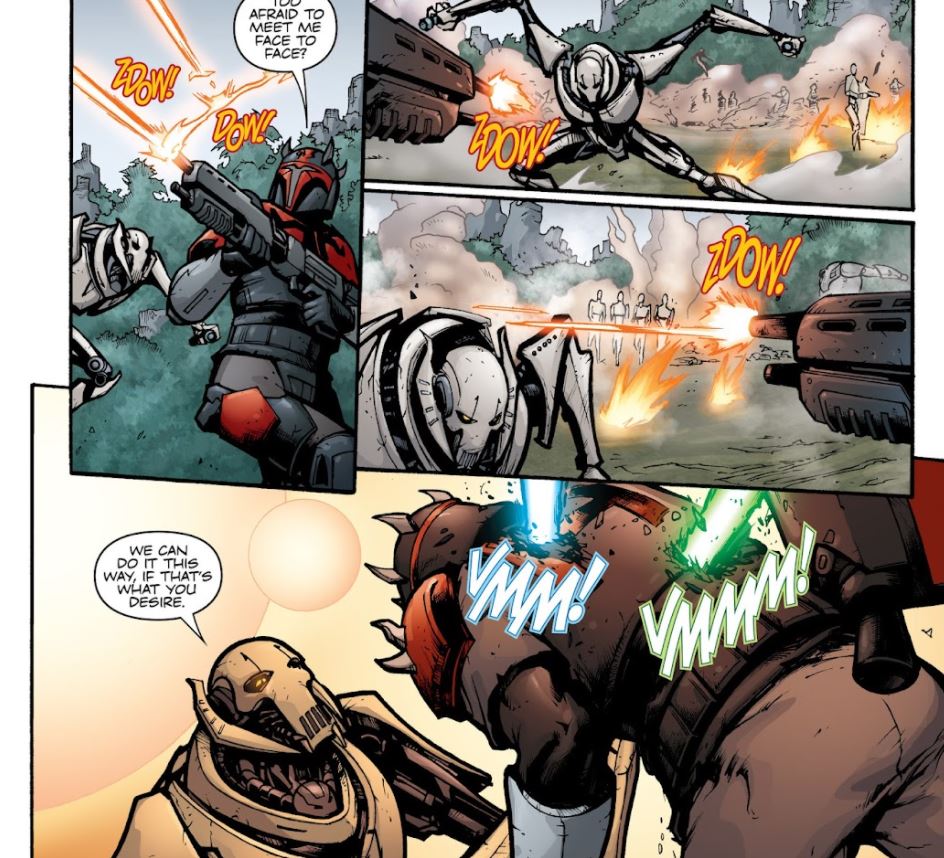 Durge notes that Grievous is fast and seems to evade ventress' sight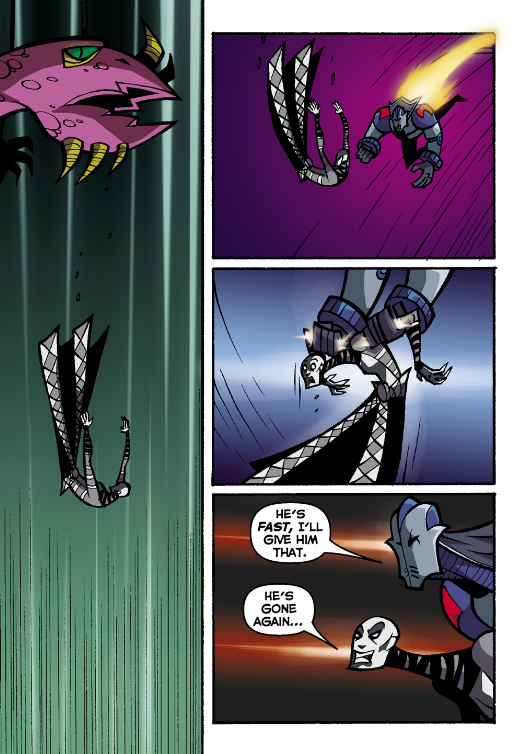 he can attack faster then thought
can attack thrice a second with each of his arms, before ramping up said speeds to overload Obi-wan "master of defense" Kenobi


note that this doesnt define as Grievous' limit of swings, but the amount needed to overload kenobi. its entirely possible he can go faster
he can spin his sabers so fast it looks like he's standing in a pulsing sphere of energy

grievous leaps super fast he appears to almost vanish
[url=
Grievous moves so fast he can dodge force pushes, TI having to predict where he will go to get him
[url=
[url=
runs as fast as a descending elevator
[url=
Grievous' arms and sabers become a tornado of energy
Allows a group of Jedi and Clones to ready their weapons after his entrance. indicating he could likely kill them all
Grievous can swing his saber and arms so fast they create a "imitation quantum effect" vanishing from sight and moving faster then obi-wan

Grievous dodges a squad of ARC trooper blaster fire and gunship laser cannons + rockets (5:01)
---
Grievous' speed and strength makes him tough to beat

Grievous throws durge very far and through several objects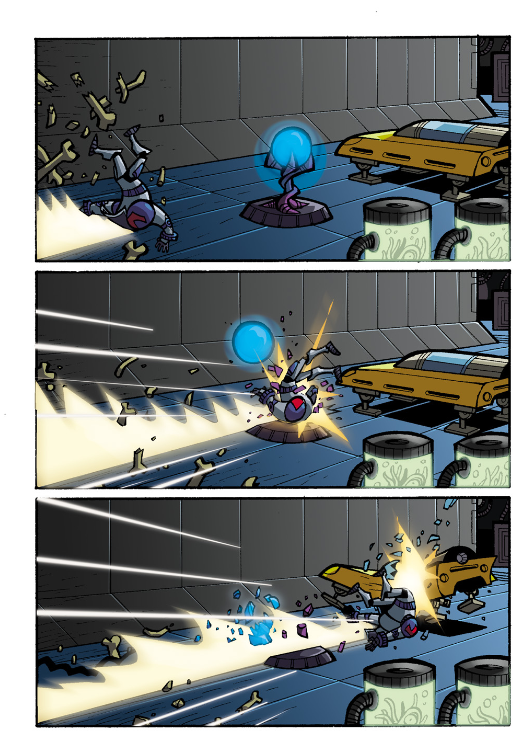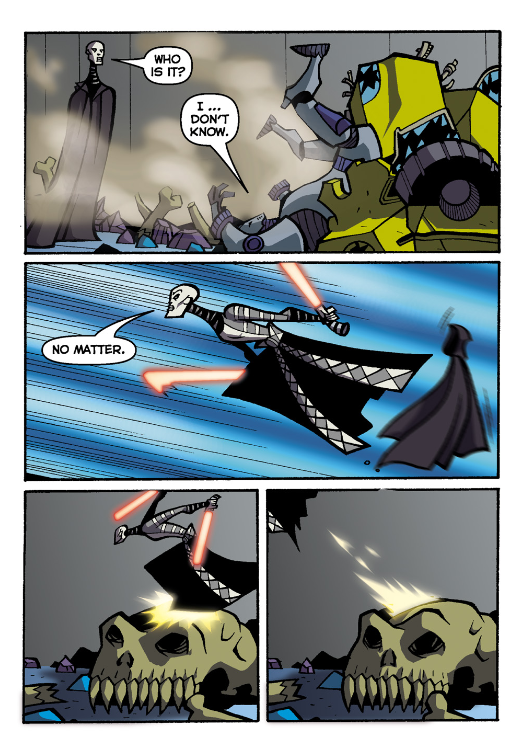 Grievous rips up a console to throw it at Obi-wan

Crushes jedi Sha'agi and kills him by landing on him
[url=
stops and smashes a Droideka
[url=
Cuts through lightsaber resistant staffs
Does so again and kicks Obi-wan he seems disorientated
[url=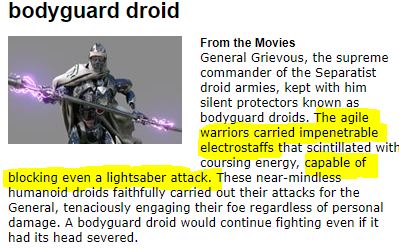 Beats up kenobi and sends him flying before denting his ship, which is lined with impervium
[url=
Throws Kenobi far again
[url=
Flings a Clone and crushes his neck with his foot
[url=
Smashes a Magnaguard and cracks transparisteel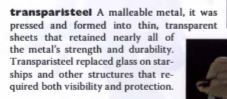 Breaks Transparisteel with an electrostaff in ROTS
[url=
landing on the ground causes a crater
[url=
Crushes jedi Tarr Seirr's head and flings him and Aayla secura up into the ceiling
[url=
The force of Grievous' throw was so mighty they got stuck up there. When the ARCs came looking they had to send one up into the rafters when looking for survivors (1:20)
in the unfinished S7 episodes Grievous tosses a grown varactyl several feet behind him with one arm
Dents and bends ships hull with his feet in ROTS
[url=
Kicks mundi so hard he flies back and becomes buried in giant machinery
[url=
Grievous swings so hard that despite Shaak Ti stopping the saber the force of the swing sends her into rubble and knocked unconscious to the point she may die without medical attention
[url=
Kicks back Kenobi several feet in ROTS
[url=
Grievous is repeatedly called a brilliant military strategist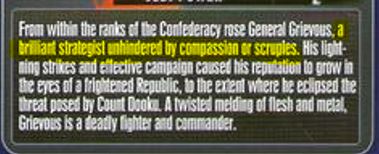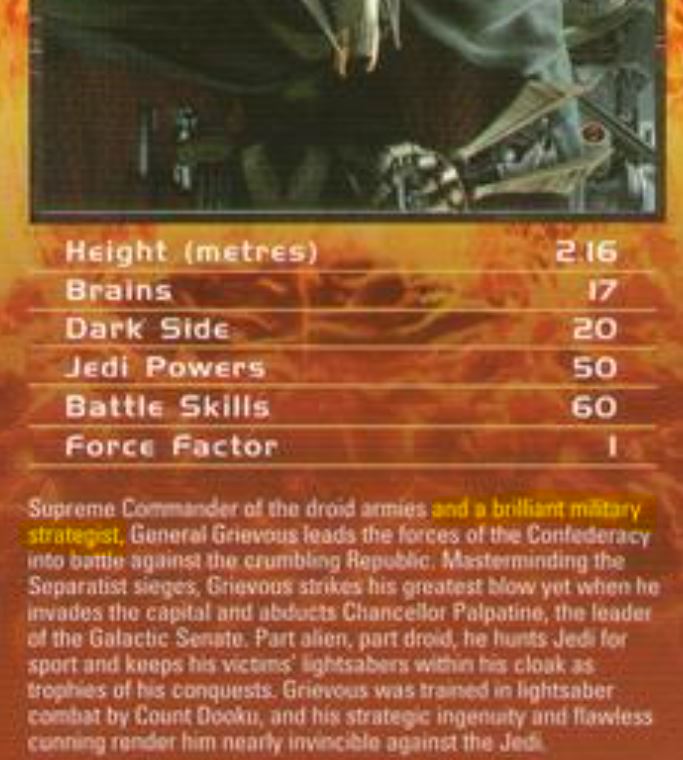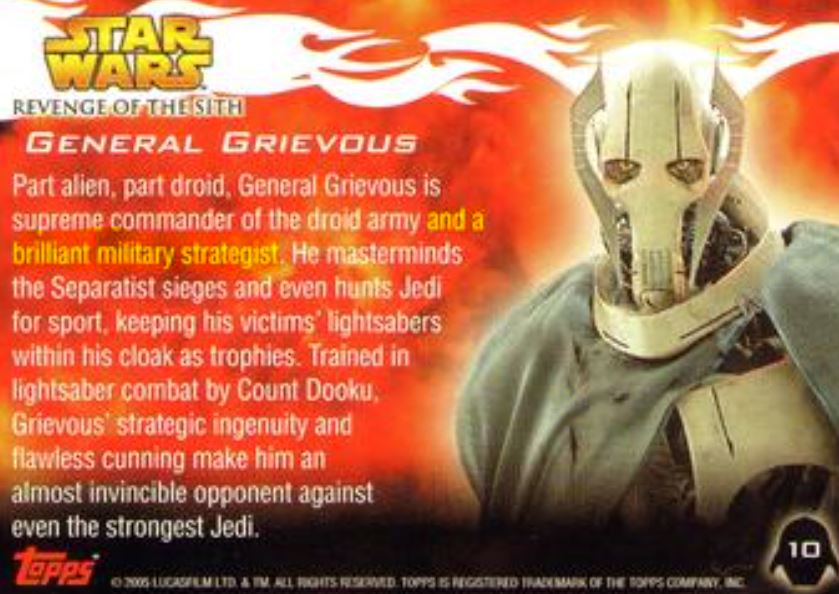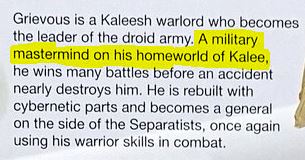 Grievous' tactical skills and effective campaign against the republic has made many in the republic view him as more deadlier then count dooku
in fact its noted that rarely did the general have to use his full intelligence when creating a strategy, But when he did the effects were noted to be devastating

Jedi Master Shaak ti comments on his strategy at Hypori was without flaw (00:26)
it should also be noted that shaak ti herself is quite the strategist. being called cunning and part of planning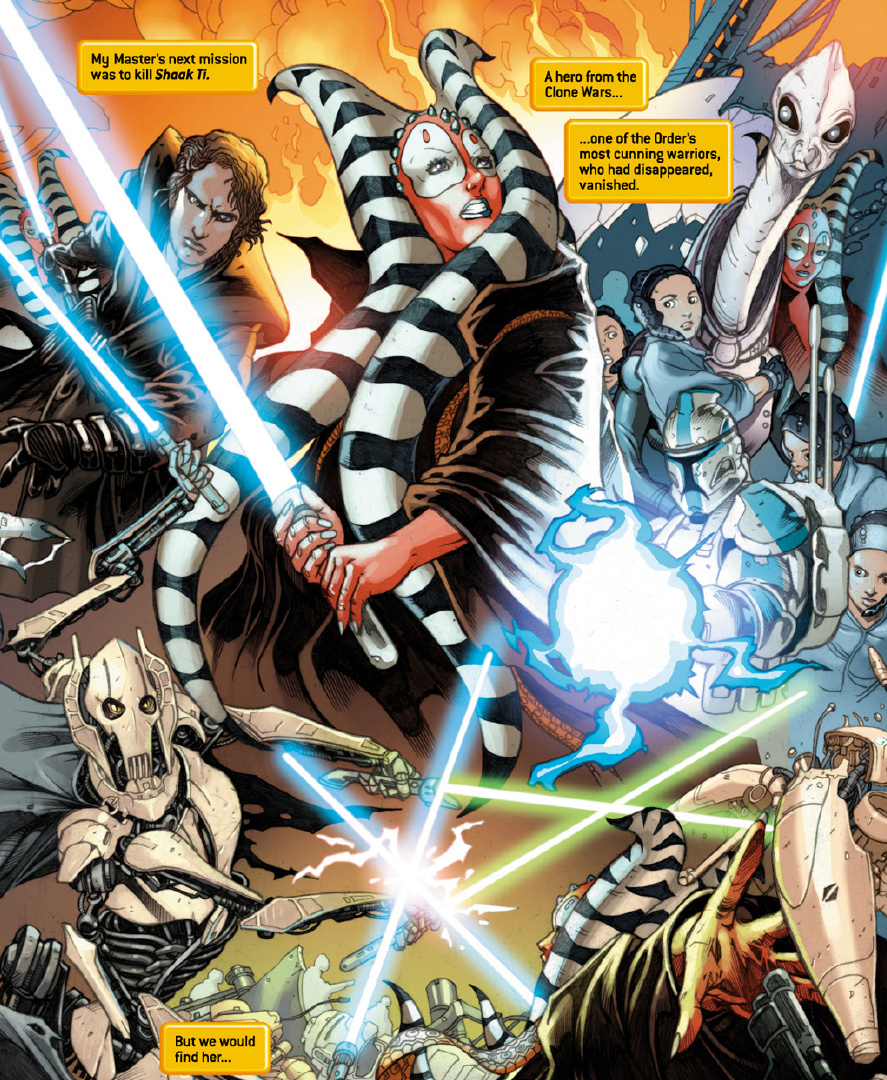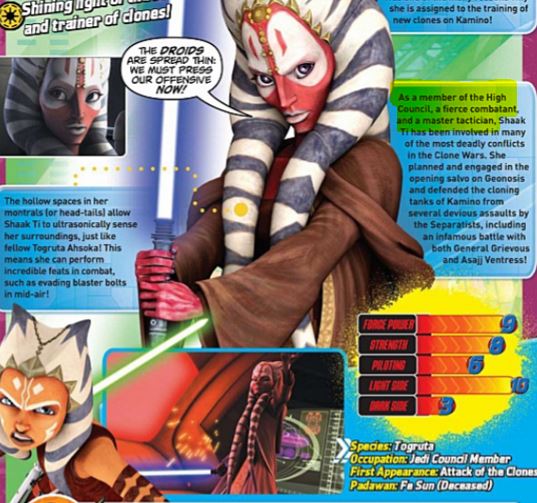 for another noted master tactician to say Grievous' strategy is without flaw is very high praise indeed
---
In fact you can also attribute the entire separatist movements victories and danger to General Grievous himself. having been noted as the reason behind turning the droid army into the powerful foe that it is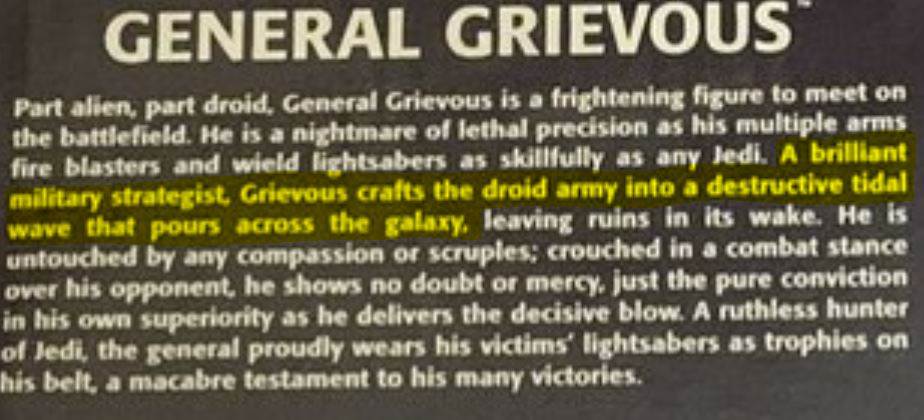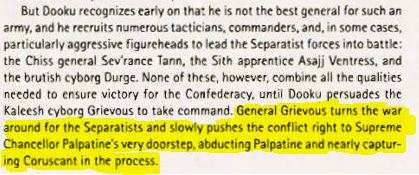 before Grievous the separatist worked poorly and only after the appointment of the general were the droid armies able to do sustained battle or as mace windu puts it "changing the shape of the war" (00:55)


(00:55)
Grievous has also been noted to embody all the needed qualities to ensure victory for the CIS, placing him above the likes of Sev'rance T'ann, Ventress and Durge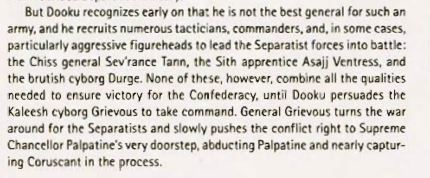 The Republic began recruiting from able bodied worlds to help assist the Clone troopers. Using propaganda to call Grievous' tactics wasteful and he's cowardly and overconfident when the truth is the Republic higher ups were very afraid of Grievous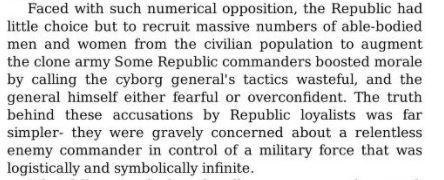 ---
a few examples of Grievous' strategic efficiency is the taking of the ugnaught planet, while they were a more factory designed world they were not without a military. However within days of landing the have claimed the planet with minimal damage to the factories themselves, which was the target all together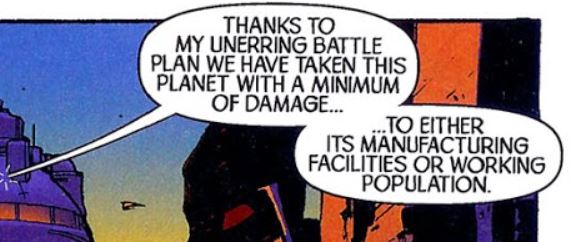 The bombing of the Coruscant generators is another noted example of Grievous' strategic mind at work. dispatching undercover droids to rig and blow up the generators for the planet. causing almost a planet wide black out and cause of mass panic
---
Despite Grievous' Strategic mind he wasnt without flaws. while the incompetency of the droids under his command may be one, Im more referring to his sith masters. While Grievous' war effort is vital to the sith plans, they are not the only thing of importance, as such Grievous is often forced to make strategically flawed choices due to the siths greater plan
two such examples being when Grievous captured the chancellor. He notes that they should have left the system hours ago but were forced to remain in combat because Dooku (and Sidious) wish to draw in Anakin and Obi-wan
and another being the capture of Darth Maul, once more the sith masters order Grievous otherwise
Despite his brilliance he ultimately wasnt meant to win in the end but he certainly was a force to be reckoned with and under different circumstances may have won the war
---
Grievous is a famed jedi killer, having killed numerous jedi in combat, earning him a deadly reputation. and acquiring many accolades as one of the greatest h2h killers of jedi in the galaxy
Star wars producer Rick McCallum calls him the greatest hand to hand killer the galaxy ever knows
having been trained by count Dooku he distinguishes himself by killing more jedi then any other being


a master of hand to hand combat
has claim to be the greatest warrior in the galaxy

Hard pressed Count Dooku in their spars

Fights and beats his magna guards

The same guards are said to be trained in the seven lightsaber forms and a match for most
Nick Gillard when talking about a deleted scene they filmed regarding Obi-wan fighting Magna guards likened it to fighting six Darth mauls (21:00)
Early in the clone wars Grievous was unleashed into the catacombs of Geonosis and killed entire clone companies and jedi with his hands

for reference a Clone Company consists of 144 troopers + 1 support personnel

Grievous instantly kills Adi Gallia, someone who in TPM could compete with maul via jedi power battle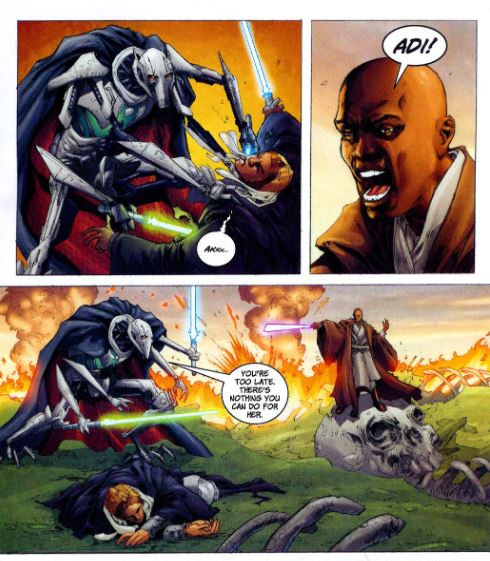 Kills a padawan and brutally maims an jedi
Grievous made short work of a Great and fearless jedi warrior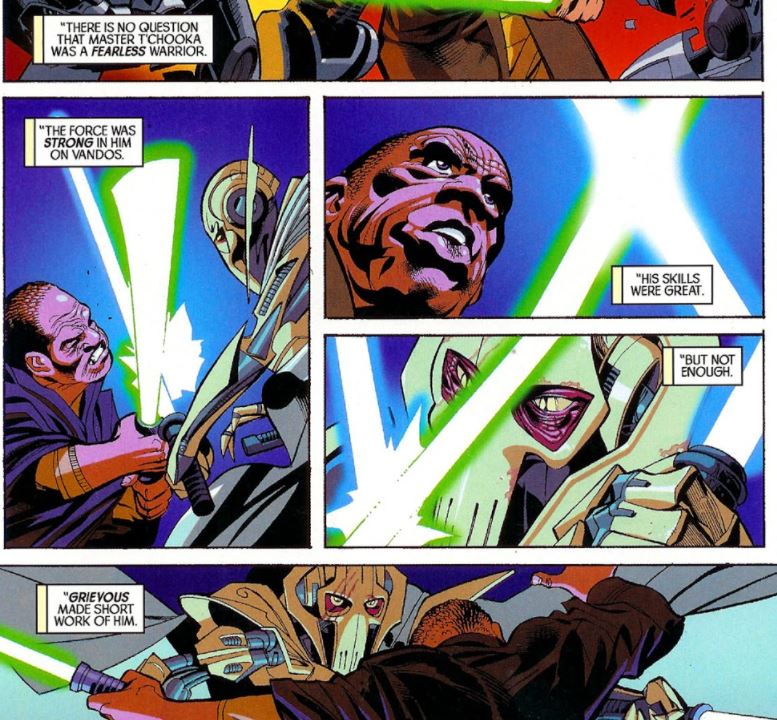 Grievous while sacking Coruscant kills 4 jedi at once
Then kills two more Jedi who were more powerful then the previous ones

Some noted Jedi he defeated and killed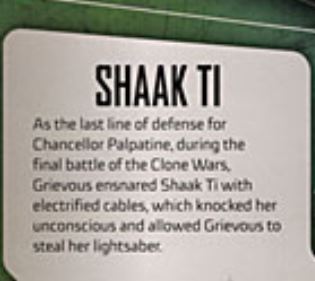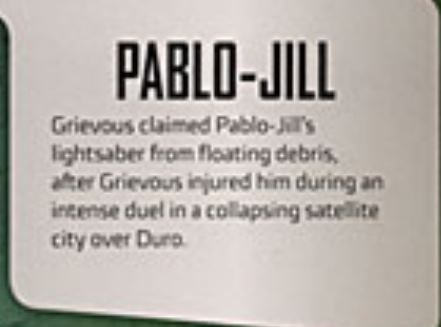 In an Infinities magazine issue of TCW. Grievous and Anakin meet During the attack on Kamino where Grievous seems to hold the upper hand against anakin. Even noting it takes all he can to dodge and parry the Generals blows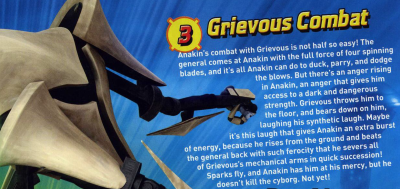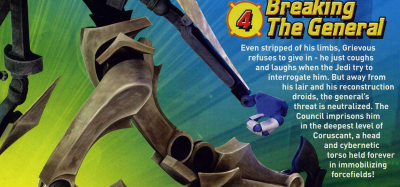 in the ROTS comic is shown disarming kenobi in their duel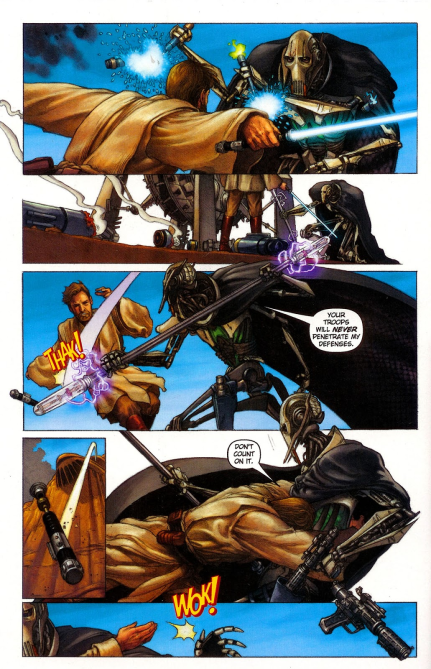 ---
Grievous is noted to be a match for most jedi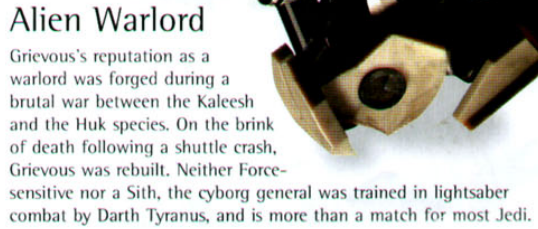 he is as skilled as any jedi with a lightsaber

has been taught by dooku in the seven classic lightsaber forms

Called a nightmare of lethal precision, wielding lightsabers as well as any jedi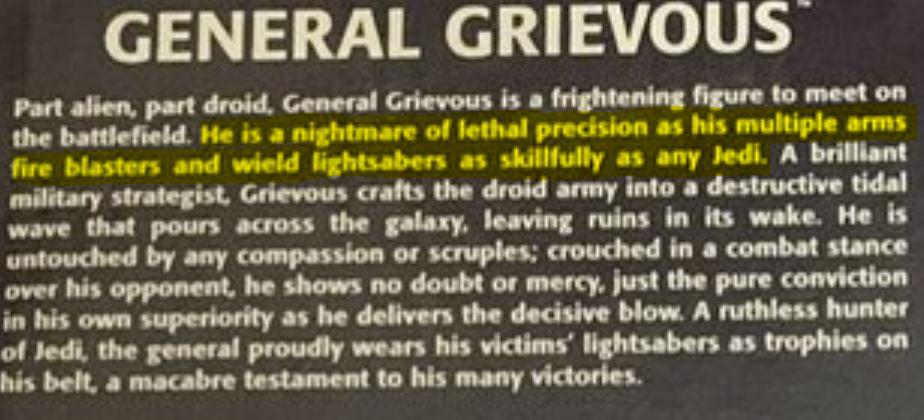 A young Boba Fett meeting Grievous considers him the most powerful thing he's ever seen (which would include the likes of Durge and windu)

a master of the double bladed lightsaber
Has killed countless clones and Jedi

Dooku regards Grievous as more powerful then Ventress

Grievous could spin his arms in a whirl of light few could withstand
his ingenuity and cunning makes him almost invincible against the jedi
an almost invincible opponent against even the strongest of jedi
called almost invincible
a deadly opponent for the jedi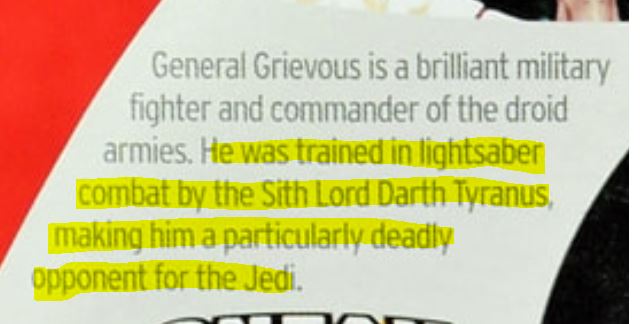 he uses his 4 arms with deadly skill in combat
his mechanical enhancements combined with his unorthodox fighting style gave him an edge in combat
According to grievous he's mastered the jedi's weapon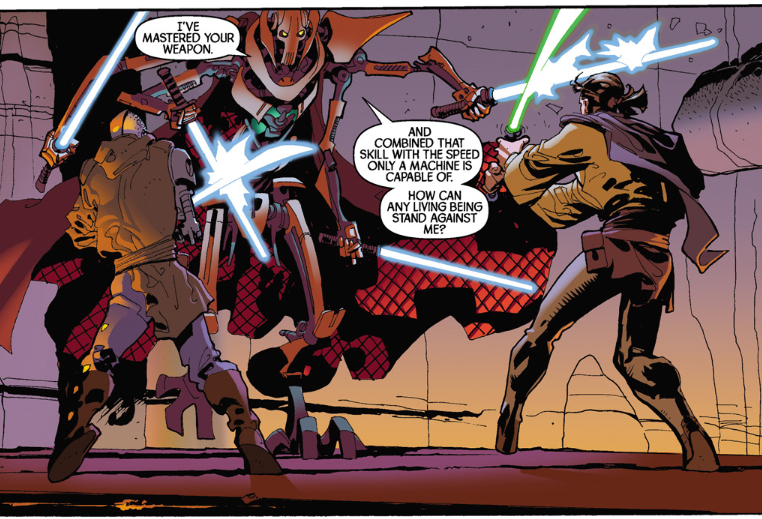 called the most prolific jedi slaughterer since Durge

a worker on the 2003 the clone wars talks about the different techniques for Grievous
Dooku notes how Grievous within a few weeks has surpassed his other apprentices. once more placing Grievous above the likes of Ventress, Sev'rance Tann and other dark apprentices early in the Clone wars
2005 revenge of the Sith game from Lucasarts guide book calls Grievous more deadly then Count Dooku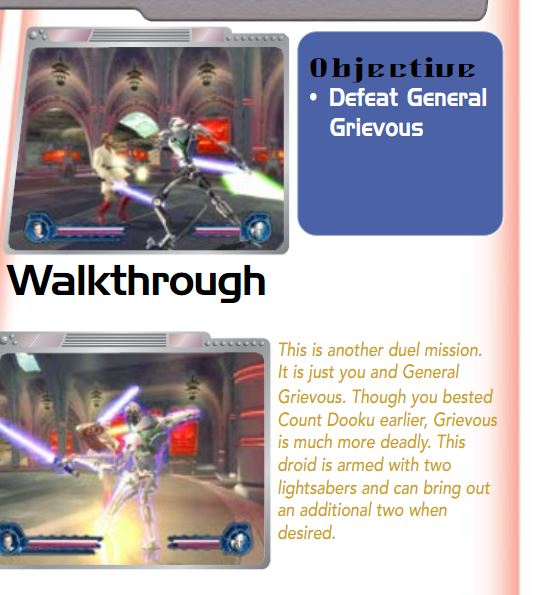 Windu comments on how Dooku found a worthy ally in Grievous and he has bested many Great Jedi
Can outfight most jedi and launch into a whirl few can withstand
---
The battle of Hypori was where he officially made his Debut to the Galactic stage. Where he faced a collection of jedi and clones
he wiped out the jedi on Hypori in hand to hand combat


The jedi sent there was called an "elite strike force"

Windu calls the jedi at Hypori Great
Full battle below
---
Grievous and windu have crossed paths a handful of times throughout the Clone wars. Only ever engaging in combat a few times. Here i shall show every encounter they have (this is not in chorological order)
in Obsession Greivous attacks the group of Jedi, upon seeing the General Windu orders everyone to regroup immediately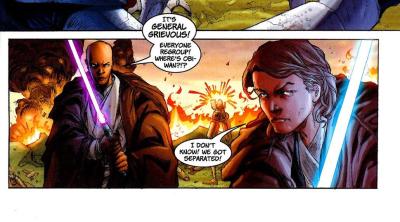 after killing Adi, Mace Windu decides to not fight him but instead slam him with a speeder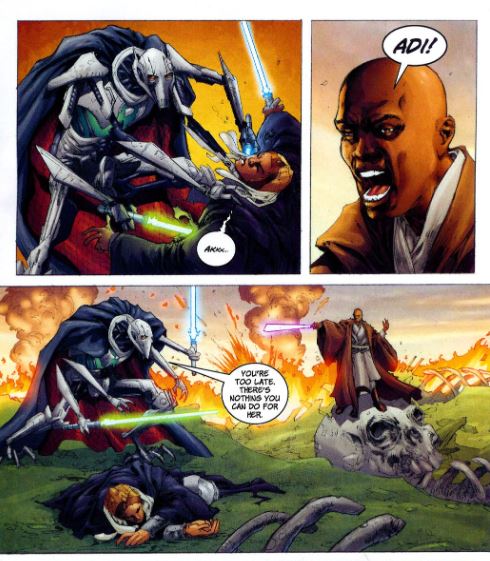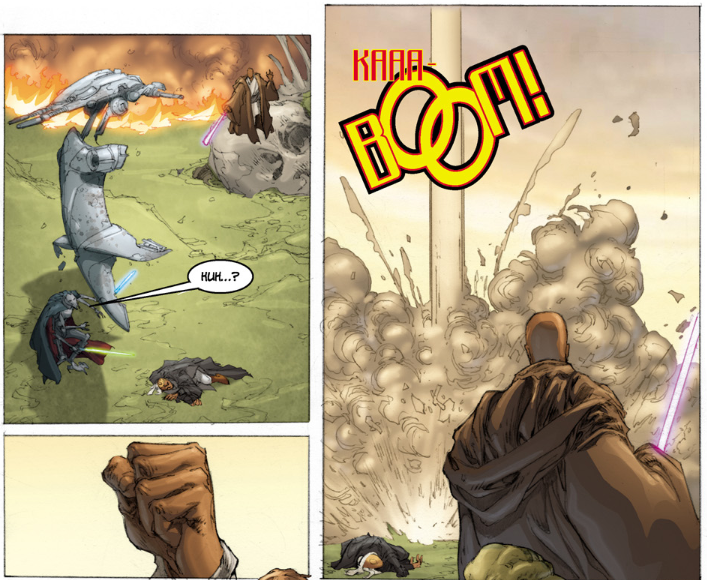 in Star wars elite Squadron mace windu and Grievous engage in combat. with Mace pleading with X2 that he cant beat Grievous alone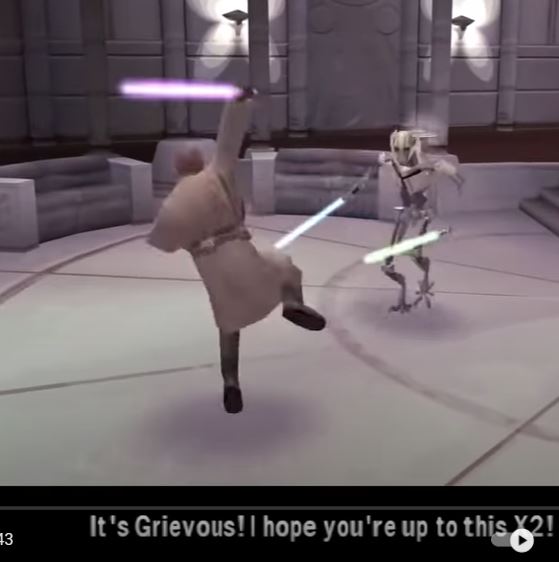 there is their duel in LOE. where Greivous using 2 sabers engages with a duel with mace on top of a train. It should be noted that Grievous is hindered both with his feet and use of two sabers while mace has no such hindrances. even then mace notes his strikes are astonishingly fast and as strong as any he's encountered


and of course within the time they faced Grievous almost perfectly replicates Maces trump card fighting style Vaapad with scary amounts of accuracy resulting in mace not wishing to continue to fight

and then there is their brief encounter in OCW where Mace opts to not fight Grievous and instead force crush him
[url=
However with the OCW force crush there runs a sort of contradiction between that and what happens in LOE. we could say both happened and be done with it but I believe that the depictions of LOE if push came to shove should supersede that of OCW. for starters LOE had a lot of oversight by Lucas as confirmed by the author in a Q&A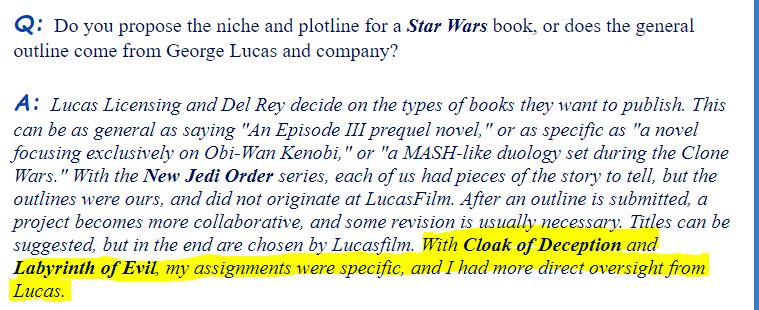 and then Sue Rostoni provides her feedback by saying that the events of LOE provide a more accurate, historical perspective of events (unfortunately the link is dead and thus no further info can be obtained)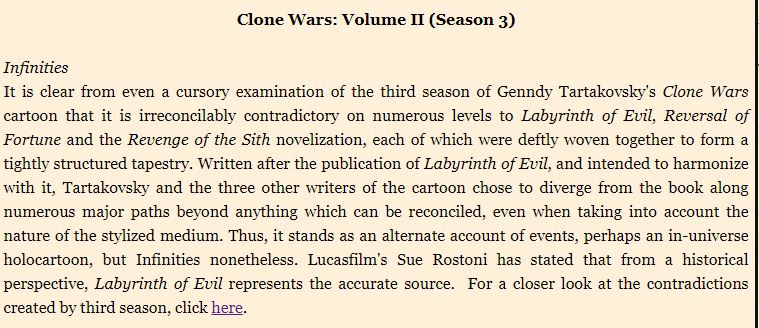 However you may take these as you will.
---
The famous battle with Jedi Councillor Kit Fisto from the TCW episode "lair of Grievous" I shall present some evidence that I hope will change your perspective on the fight and its possible outcome
To start I wish to call to attention their first engagement in the halls of his home. There he fights off Kit fisto and his padawan while surrounded by clones. Its noted that it took all they had to repel grievous' assaults and stop his advances.

this was also Grievous using two blades instead of all four sabers. and in the episode itself we see the halls hinder Grievous
[url=
after his scrap with the clones and undergoing repairs his doctor notes that he should be resting, which he ignores to go fight the jedi (00:50)
with even the novel of the fight adding some flavor to it with black smoke pouring from Grievous' armor as he leaps to face Kit fisto
as the fight started Kit primarily stuck to hiding in the Fog instead of fighting Grievous outright, using it to his advantage

it was only after he gained a second saber did he openly engage in combat. when he had a different advantage (him another saber and grievous one less saber)

however Grievous' entry in Starwars.com tells the opposite
The coming battle on the platform was described as Fierce, heated and an excellent fight, with Fisto needing all his Skills
it should also be noted that Kit Fisto felt escape was the only option even back when his padawan was Alive, indicating Kit didnt think they could beat Grievous in his Home
For a conclusion, Kit Fisto had a Fierce, Heated and excellent fight with a Grievous still recovering from his injuries while using three sabers against kit using two.
We can also examine some stat cards of their TCW incarnations to gleam some insight on how a normal level fight may play out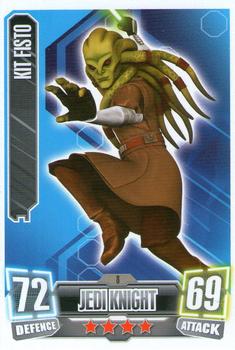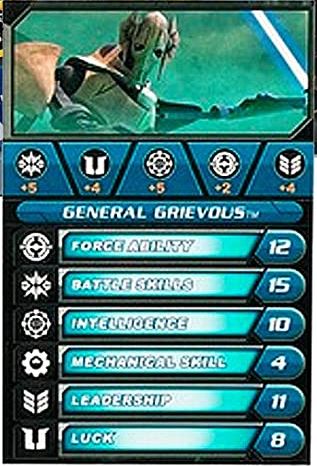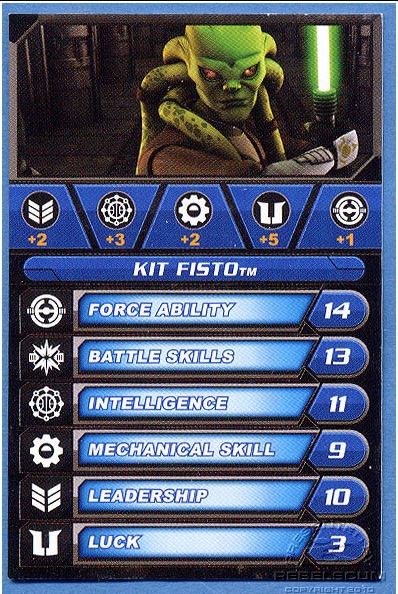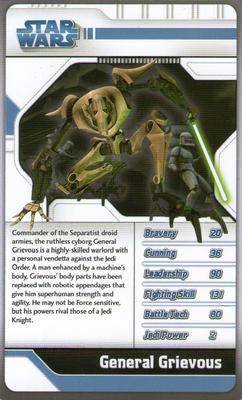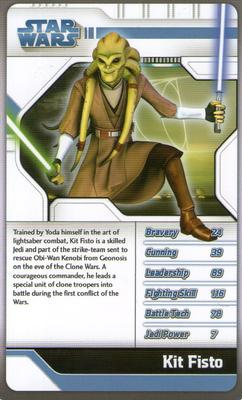 (these two were apart of the same series)
---
Grievous and Kenobi Faced many times in the Clone wars, almost as many times as Dooku and anakin
its been stated that they are a battle of equals

I plan on examining their fights and skirmishes to conclude who actually was winning from these fights and if it
actually
was a battle of equals
Ill post a video down below with my comments at various time stamps (first battle begins 1:00)
1. malevolence fight - 1:00 - 1:34
Grievous' brute strength alone is said to be enough to match kenobi's skills
Which seems to be the case seeing as Grievous downs kenobi in one hit, forcing Kenobi to run away.
ill award Grievous the win (1-0)2. fight aboard ship 1:35 - 4:42
a) Grievous lands a kick on kenobi which seems to disoriant him for several seconds.
which could've been death had GG not monologued (2-0)
b) Grievous seems to be overpowering kenobi until he decides to TK grievous with a droid.
but thats a win for Kenobi (2-1)
c) fight in the tube. not much to conclude
unless you want to count the shoulder check as a win (2(3)-1)3. fight by the pod 4:43 - 5:11
kenobi disarms grievous but kicks him back enough to climb up before kenobi recovers fully.
lets call it a tie (2(3)-1 T:1)4. battle of kamino 5:13 - 6:43
a) Grievous tosses Kenobi around and stops to gloat,
seems pretty clear cut win for GG (3(4)-1 T:1)
b) some may choose to count Kenobi's TKing and Grievous running as a win.
so be it (3(4)-1(2) T:1)
c) nothing to conclude on the landing platform.
results the same (3(4)-1(2) T:1)5. battle on the venator 6:44 - 8:07
Grievous kicks kenobi back hard enough he clutches his side. the VA for Grievous even noting it

Kenobi even opting to get help from cody and then retreating.
if people wish to count GG running as a loss the same should apply for kenobi (3(5)-1(2) t:1)
6. unfinished Episode 8:07 - 9:20
this is pretty easy win for Grievous.
not much more to say (4(6) - 1(2) T:1)
7. the battle of Utapau
well we know how this goes so no comments here. win for kenobi (4(6)-2(3) T:1)
however the utapau fight is regarded as epic and explosive


In the ROTS game they fight in a cave and Grievous does a kick spin on him and retreats despite kenobi seeming dazed
[url=
and in the comic shows Grievous being able to disarm kenobi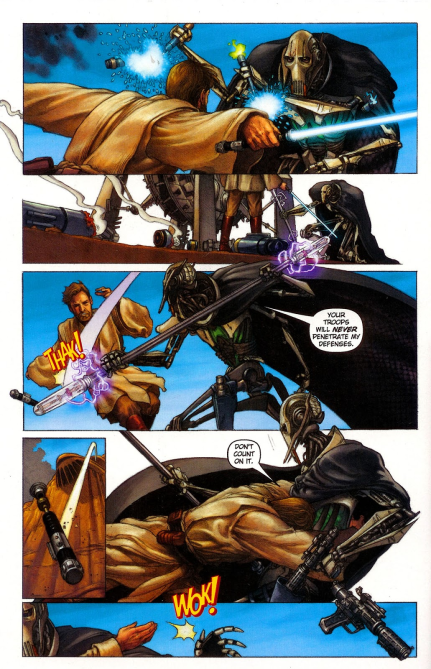 MAXIMUM WINS 6 VS 3 WITH 1 TIE
---
not much to break down in this fight unfortunately
is said to eventually overpower eeth koth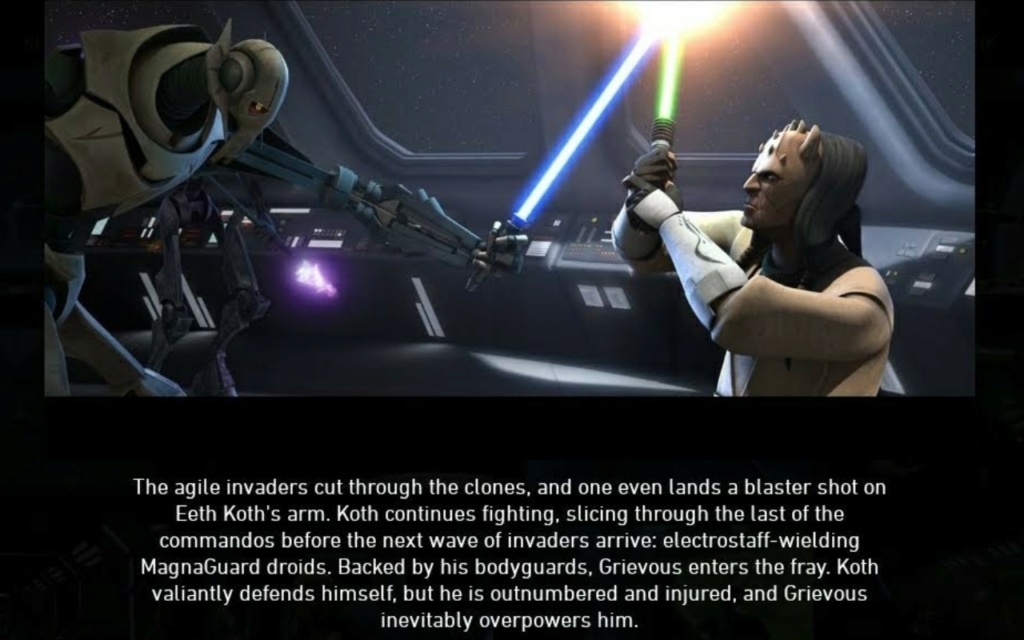 Eeth Koth was originally going to die until filoni decided he should live

Despite Eeths injury (and if not being saved by a clone, almost getting killed by a commando droid) Grievous faced him fair in combat. Only when he used the force did his guards interfere
like with Fisto here is a comparison of stats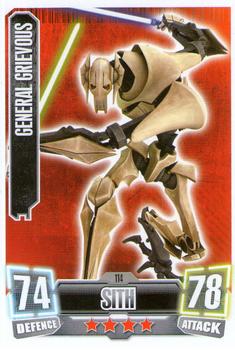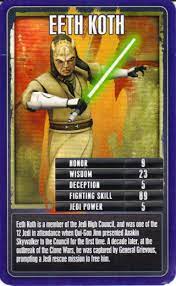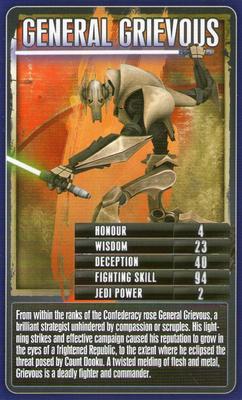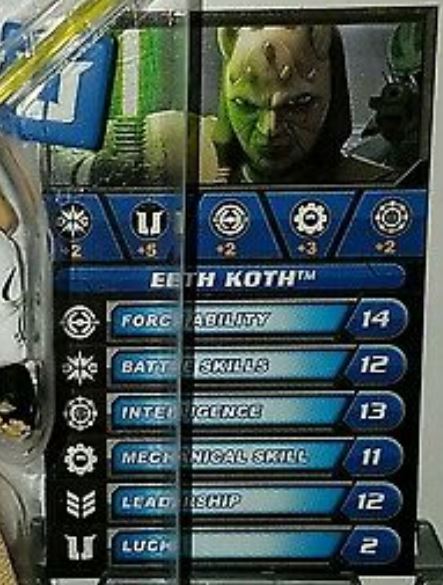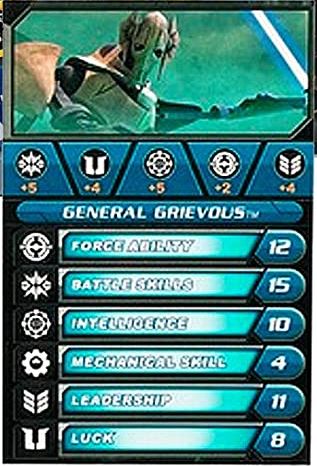 ---
Before being appointed to Supreme Commander of the Droid army Grievous had to defeat his "rivals" being Ventress and Durge (he likely would have also had fought sev'rance Tann had she been alive)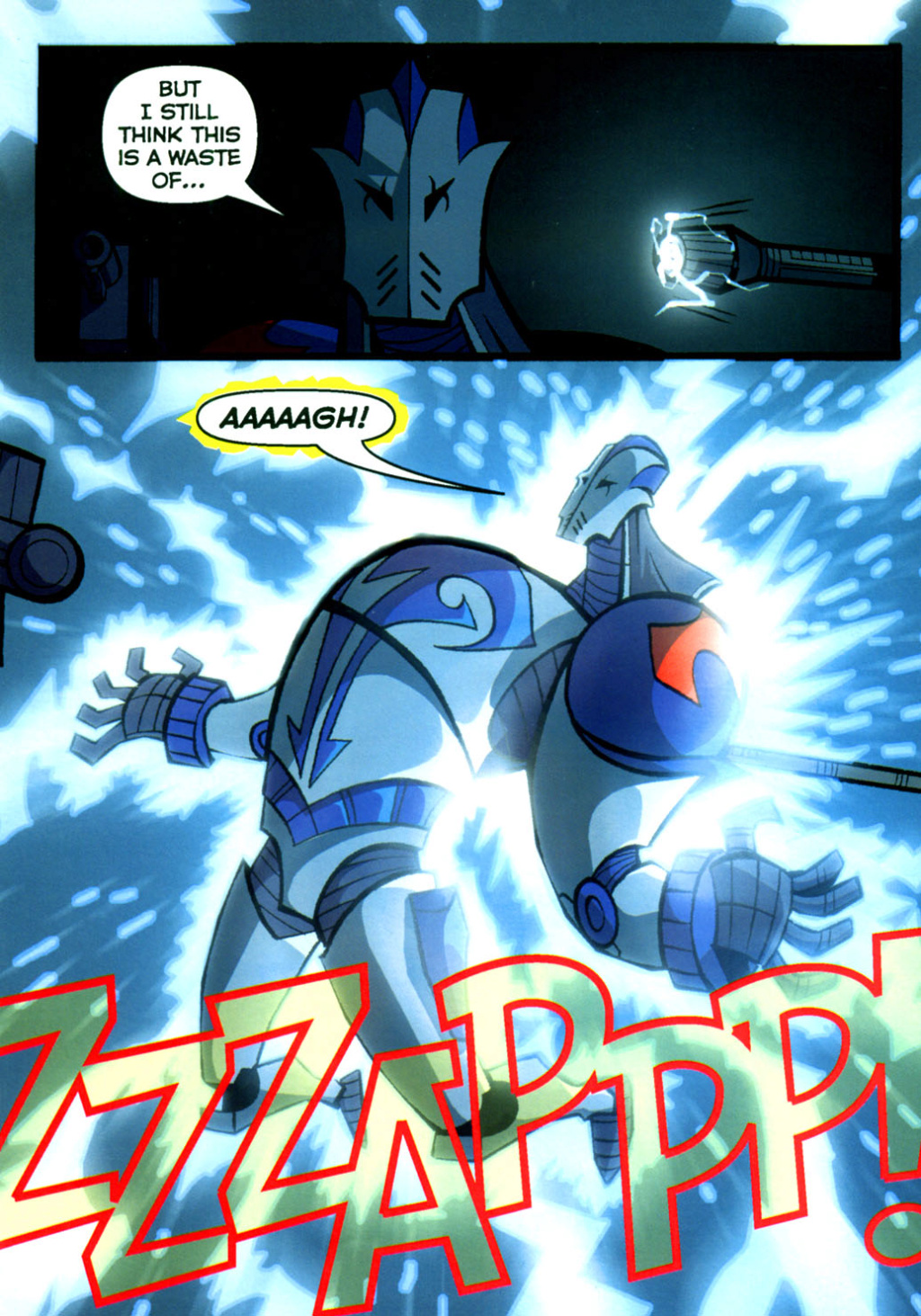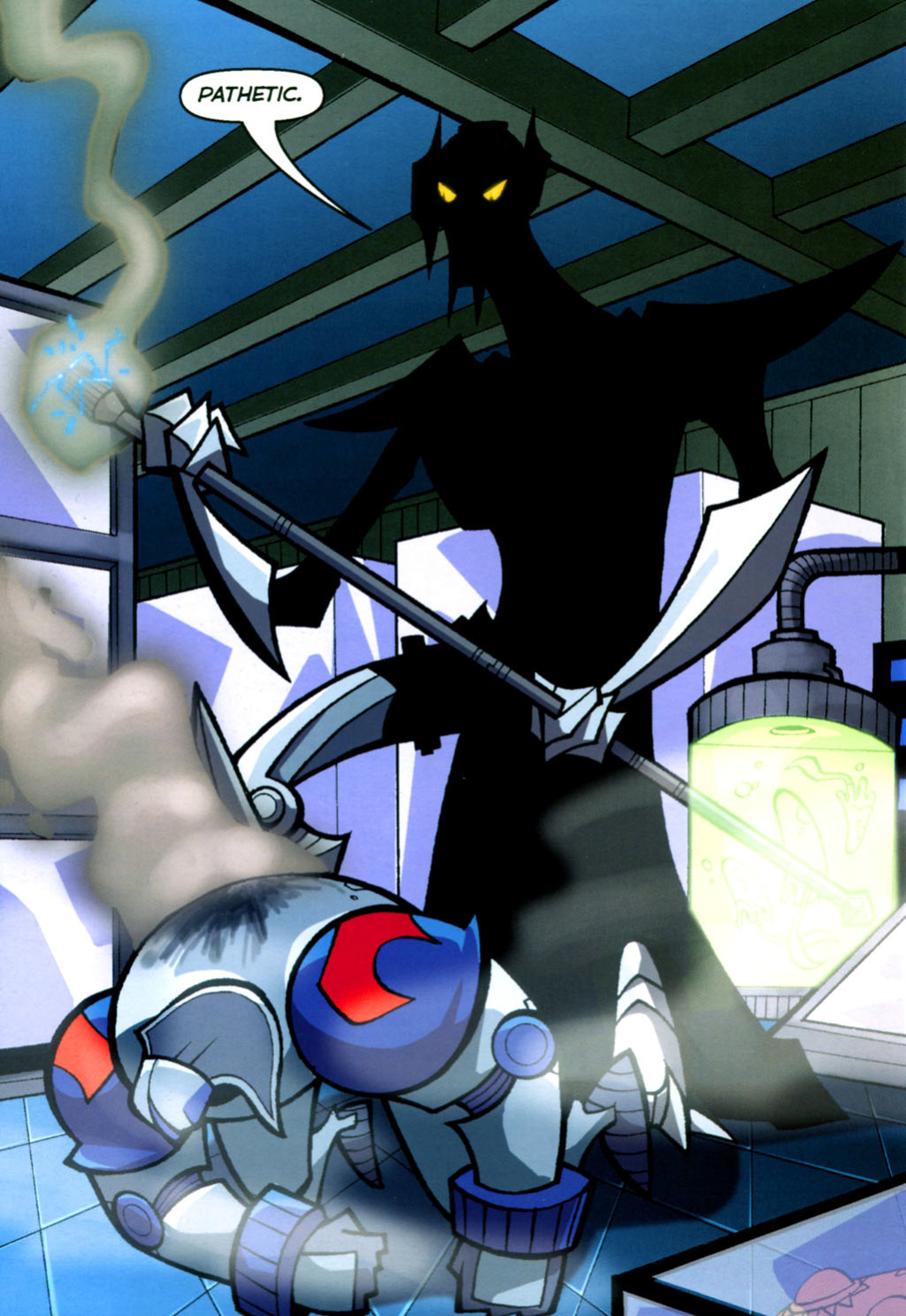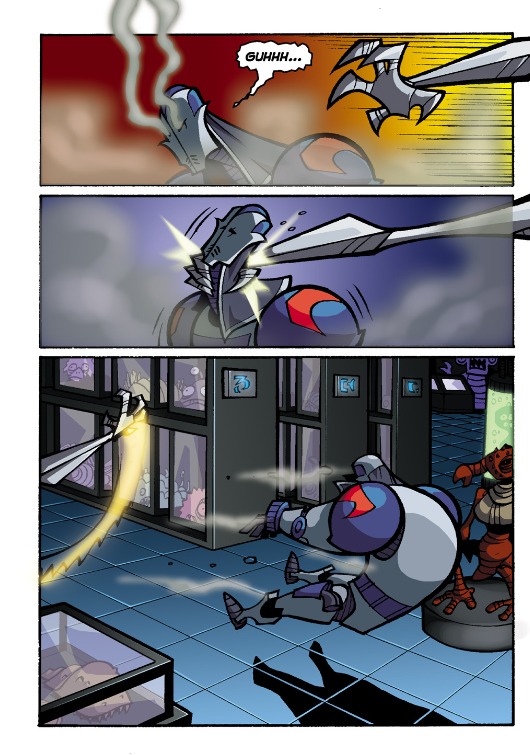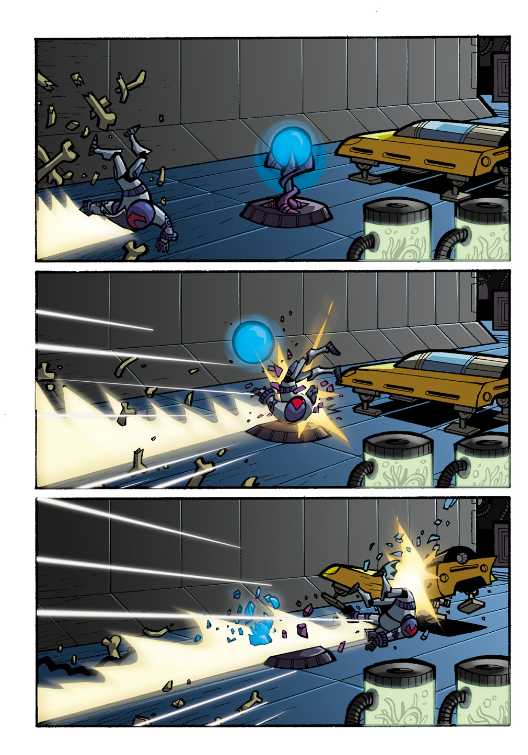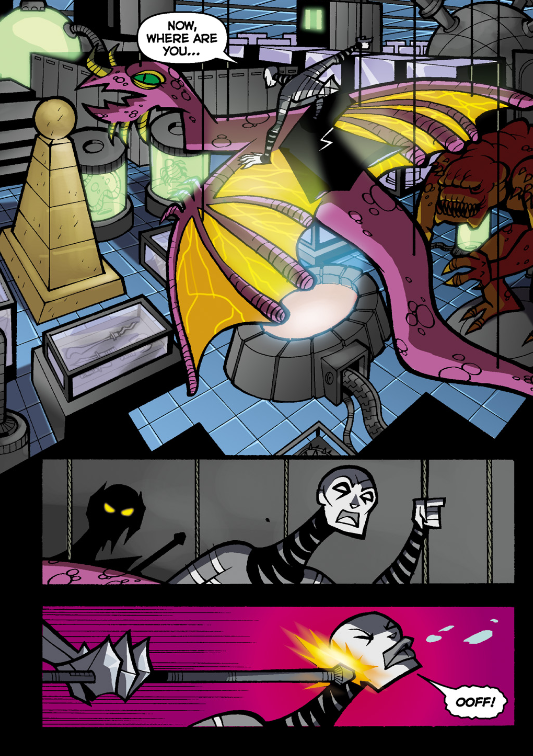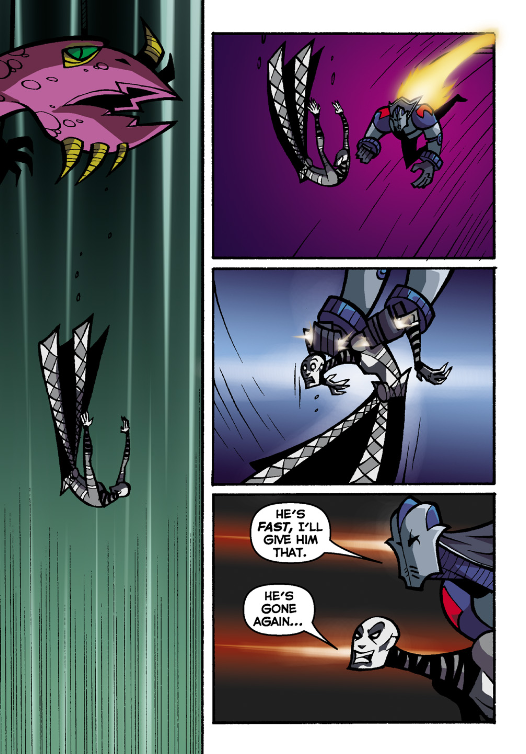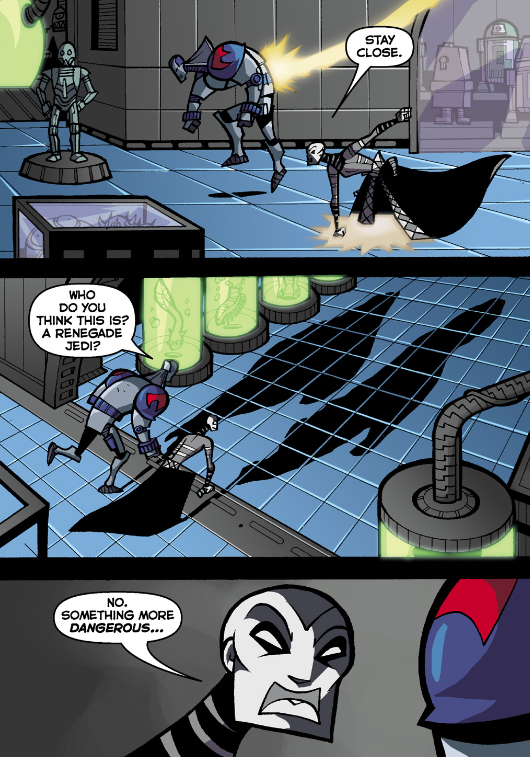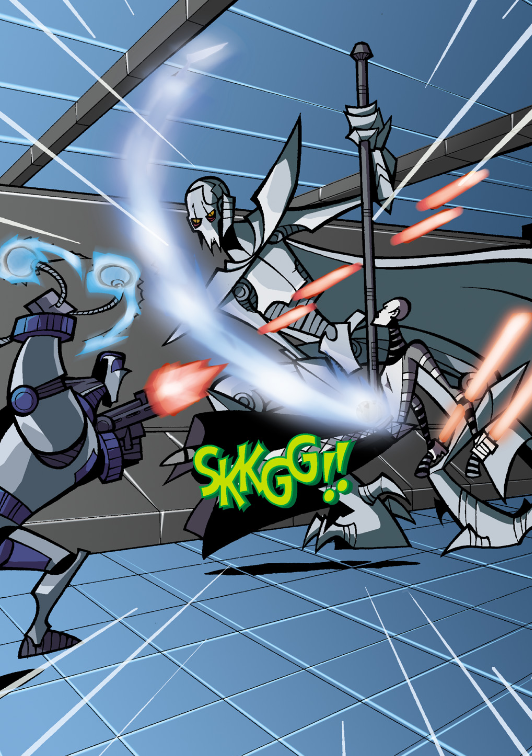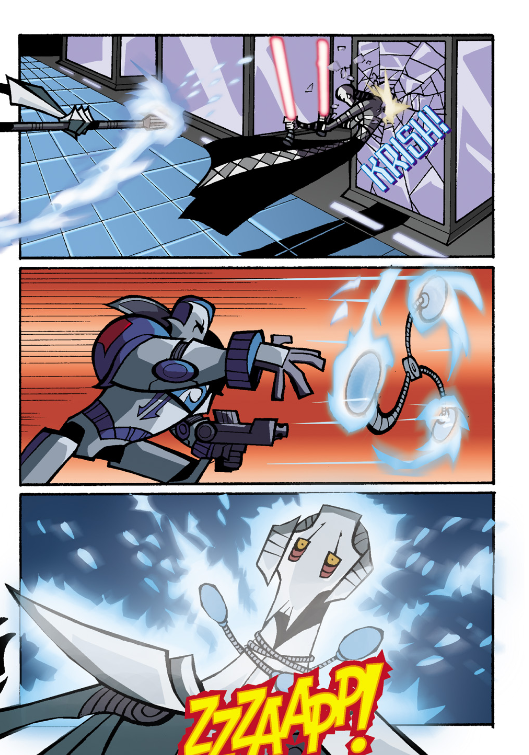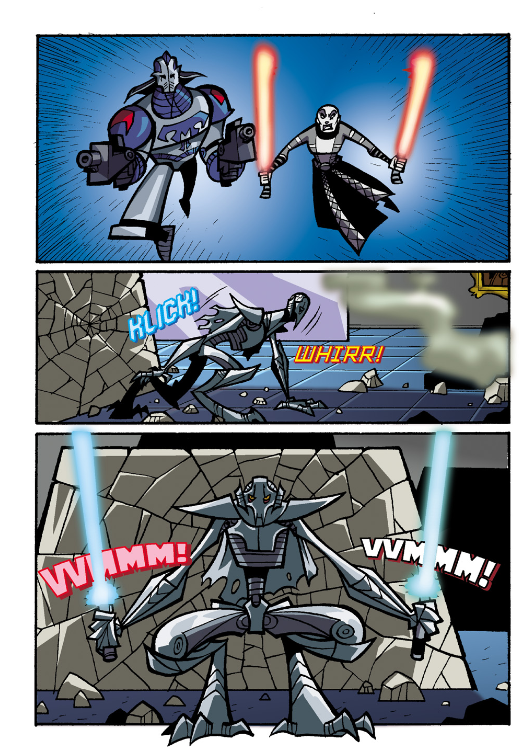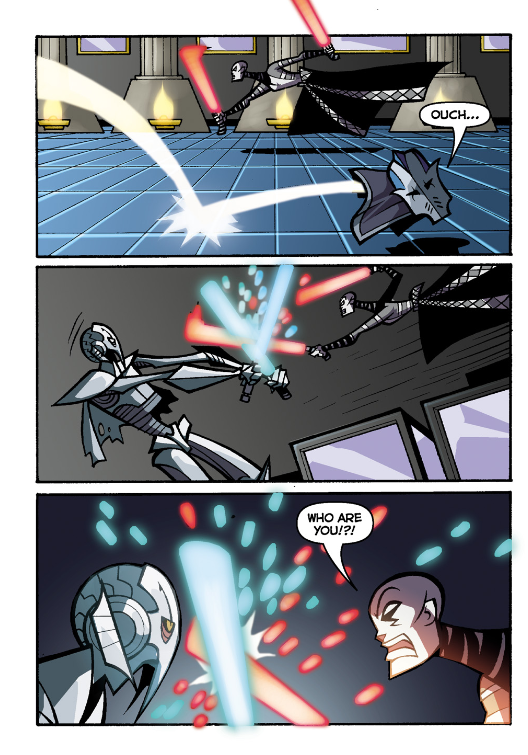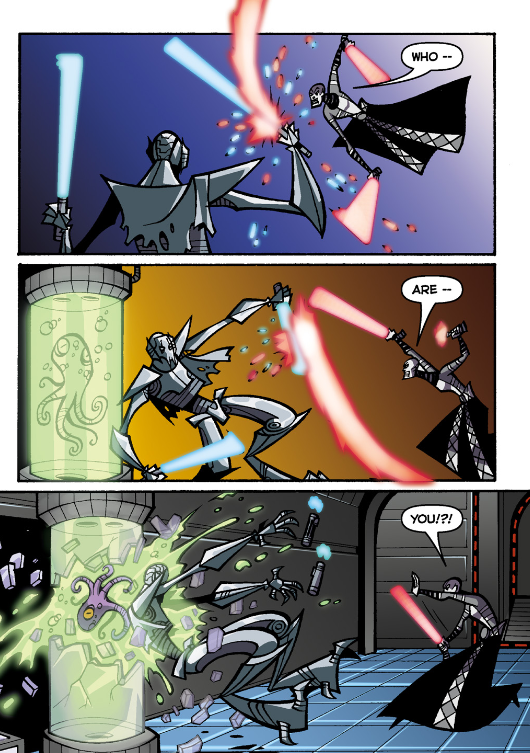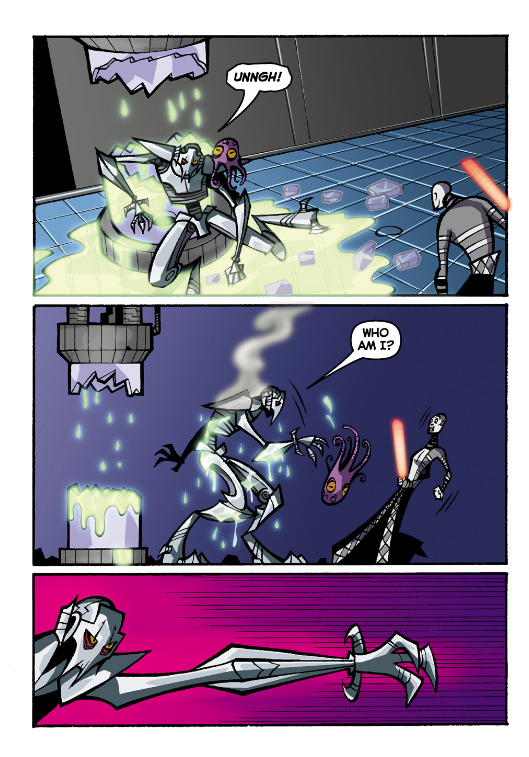 Needless to say Grievous bested them rather handily with OOU quotes to support the notion. Even being called more powerful then they could imagine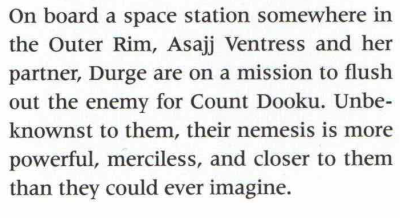 ---
The Kaleesh named Qymaen Jai Sheelal was born during a generation spanning war against the insectoid species known as the Huks. Growing up knowing only War and Poverty the young Kaleesh by the age of 8 was already an expert sniper and revered as a Demi-god by the age of 22
Qymaen was also the greatest mastermind on the planet and possibly the whole system (seeing how it was all under Huk control)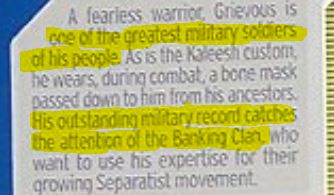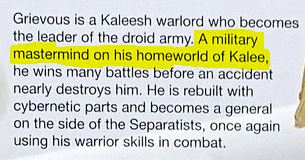 he along with his partner/rumored lover appeared invincible when together in combat

it was this lover that taught him combat with a sword (or at least improved on his skill) and after her death Qymaen launched a revigorated campaign that not only drove the Huks off kalee but off several of their previously conquered worlds. killing thousands of Huks


it should also be made clear that the Huks are the technologically superior foe. With the Kaleesh using Slugthrowers which have poor accuracy and penetration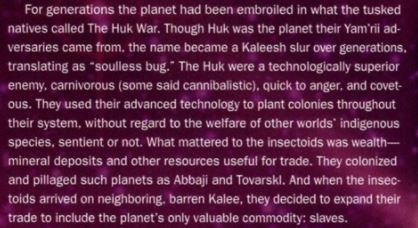 whats not only impressive about this is that not only has this war been going on for as long as the Kaleesh warlord has been alive, but after his lovers death he so quickly turned the tides and not only repelled them, but conquered all their planets within their sector in such a short time. With
Inferior
weaponry too is truly an accomplishment.
---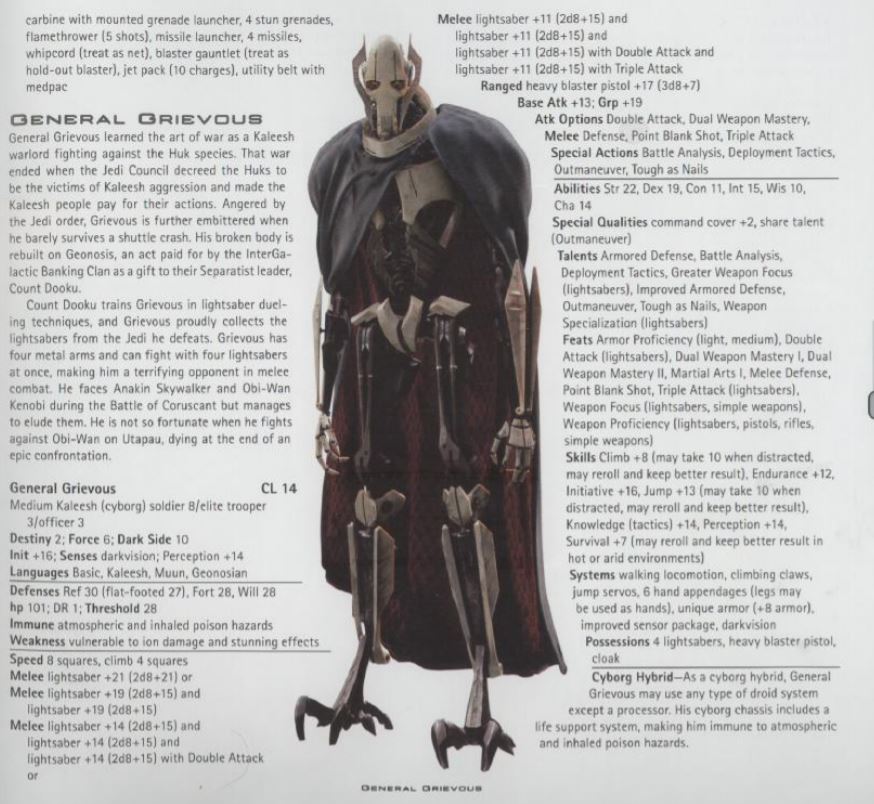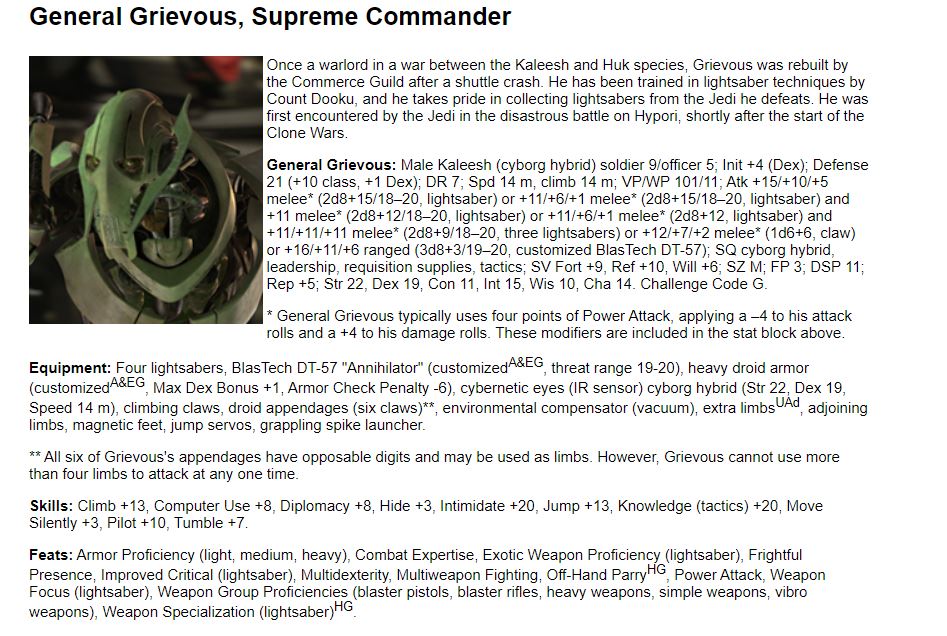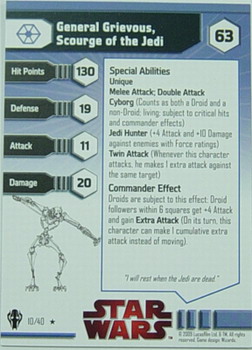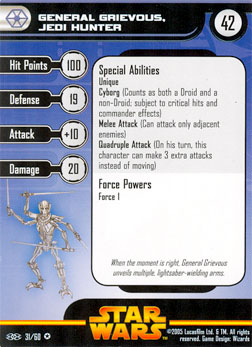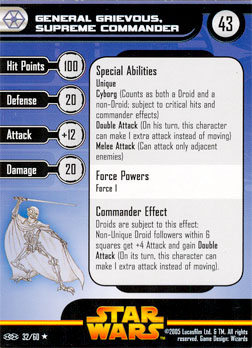 THANK YOU FOR READING. RESPECT GENERAL GRIEVOUS
Palpatine Palpatine
December 14th 2021, 4:39 pm
Vaelias
December 15th 2021, 2:04 am
Amazing thread man keep it up
Permissions in this forum:
You
cannot
reply to topics in this forum