MasterCilghal

Moderator
on March 14th 2020, 10:48 am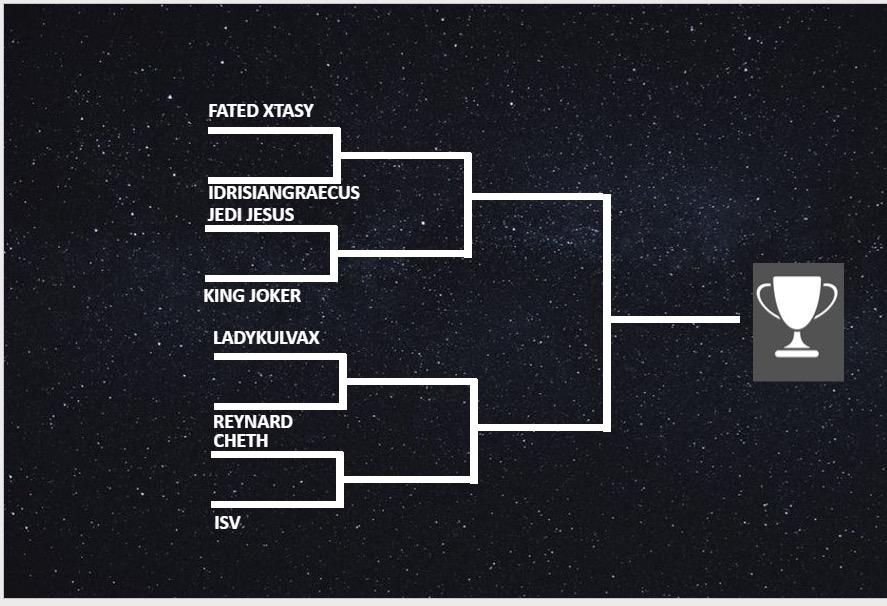 Hello there! I am happy to finally announce the beginning of the recently mentioned
Canon Tournament,
which I've been given the job of running. As the name implies, the tournament will focus exclusively on canon characters, which, up to now, have been debated a lot less than their legends counterparts and are in general far more obscure. In addition to the usual rules, which will be the same as the ongoing "
Tyrannical ten"
tournament, each debater will have the option of changing the iteration of his character depending on who he's going up against, so at to avoid having unbalanced matchups (e.g. changing from TFA Kylo Ren to TLJ Kylo and so on).
The characters that will be featured in this tournament are: 
(1) Asajj Ventress, represented by Fated Xtasy 
(2) Luke Skywalker, represented by IG
(3) Lord Momin, represented by Jedi_Jesus
(4) Ahsoka Tano, represented by King Joker
(5) Kylo Ren, represented by LadyKulvax
(6) Obi Wan Kenobi, represented by Raynar (Ethanion) 
(7) Depa Billaba, represented by Cheth
(8) Darth Vader, represented by ISV
Good luck to all and thanks for participating, especially to
@IG
, who helped me with the bracket and the matchups. 
Nute_Chethray
on March 14th 2020, 10:49 am
Time for a oneshot 
Seturna
on March 14th 2020, 10:54 am
HellfireUnit

Level Two
on March 14th 2020, 11:18 am
Good luck to everyone, hope it will be a great tournament.
The lord of hunger

Level One
on March 14th 2020, 11:27 am
good luck and lets enjoy a good debate with this tournament
lorenzo.r.2nd

Level Two
on March 14th 2020, 2:01 pm
Gianfi
on April 16th 2020, 4:20 pm
Will you add Quinlan Vos in the future? He has a lot more content to discuss than Billaba
Nute_Chethray
on April 23rd 2020, 9:15 am
@Gianfi

wrote:Will you add Quinlan Vos in the future? He has a lot more content to discuss than Billaba
It was about who the debaters chose, not which characters were the most potent
Gianfi
on April 23rd 2020, 9:38 am
Oh ok, next time I'll join as Vos then
MasterCilghal

Moderator
on May 17th 2020, 2:19 am
Permissions in this forum:
You
cannot
reply to topics in this forum